Sergiy
Derevyanchenko
"The Technician"
Weight 160 lbs (72.73 kg)
Age 34
Home Brooklyn, New York, USA
Following a long, distinguished amateur career, Ukrainian knockout artist Sergiy Derevyanchenko has quickly risen his way to a top 160-pound contender. Read Bio
Last Fight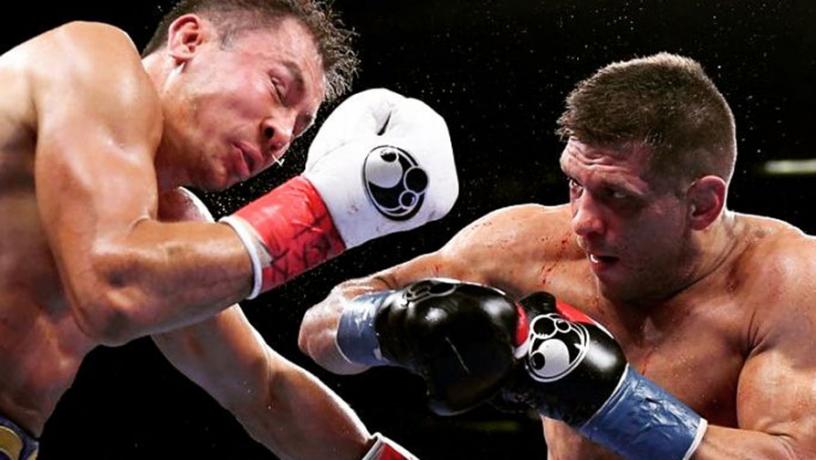 Oct 05, 2019 / Madison Square Garden, New York, New York
Sergiy Derevyanchenko suffered a tough unanimous decision loss (114-113, 115-112, 115-112) to Gennady Golovkin in their Middleweight World Title fight at Madison Square Garden in NYC.
Sign Up for
PBC

News

Get the latest fight announcements, fighter spotlights, and other PBC news delivered to your inbox.

Sergiy Derevyanchenko Videos
Sergiy Derevyanchenko News
Apr 12, 2019 / Sergiy Derevyanchenko
Two top middleweight contenders battle for a world title shot when Sergiy Derevyanchenko and Jack Culcay throw down Saturday night on FS1.
Apr 10, 2019 / Sergiy Derevyanchenko
The middleweight contender is keeping his word and staying active, fighting for the second time in six months when he meets Jack Culcay in a 160-pound bout Saturday night on FS1.
Sergiy Derevyanchenko Fights
LOSS

vs

Gennady

Golovkin

39-1-1
Oct 05, 2019 • Madison Square Garden, New York, New York, USA
Gennady Golovkin WINS against Sergiy Derevyanchenko by UD in Round 12 of 12
Win

vs

Jack

Culcay

25-3-0
Apr 13, 2019 • Minneapolis Armory, Minneapolis, Minnesota, USA
Sergiy Derevyanchenko WINS against Jack Culcay by UD in Round 12 of 12
Oct 27, 2018 • Madison Square Garden Theater, New York, New York, USA
Daniel Jacobs WINS against Sergiy Derevyanchenko by SD in Round 12 of 12
Mar 03, 2018 • Barclays Center, Brooklyn, New York
Sergey Derevyanchenko WINS against Dashon Johnson by TD in Round 6 of 8
Win

vs

Tureano

Johnson

21-2-1
Aug 25, 2017 • Buffalo Run Casino, Miami, Oklahoma
Sergiy Derevyanchenko WINS against Tureano Johnson by TKO in Round 12 of 12
Win

vs

Kemahl

Russell

13-1-0
Mar 14, 2017 • Fitz Tunica Casino & Hotel, Tunica, Mississippi
Sergiy Derevyanchenko WINS against Kemahl Russell by TKO in Round 5 of 10
Win

vs

Sam

Soliman

44-13-0
Jul 21, 2016 • Foxwoods Resort Casino, Mashantucket, Connecticut
Sergiy Derevyanchenko WINS against Sam Soliman by TKO in Round 2 of 10
Mar 15, 2016 • Robinson Rancheria Resort & Casino, Nice, California, USA
Sergiy Derevyanchenko WINS against Mike Guy by TKO in Round 8 of 8
Win

vs

Jessie

Nicklow

25-7-3
Nov 14, 2015 • Hard Rock Hotel and Casino, Las Vegas, Nevada, USA
Sergiy Derevyanchenko WINS against Jessie Nicklow by TKO in Round 3 of 8
Win

vs

Elvin

Ayala

28-6-1
Aug 07, 2015 • Bally's Atlantic City, Atlantic City, New Jersey, USA
Sergiy Derevyanchenko WINS against Elvin Ayala by UD in Round 8 of 8
Apr 10, 2015 • Aviator Sports Complex, Brooklyn, New York, USA
Sergiy Derevyanchenko WINS against Alan Campa by TKO in Round 4 of 8
Win

vs

Vladine

Biosse

15-5-2
Feb 20, 2015 • Hilton Westchester, Rye Brook, New York, USA
Sergiy Derevyanchenko WINS against Vladine Biosse by TKO in Round 2 of 8
Win

vs

Raul

Munoz

23-16-1
Dec 12, 2014 • UIC Pavilion, Chicago, Illinois, USA
Sergiy Derevyanchenko WINS against Raul Munoz by KO in Round 1 of 6
Win

vs

Laatekwei

Hammond

21-7-0
Oct 01, 2014 • Barker Hangar, Santa Monica, California, USA
Sergiy Derevyanchenko WINS against Laatekwei Hammond by UD in Round 4 of 4
Win

vs

Cromwell

Gordon

4-10-0
Jul 23, 2014 • BB King Blues Club & Grill, New York, New York, USA
Sergiy Derevyanchenko WINS against Cromwell Gordon by RTD in Round 2 of 6
Sergiy
Derevyanchenko
"The Technician"
Weight 160 lbs

(72.73 kg)
Born

October 31, 1985

Age

34

Country

Ukraine

Born in

Trains in

Brooklyn

, NY
Stance

Orthodox

Rounds Boxed

93

KO Percentage

66.67%

Boxing Hero