Brandon
Figueroa
"The Heartbreaker"
Weight 122 lbs (55.45 kg)
Age 23
Home Weslaco, Texas,
The younger brother of a former world champion, unbeaten 122-pound prospect Brandon Figueroa is forging his own path toward boxing greatness. Read Bio
Last Fight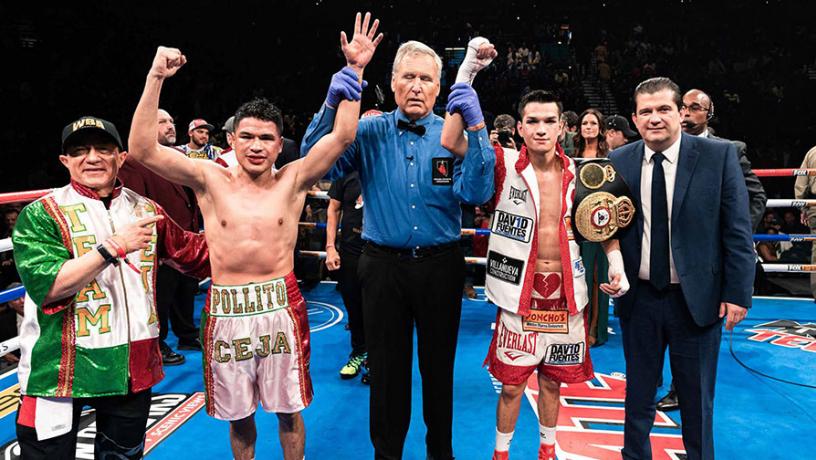 Nov 23, 2019 / MGM Grand Garden Arena, Las Vegas, Nevada
WBA Super Bantamweight Champion Brandon "The Heartbreaker" Figueroa retained his title with a split draw against former champion Julio Ceja on PBC on FOX PPV.
Sign Up for
PBC

News

Get the latest fight announcements, fighter spotlights, and other PBC news delivered to your inbox.

Brandon Figueroa News
Nov 4, 2019 / Figueroa vs Ceja, Brandon Figueroa
The undefeated super bantamweight champion is showing maturity beyond his years as he prepares to take on former champion Julio Ceja Saturday, November 23, on FOX Sports PPV.
Brandon Figueroa Fights
Draw

vs

Julio

Ceja

32-4-1
Nov 23, 2019 • MGM Grand Garden Arena, Las Vegas, Nevada
Brandon Figuerora DRAWS with Julio Ceja by DR in Round 12 of 12
Win

vs

Javier

Chacon

29-5-1
Aug 24, 2019 • Bert Ogden Arena, Edinburg, Texas
Brandon Figueroa WINS against Javier Chacon by KO in Round 3 of 12
Win

vs

Yonfrez

Parejo

22-3-1
Apr 20, 2019 • Dignity Health Sports Park , Carson, California, USA
Brandon Figueroa WINS against Yonfrez Parejo by RTD in Round 8 of 12
Jan 13, 2019 • Microsoft Theater, Los Angeles, California, USA
Brandon Figueroa WINS against Moises Flores by KO in Round 3 of 12
Sep 30, 2018 • Citizens Bank Arena, Ontario, California
Brandon Figuerora WINS against Oscar Escandon by KO in Round 9 of 10
Sep 30, 2018 • Citizens Business Bank Arena, Ontario, California, USA
Brandon Figueroa WINS against Oscar Escandon by KO in Round 10 of 10
Win

vs

Luis Roy Suarez

Cruz

13-0-0
Aug 04, 2018 • Nassau Coliseum, Uniondale, New York, USA
Brandon Figueroa WINS against Luis Roy Suarez Cruz by TKO in Round 1 of 8
Win

vs

Giovanni

Delgado

16-6-0
Mar 10, 2018 • Freeman Coliseum, San Antonio, Texas, USA
Brandon Figueroa WINS against Giovanni Delgado by TKO in Round 7 of 8
Win

vs

Victor

Proa

28-4-2
Oct 14, 2017 • Livestock Showground, Mercedes, Texas, USA
Brandon Figueroa WINS against Victor Proa by TKO in Round 4 of 8
Win

vs

Fatiou

Fassinou

28-6-3
Jul 15, 2017 • Nassau Coliseum, Uniondale, New York, USA
Brandon Figueroa WINS against Fatiou Fassinou by UD in Round 8 of 8
Win

vs

Luis Fernando

Saavedra

7-2-0
May 02, 2017 • Sportsmans Lodge, Studio City, California, USA
Brandon Figueroa WINS against Luis Fernando Saavedra by UD in Round 8 of 8
Win

vs

Raul

Chirino

10-4-0
Feb 21, 2017 • Silver Street Studios, Houston, Texas, USA
Brandon Figueroa WINS against Raul Chirino by TKO in Round 4 of 6
Win

vs

Raymond

Chacon

6-20-0
Oct 08, 2016 • Sports Arena, Brownsville, Texas, USA
Brandon Figueroa WINS against Raymond Chacon by UD in Round 6 of 6
Win

vs

Adalberto

Zorrilla

7-1-0
Jul 23, 2016 • Scottish Rite Theatre, San Antonio, Texas, USA
Brandon Figueroa WINS against Adalberto Zorrilla by KO in Round 3 of 6
Win

vs

Oldier

Landin

4-1-1
Jun 25, 2016 • Scottish Rite Theatre, San Antonio, Texas, USA
Brandon Figueroa WINS against Oldier Landin by TKO in Round 2 of 6
Win

vs

Jonell

Nieves

6-2-0
May 28, 2016 • Cowboys Dance Hall, San Antonio, Texas, USA
Brandon Figueroa WINS against Jonell Nieves by TKO in Round 5 of 6
Win

vs

Jahaziel

Vazquez

0-3-0
Apr 23, 2016 • Events Center, Pharr, Texas, USA
Brandon Figueroa WINS against Jahaziel Vazquez by TKO in Round 2 of 4
Win

vs

Harold

Reyes

2-2-1
Jan 12, 2016 • Cowboys Dance Hall, San Antonio, Texas, USA
Brandon Figueroa WINS against Harold Reyes by TKO in Round 6 of 6
Win

vs

Francisco

Muro

2-1-0
Dec 12, 2015 • AT&T Center, San Antonio, Texas, USA
Brandon Figueroa WINS against Francisco Muro by UD in Round 4 of 4
Oct 10, 2015 • Boggus Ford Center, Pharr, Texas, USA
Brandon Figueroa WINS against Ramiro Ruiz by TKO in Round 4 of 4
Win

vs

Ricardo

Mena

0-1-0
Jun 26, 2015 • State Farm Arena, Hidalgo, Texas, USA
Brandon Figueroa WINS against Ricardo Mena by TKO in Round 1 of 4
Win

vs

Hector

Gutierrez

2-7-0
May 09, 2015 • State Farm Arena, Hidalgo, Texas, USA
Brandon Figueroa WINS against Hector Gutierrez by UD in Round 4 of 4
Brandon
Figueroa
"The Heartbreaker"
Weight 122 lbs

(55.45 kg)
Born

December 29, 1996

Age

23

Country

USA

Born in

Weslaco, TX

Trains in

Weslaco

, TX
Stance

Orthodox

Rounds Boxed

106

KO Percentage

71.43%

Boxing Hero