Oscar
Escandon
"El Guerrero"
Weight 126 lbs (57.27 kg)
Age 36
Home Ibague, COL
A 2004 Olympian for his native Colombia, 5-foot-1½ Oscar Escandon packs a lot of punch as he powers his way toward a world title shot at 126 pounds. Read Bio
Last Fight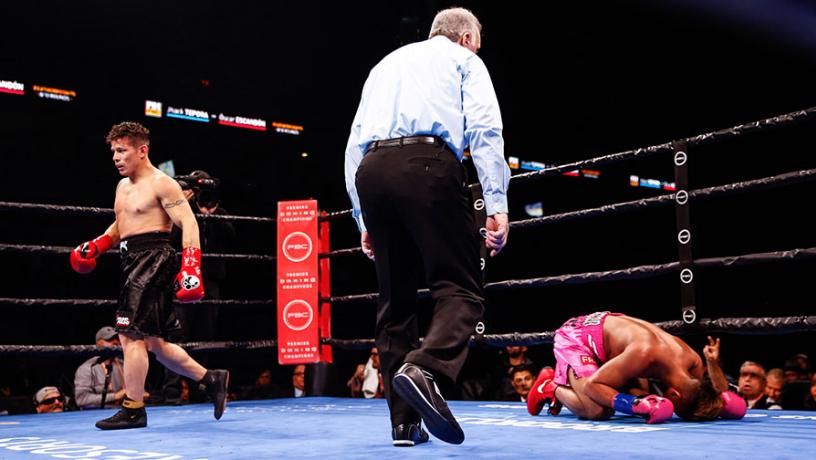 Dec 21, 2019 / Toyota Arena, Ontario, California
Former World Title Challenger Oscar Escandon stunned undefeated Filipino Featherweight Contender Jhack Tepora with a crushing first-round knockout in their scheduled 10-round bout on PBC on FS1 in Ontario, California.
Sign Up for
PBC

News

Get the latest fight announcements, fighter spotlights, and other PBC news delivered to your inbox.

Oscar Escandon News
Sep 30, 2018 / Figueroa vs Escandon, Brandon Figueroa, Oscar Escandon, Joe Joyce, Efe Ajagba, Joey Spencer, Stephen Fulton, James DeGale
Prospects Joe Joyce, Efe Ajagba, Joey Spencer and Stephen Fulton all kept their records perfect with impressive victories.
Oscar Escandon Fights
May 20, 2017 • MGM National Harbor, Oxon Hill, Maryland, USA
Gary Russell Jr WINS against Oscar Escandon by TKO in Round 7 of 12
Win

vs

Robinson

Castellanos

23-11-0
Mar 05, 2016 • DC Armory, Washington, District of Columbia, USA
Oscar Escandon WINS against Robinson Castellanos by KO in Round 7 of 12
Apr 18, 2015 • StubHub Center, Carson, California, USA
Oscar Escandon LOSES to Moises Flores by SD in Round 12 of 12
Dec 11, 2014 • Pechanga Resort & Casino, Temecula, California, USA
Oscar Escandon WINS against Tison Cave by SD in Round 12 of 12
Dec 11, 2014 • Pechanga Resort & Casino, Temecula, California, USA
Oscar Escandon WINS against Tyson Cave by SD in Round 12 of 12
Win

vs

Julian Evaristo

Aristule

24-5-0
Aug 08, 2014 • Polideportivo Fray Mamerto Esquiú, Catamarca, Catamarca, Argentina
Oscar Escandon WINS against Julian Evaristo Aristule by KO in Round 6 of 10
Loss

vs

Nehomar

Cermeno

21-5-1
Aug 10, 2013 • Megapolis Convention Center, Panama City, Panama
Oscar Escandon LOSES to Nehomar Cermeno by SD in Round 12 of 12
Win

vs

Javier

Coronado

7-11-2
Mar 16, 2013 • Megapolis Convention Center, Panama City, Panama
Oscar Escandon WINS against Javier Coronado by TKO in Round 1 of 10
Win

vs

Michael

Arango

34-17-3
Dec 21, 2012 • Teledique Studios, Arjona, Colombia
Oscar Escandon WINS against Michael Arango by KO in Round 1 of 8
Win

vs

Alvaro

Vargas

8-1-0
Oct 20, 2012 • Coliseo Cubierto Elías Chegwin, Barranquilla, Colombia
Oscar Escandon WINS against Alvaro Vargas by KO in Round 5 of 6
Win

vs

Ever Garcia

Hernandez

12-31-1
Jun 15, 2012 • Coliseo Cubierto Elías Chegwin, Barranquilla, Colombia
Oscar Escandon WINS against Ever Garcia Hernandez by UD in Round 8 of 8
Win

vs

Tadeu Almeida

Pantoja

12-2-0
Mar 30, 2012 • Coliseo Bernardo Caraballo, Cartagena, Colombia
Oscar Escandon WINS against Tadeu Almeida Pantoja by TKO in Round 2 of 10
Win

vs

Jesus Andres

Cuellar

29-4-0
Oct 15, 2011 • Centro Recreativo Municipal Néstor Carlos Kirchner, Barrio Santa Paula, Buenos Aires, Argentina
Oscar Escandon WINS against Jesus Andres Cuellar by TKO in Round 7 of 12
Win

vs

Jesus Marcelo Andres

Cuellar

17-0-0
Oct 15, 2011 • Centro Recreativo Municipal Néstor Carlos Kirchner, Barrio Santa Paula, Buenos Aires, Argentina
Oscar Escandon WINS against Jesus Marcelo Andres Cuellar by TKO in Round 7 of 12
Jun 24, 2011 • Coliseo Elias Chegwin, Barranquilla, Colombia
Oscar Escandon WINS against Hugo Berrio by TKO in Round 5 of 8
Win

vs

Luis Felipe

Cuadrado

11-9-0
Mar 25, 2011 • Coliseo Bernardo Caraballo, Cartagena, Colombia
Oscar Escandon WINS against Luis Felipe Cuadrado by KO in Round 3 of 12
Win

vs

Eduardo

Pacheco

19-18-2
Mar 05, 2011 • Coliseo San Vicente, Sincelejo, Colombia
Oscar Escandon WINS against Eduardo Pacheco by KO in Round 1 of 8
Win

vs

Manuel de los Reyes

Herrera

16-7-1
Feb 05, 2011 • Coliseo Bernardo Caraballo, Cartagena, Colombia
Oscar Escandon WINS against Manuel de los Reyes Herrera by KO in Round 2 of 8
Win

vs

Nelson

Cantero

3-19-1
Dec 27, 2010 • Coliseo Bernardo Caraballo, Cartagena, Colombia
Oscar Escandon WINS against Nelson Cantero by UD in Round 10 of 10
Win

vs

Edinson

Jimenez

1-39-3
Dec 04, 2010 • Coliseo San Vicente, Sincelejo, Colombia
Oscar Escandon WINS against Edinson Jimenez by UD in Round 6 of 6
Win

vs

Benjamin

Rivas

6-32-2
Nov 17, 2010 • Discoteka Trucupey, Barranquilla, Colombia
Oscar Escandon WINS against Benjamin Rivas by KO in Round 2 of 10
Win

vs

Elvis

Garcia

9-7-3
Oct 30, 2010 • Centro de Convenciones, Cartagena, Colombia
Oscar Escandon WINS against Elvis Garcia by UD in Round 8 of 8
Win

vs

Adolfo

Ramos

17-9-1
Sep 25, 2010 • Estadio Heriberto Carrillo, Repelon, Atlantico, Colombia
Oscar Escandon WINS against Adolfo Ramos by UD in Round 8 of 8
Win

vs

Edison Valencia

Diaz

20-8-0
Jul 30, 2010 • Cancha El Monumental, Cartagena, Colombia
Oscar Escandon WINS against Edison Valencia Diaz by TKO in Round 5 of 8
Win

vs

Jelier

Pacheco

9-1-0
Jun 25, 2010 • Coliseo Cubierto, Puerto Colombia, Colombia
Oscar Escandon WINS against Jelier Pacheco by KO in Round 2 of 4
Win

vs

Alfonso De la

Hoz

13-27-4
May 21, 2010 • Coliseo Bernardo Caraballo, Cartagena, Colombia
Oscar Escandon WINS against Alfonso De la Hoz by UD in Round 8 of 8
Win

vs

Alexis Puello

Sarabia

0-0-0
Apr 30, 2010 • Parque de las Américas, Mangangue, Colombia
Oscar Escandon WINS against Alexis Puello Sarabia by KO in Round 1 of 4
Win

vs

Gabriel

Martinez

0-0-0
Dec 11, 2009 • Coliseo Miguel "Happy" Lora, Monteria, Colombia
Oscar Escandon WINS against Gabriel Martinez by KO in Round 1 of 6
Win

vs

Walberto

Zuniga

1-2-0
Oct 02, 2009 • Coliseo Miguel "Happy" Lora, Monteria, Colombia
Oscar Escandon WINS against Walberto Zuniga by KO in Round 2 of 4
Jun 06, 2008 • Coliseo Miguel "Happy" Lora, Monteria, Colombia
Luis Meza LOSES to Oscar Escandon by PTS in Round 4 of 4
Oscar
Escandon
"El Guerrero"
Weight 126 lbs

(57.27 kg)
Born

July 10, 1984

Age

36

Country

Colombia

Born in

Ibague

Trains in

Ibague
Stance

Orthodox

Rounds Boxed

162

KO Percentage

58.06%

Boxing Hero