Stephen
Fulton
"Cool Boy Steph"
Weight 126 lbs (57.27 kg)
Age 25
Home Philadelphia, Pennsylvania,
Nurtured in the boxing hotbed of Philadelphia, unbeaten 126-pound prospect Stephen Fulton has shown great promise since turning pro in 2014. Read Bio
Last Fight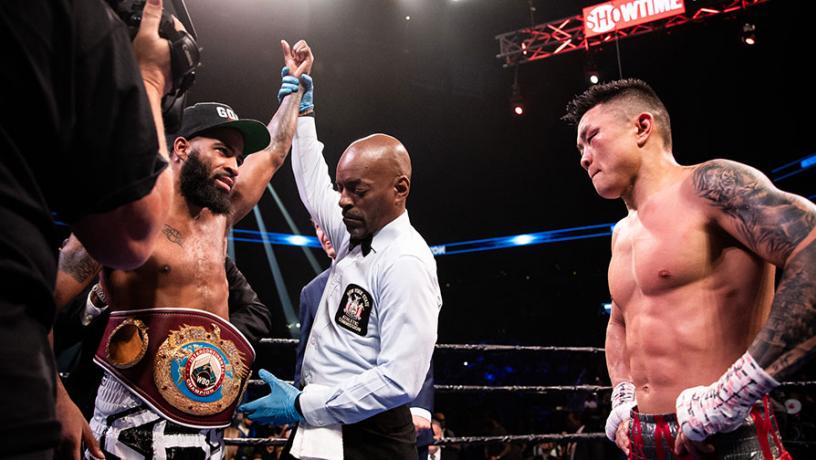 Jan 25, 2020 / Barclays Center, Brooklyn, New York
Top Super Bantamweight Stephen Fulton earned a unanimous decision victory over previously unbeaten Arnold Khegai in their WBO 122-pound Title Eliminator on the PBC on SHOWTIME card at Barclays Center in Brooklyn.
Sign Up for
PBC

News

Get the latest fight announcements, fighter spotlights, and other PBC news delivered to your inbox.

Stephen Fulton News
Stephen Fulton Fights
Win

vs

Arnold

Khegai

16-0-1
Jan 25, 2020 • Barclays Center, Brooklyn, New York, USA
Stephen Fulton WINS against Arnold Khegai by UD in Round 12 of 12
Win

vs

Isaac

Avelar

16-0-0
Aug 24, 2019 • Bert Ogden Arena, Edinburg, Texas, USA
Stephen Fulton WINS against Isaac Avelar by KO in Round 6 of 10
WIN

vs

Paulus

Ambunda

27-2-0
May 11, 2019 • EagleBank Arena, Fairfax, Virginia, USA
Paulus Ambunda LOSES to Stephen Fulton by UD in Round 12 of 12
Win

vs

Marlon

Olea

14-4-0
Jan 26, 2019 • Barclays Center, Brooklyn, New York
Stephen Fulton WINS against Marlon Olea by TKO in Round 5 of 8
WIN

vs

German

Meraz

61-49-2
Sep 30, 2018 • Citizens Business Bank Arena, Ontario, California, USA
German Meraz LOSES to Stephen Fulton by UD in Round 8 of 8
Win

vs

Jesus

Ahumada

14-1-0
Jun 16, 2018 • The Ford Center at The Star, Frisco, Texas, USA
Stephen Fulton WINS against Jesus Ahumada by TKO in Round 9 of 10
Dec 08, 2017 • Hialeah Park, Miami, Florida
Stephen Fulton WINS against Adam Lopez by MD in Round 8 of 8
Win

vs

Luis

Rosario

8-0-1
Apr 04, 2017 • Sands Bethlehem Event Center, Bethlehem, Pennsylvania, USA
Stephen Fulton WINS against Luis Rosario by UD in Round 8 of 8
Win

vs

Cristian

Renteria

5-2-0
Jul 02, 2016 • Santander Arena, Reading, Pennsylvania, USA
Stephen Fulton WINS against Cristian Renteria by TKO in Round 3 of 6
Win

vs

Adalberto

Zorrilla

6-0-0
Apr 19, 2016 • Sands Bethlehem Event Center, Bethlehem, Pennsylvania, USA
Stephen Fulton WINS against Adalberto Zorrilla by TKO in Round 4 of 6
Win

vs

Joshua

Greer Jr

3-0-1
Dec 29, 2015 • Sands Bethlehem Event Center, Bethlehem, Pennsylvania, USA
Stephen Fulton WINS against Joshua Greer Jr by MD in Round 4 of 4
Win

vs

Sam

Rodriquez

3-0-0
Sep 15, 2015 • California University of PA, California, Pennsylvania, USA
Stephen Fulton WINS against Sam Rodriquez by UD in Round 6 of 6
Win

vs

Pablo

Cupul

8-18-0
Jun 20, 2015 • Valley Forge Casino and Resort, Valley Forge, Pennsylvania, USA
Stephen Fulton WINS against Pablo Cupul by RTD in Round 3 of 6
Win

vs

Jamal

Parram

7-10-1
Apr 25, 2015 • Harrah's Philadelphia, Chester, Pennsylvania, USA
Stephen Fulton WINS against Jamal Parram by KO in Round 3 of 6
Jan 31, 2015 • 2300 Arena, Philadelphia, Pennsylvania, USA
Stephen Fulton WINS against Eric Gotay by UD in Round 6 of 6
Win

vs

Benjamin

Burgos

2-9-1
Dec 05, 2014 • Harrah's Philadelphia, Chester, Pennsylvania, USA
Stephen Fulton WINS against Benjamin Burgos by UD in Round 4 of 4
Nov 20, 2014 • Sportsmans Lodge, Studio City, California, USA
Stephen Fulton WINS against Damen Wood by UD in Round 4 of 4
Win

vs

Issac

Badger

0-2-0
Oct 04, 2014 • Foxwoods Resort, Mashantucket, Connecticut, USA
Stephen Fulton WINS against Issac Badger by TKO in Round 2 of 4
Stephen
Fulton
"Cool Boy Steph"
Weight 126 lbs

(57.27 kg)
Born

July 17, 1994

Age

25

Country

USA

Born in

, PA

Trains in

Philadelphia

, PA
Stance

Orthodox

Rounds Boxed

107

KO Percentage

44.44%

Boxing Hero