Erickson
Lubin
"The Hammer"
Weight 154 lbs (70 kg)
Age 24
Home Orlando, Florida,
Opting to turn pro instead of vying for an Olympic medal in 2016, southpaw Erickson Lubin has quickly risen into title contention at 154 pounds. Read Bio
Last Fight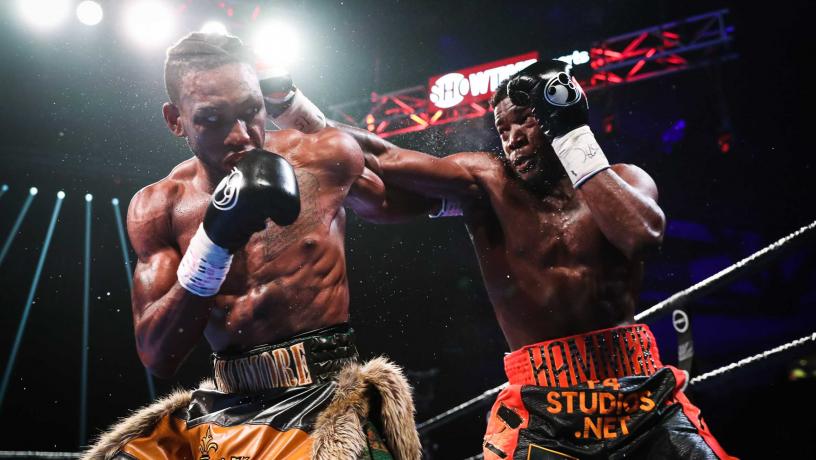 Oct 26, 2019 / Santander Arena, Reading, Pennsylvania
Super Welterweight contender Erickson Lubin puts on a dominating performance over Nathaniel Gallimore and earns a unanimous decision victory.
Sign Up for
PBC

News

Get the latest fight announcements, fighter spotlights, and other PBC news delivered to your inbox.

Erickson Lubin News
Oct 25, 2019 / Lubin vs Gallimore, Erickson Lubin
Erickson Lubin wants another crack at a title but he'll have to get by the dangerous Nathaniel Gallimore first in a 154-pound battle Saturday night on SHOWTIME.
Oct 24, 2019 / Lubin vs Gallimore, Erickson Lubin
Armed with a revamped team and renewed purpose, the super welterweight contender is inching toward another world title shot as he takes on the dangerous Nathaniel Gallimore in a 154-pound showdown Saturday night on SHOWTIME.
Erickson Lubin Fights
Win

vs

Nathaniel

Gallimore`

21-4-1
Oct 26, 2019 • Santander Arena, Reading, Pennsylvania
Erickson Lubin WINS against Nathaniel Gallimore` by UD in Round 10 of 10
Win

vs

Zakaria

Attou

29-6-2
Jun 29, 2019 • NRG Arena, Houston, Texas, USA
Erickson Lubin WINS against Zakaria Attou by TKO in Round 4 of 12
Win

vs

Ishe

Smith

29-11-0
Feb 09, 2019 • Dignity Health Sports Park , Carson, California, USA
Erickson Lubin WINS against Ishe Smith by RTD in Round 3 of 10
Win

vs

Silverio

Ortiz

37-21-0
Apr 28, 2018 • Don Haskins Convention Center, El Paso, Texas, USA
Erickson Lubin WINS against Silverio Ortiz by TKO in Round 4 of 10
Oct 14, 2017 • Barclays Center, Brooklyn, New York
Jermell Charlo WINS against Erickson Lubin by TKO in Round 1 of 12
Mar 04, 2017 • Barclays Center, Brooklyn, New York
Erickson Lubin WINS against Jorge Cota by TKO in Round 4 of 12
Win

vs

Juan Ubaldo

Cabrera

23-1-0
Dec 10, 2016 • USC Galen Center, Los Angeles, California, USA
Erickson Lubin WINS against Juan Ubaldo Cabrera by KO in Round 2 of 10
Win

vs

Ivan

Montero

20-1-0
Jul 16, 2016 • Legacy Arena, Birmingham, Alabama, USA
Erickson Lubin WINS against Ivan Montero by UD in Round 8 of 8
Win

vs

Daniel

Sandoval

38-3-0
Jun 18, 2016 • UIC Pavilion, Chicago, Illinois, USA
Erickson Lubin WINS against Daniel Sandoval by TKO in Round 3 of 8
Win

vs

Jose De Jesus

Macias

27-9-3
Jan 31, 2016 • Seminole Casino Hotel Immokalee, Immokalee, Florida
Erickson Lubin WINS against Jose De Jesus Macias by UD in Round 10 of 10
Win

vs

Alexis

Camacho

21-5-0
Nov 28, 2015 • The Bomb Factory, Dallas, Texas, USA
Erickson Lubin WINS against Alexis Camacho by KO in Round 2 of 10
Win

vs

Orlando

Lora

31-5-2
Sep 18, 2015 • Full Sail Live, Winter Park, Florida
Erickson Lubin WINS against Orlando Lora by TKO in Round 6 of 10
Jun 26, 2015 • Little Creek Casino Resort, Shelton, Washington, USA
Erickson Lubin WINS against Ayi Bruce by KO in Round 1 of 8
Win

vs

Kenneth

Council

8-0-0
Mar 06, 2015 • MGM Grand, Marquee Ballroom, Las Vegas, Nevada, USA
Erickson Lubin WINS against Kenneth Council by TKO in Round 1 of 8
Win

vs

Michael

Finney

12-1-1
Feb 06, 2015 • Beau Rivage Resort & Casino, Biloxi, Mississippi, USA
Erickson Lubin WINS against Michael Finney by UD in Round 8 of 8
Win

vs

Norberto

Gonzalez

20-6-0
Nov 14, 2014 • CONSOL Energy Center, Pittsburgh, Pennsylvania, USA
Erickson Lubin WINS against Norberto Gonzalez by UD in Round 8 of 8
Win

vs

Francisco Javier

Reza

12-10-0
Aug 08, 2014 • CONSOL Energy Center, Pittsburgh, Pennsylvania, USA
Erickson Lubin WINS against Francisco Javier Reza by RTD in Round 1 of 6
Win

vs

Noe

Bolanos

24-9-1
Jul 10, 2014 • American Airlines Arena, Miami, Florida, USA
Erickson Lubin WINS against Noe Bolanos by UD in Round 8 of 8
Win

vs

Jovan

Ramirez

3-1-0
Apr 18, 2014 • Convention Center, Monroeville, Pennsylvania, USA
Erickson Lubin WINS against Jovan Ramirez by KO in Round 2 of 4
Win

vs

Tirobio

Ball

4-1-1
Feb 22, 2014 • Sands Bethlehem Event Center, Bethlehem, Pennsylvania, USA
Erickson Lubin WINS against Tirobio Ball by TKO in Round 3 of 4
Win

vs

Roberto

Acevedo

13-12-3
Feb 07, 2014 • UIC Pavilion, Chicago, Illinois, USA
Erickson Lubin WINS against Roberto Acevedo by RTD in Round 1 of 4
Win

vs

Luis

Santiago

4-0-0
Jan 03, 2014 • Target Center, Minneapolis, Minnesota, USA
Erickson Lubin WINS against Luis Santiago by KO in Round 1 of 4
Win

vs

Eric De

Jesus

1-0-0
Nov 26, 2013 • BB&t Center, Sunrise, Florida, USA
Erickson Lubin WINS against Eric De Jesus by TKO in Round 1 of 4
Erickson
Lubin
"The Hammer"
Born

October 01, 1995

Age

24

Country

USA

Born in

Orlando, FL

Trains in

Orlando

, FL
Stance

Southpaw

Rounds Boxed

92

KO Percentage

69.57%

Boxing Hero