Mario
Barrios
"El Azteca"
Weight 140 lbs (63.64 kg)
Age 23
Home San Antonio, Texas,
Since making his professional debut at age 18, exciting prospect Mario Barrios has been blasting opponents as he climbs the 140-pound ranks. Read Bio
Last Fight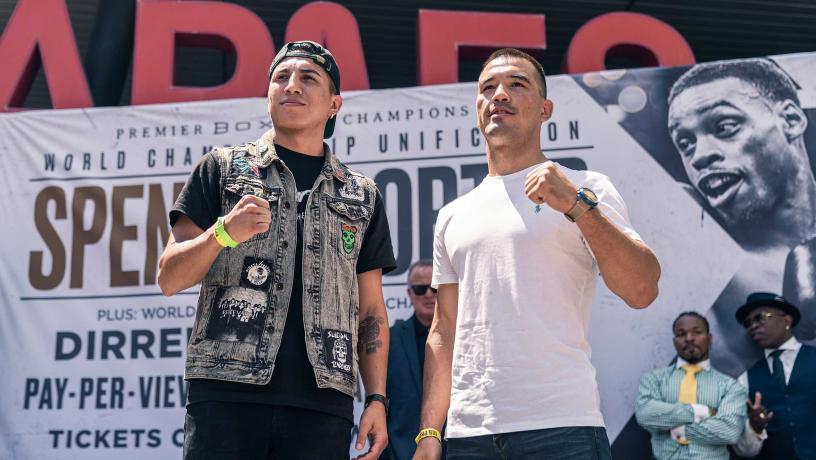 Jul 28, 2018 / Staples Center, Los Angeles, California
Mario Barrios remained undefeated by scoring his sixth straight stoppage win—an eighth-round TKO of Jose Roman.
Sign Up for
PBC

News

Get the latest fight announcements, fighter spotlights, and other PBC news delivered to your inbox.

Mario Barrios News
Oct 15, 2018 / Outside The Ring, Mario Barrios
"Outside the Ring" is a regular feature centered on the charitable efforts of Premier Boxing Champions fighters. Learn more about what motivates these boxers and the causes they support outside the ring.
Oct 8, 2018 / Hot List, Shawn Porter, Jamal James, Eleider Alvarez, Carl Frampton, Mikey Garcia, Mario Barrios, Fabian Maidana, Luis Ortiz, Errol Spence Jr., Adam Kownacki
Here's a list of some of PBC's top rising stars. Boxers on this list are on a hot streak, like a slugger in baseball on a hitting streak or a running back in football who keeps posting 100-yard rushing games. They're not ranked in any particular order. We'll leave that to you—the reader.
Mario Barrios Fights
Jul 28, 2018 • Staples Center, Los Angeles, California, USA
Mario BarriosMM WINS against Jose RomanJJ by RTD in Round 8 of 10
Win

vs

Naim

Nelson

13-3-1
Sep 19, 2017 • Sands Bethlehem Events Center, Bethlehem, Pennsylvania
Mario BarriosMM WINS against Naim NelsonNN by TKO in Round 7 of 10
Win

vs

Jose Luis

Rodriguez

21-9-0
Jun 11, 2017 • Pioneer Event Center, Lancaster, California, USA
Mario BarriosMM WINS against Jose Luis RodriguezJJ by KO in Round 7 of 10
Win

vs

Yardley Armenta

Cruz

21-7-0
Mar 04, 2017 • Barclays Center, Brooklyn, New York, USA
Mario BarriosMM WINS against Yardley Armenta CruzYY by TKO in Round 6 of 8
Win

vs

Yardley

Suarez

20-6-0
Mar 04, 2017 • Barclays Center, Brooklyn, New York, USA
Mario BarriosMM WINS against Yardley SuarezYY by TKO in Round 6 of 8
Win

vs

Claudio Rosendo

Tapia

28-17-4
Dec 10, 2016 • USC Galen Center, Los Angeles, California, USA
Mario BarriosMM WINS against Claudio Rosendo TapiaCC by KO in Round 2 of 8
Jul 09, 2016 • Sun National Bank Center, Trenton, New Jersey
Mario BarriosMM WINS against Devis BoschieroDD by UD in Round 12 of 12
Win

vs

Edgar

Gabejan

27-32-6
Apr 16, 2016 • Barclays Center, Brooklyn, New York, USA
Mario BarriosMM WINS against Edgar GabejanEE by UD in Round 8 of 8
Win

vs

Manuel

Vides

18-4-0
Dec 12, 2015 • AT&T Center, San Antonio, Texas, USA
Mario BarriosMM WINS against Manuel VidesMM by KO in Round 6 of 8
Win

vs

Enrique

Tinoco

15-2-2
Nov 10, 2015 • Music Hall, Austin, Texas, USA
Mario BarriosMM WINS against Enrique TinocoEE by UD in Round 8 of 8
Win

vs

Eduardo

Rivera

9-2-2
Sep 26, 2015 • Legacy Arena, Birmingham, Alabama, USA
Mario BarriosMM WINS against Eduardo RiveraEE by KO in Round 1 of 8
Win

vs

Jose Cen

Torres

13-8-0
Sep 06, 2015 • American Bank Center, Corpus Christi, Texas, USA
Mario BarriosMM WINS against Jose Cen TorresJJ by TKO in Round 4 of 8
Win

vs

Jose Arturo

Esquivel

9-2-0
Jul 18, 2015 • Don Haskins Convention Center, El Paso, Texas, USA
Mario BarriosMM WINS against Jose Arturo EsquivelJJ by UD in Round 8 of 8
Win

vs

Jose Arturo Esquivel

Porras

9-2-0
Jul 18, 2015 • Don Haskins Convention Center, El Paso, Texas, USA
Mario BarriosMM WINS against Jose Arturo Esquivel PorrasJJ by UD in Round 8 of 8
Win

vs

Justin

Lopez

5-2-0
Mar 07, 2015 • MGM Grand, Las Vegas, Nevada, USA
Mario BarriosMM WINS against Justin LopezJJ by TKO in Round 3 of 6
Win

vs

Juan

Sandoval

7-14-1
Nov 20, 2014 • Sportsmans Lodge, Studio City, California, USA
Mario BarriosMM WINS against Juan SandovalJJ by UD in Round 4 of 4
Win

vs

Abraham

Rubio

3-4-1
Oct 08, 2014 • Beau Rivage Resort & Casino, Biloxi, Mississippi, USA
Mario BarriosMM WINS against Abraham RubioAA by KO in Round 1 of 4
Win

vs

Salvador

Perez

2-4-2
Jul 25, 2014 • Fantasy Springs Casino, Indio, California, USA
Mario BarriosMM WINS against Salvador PerezSS by KO in Round 1 of 4
Win

vs

Jaxel

Marrero

1-2-1
May 10, 2014 • USC Galen Center, Los Angeles, California, USA
Mario BarriosMM WINS against Jaxel MarreroJJ by UD in Round 4 of 4
Win

vs

Lyonell

Kelly

0-2-0
Mar 07, 2014 • Pala Casino Spa and Resort , Pala, California, USA
Mario BarriosMM WINS against Lyonell KellyLL by UD in Round 4 of 4
Win

vs

Manuel

Rubalcava

1-6-0
Feb 10, 2014 • Cowboys Dance Hall, San Antonio, Texas, USA
Mario BarriosMM WINS against Manuel RubalcavaMM by UD in Round 4 of 4
Win

vs

Rigoberto

Moreno

0-1-0
Nov 11, 2013 • Cowboys Dance Hall, San Antonio, Texas, USA
Mario BarriosMM WINS against Rigoberto MorenoRR by TKO in Round 1 of 4
Mario
Barrios
"El Azteca"
Weight 140 lbs

(63.64 kg)
Born

May 18, 1995

Age

23

Country

USA

Born in

San Antonio, TX

Trains in

San Antonio

, TX
Stance

Orthodox

Rounds Boxed

107

KO Percentage

64%

Boxing Hero