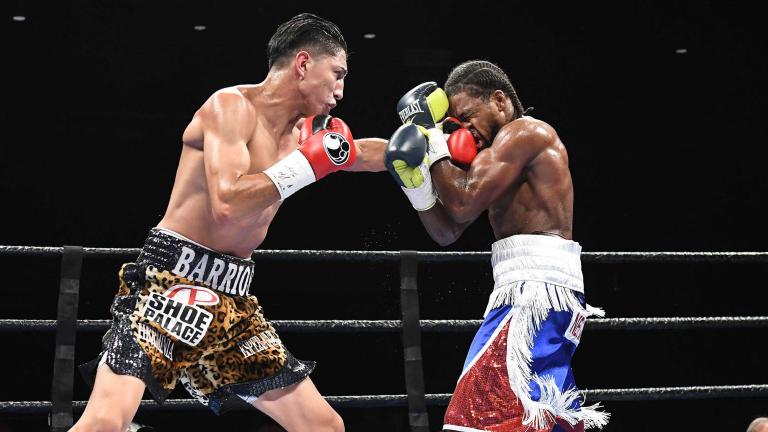 The little voice in Mario Barrios' head kept whispering to be patient, stay back, don't lean. His eyes intently focused, working out of a slight crouch, Barrios whittled down a very tough Naim Nelson. Barrios remained unbeaten in the main event of a Premier Boxing Champions show on Fox Sports 1, Tuesday night in Bethlehem, Pa.
Barrios (20-0, 12 KO) notched his fourth straight stoppage with a seventh-round TKO over a very game Nelson (13-4, 1 KO).
With 53 seconds left the third round, referee Gary Rosato stopped the fight momentarily after Nelson landed a left, dislocating his left shoulder. The ringside doctor checked out the shoulder and deemed it okay to continue. Until then, Nelson had caused Barrios some trouble with his counter punching and movement.
Each time Nelson threw a left from that point on, he winced and visibly bit hard on his mouthpiece. Still, Barrios remained calculating and careful.
In the fifth, Barrios opened up more, stalking Nelson. A Barrios straight right to the face midway through the round had Nelson reeling slightly backward.
The end arrived in the seventh, when a Barrios left hook caught Nelson in his left shoulder. It forced Nelson down again and was enough Rosato to wisely call it over midway through the round.