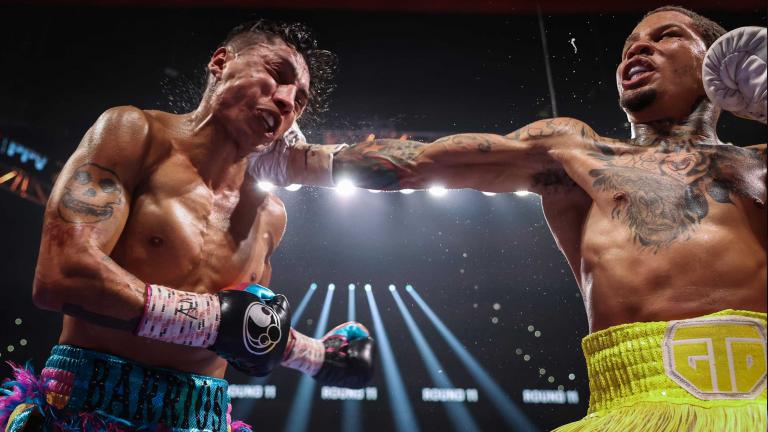 ATLANTA – Gervonta "Tank" Davis, one of the biggest stars in all of boxing, put on a career-defining performance Saturday night live on SHOWTIME PPV from the award-winning State Farm Arena in Atlanta, scoring a scintillating 11th round TKO over the previously-undefeated Mario Barrios to capture the WBA Super Lightweight Championship in the action-packed Premier Boxing Champions event. Watch the stoppage
In a fight that lived up to its potential, Davis and Barrios combined to put on an unforgettable main event in front of a sold-out crowd of 16,570. After a slow opening four rounds in which Davis landed just 11 punches, the fight produced fireworks beginning in the fifth round. In the eighth round, "Tank" sent "El Azteca" to the canvas for both the first and second times of his career. First, Davis connected on a sweeping right hook that sent the former champion to the canvas. Moments later, a straight left hand by Davis dropped Barrios again. The brave Barrios rose to his feet, surviving Davis' attempts to finish him in the eighth.
With International Boxing Hall of Famer and promoter Floyd Mayweather encouraging Davis in his corner, the southpaw came out rejuvenated in the eleventh round, realizing that the fight could be close on the scorecards. "Tank" dropped Barrios for the third time in the fight, this time with a left uppercut to the body. The bloodied Barrios rose again, only to be greeted with another barrage of punches from Davis. Referee Thomas Taylor stepped in to stop the fight at 2:13 of the eleventh round.
In the final six-and-a-half rounds, Davis landed 85 punches. He landed 45 percent of his power punches (82/182), while Barrios more than held his own, out-landing Davis in six of the ten completed rounds.
With the victory, Davis now holds world championships in three different divisions simultaneously, a feat only accomplished by a few other fighters in history, including Henry Armstrong and Canelo Alvarez.