Deontay Wilder has spent days under the needle. Literally.
"I've easily got over a thousand hours on me," the heavyweight champion says of his extensive tattoo work. "Easily."
Deontay Wilder got his first tattoo when he was 20 years old, a depiction of a pair of hands in prayer clutching a rosary.
Since then, he's covered the majority of his body in ink.
"Everything that I've got on me has meaning to it, from my neck down to my feet," Wilder says. "My body tells its own story with all the art on there."
Now, Wilder shares some of these stories in his Tale of the Tats.
4 Love
Wilder is not one to hold back, with his fists or his feelings.
"I'm a very passionate person," he says. "I'm a lover and a fighter."
Of course he underscores this point with, what else, a tattoo.
"I got a feather pen writing out 'love' in cursive, because I feel if you give me love, I'll show you love in return, whether I'm in a relationship or whether it's just friendship," he says. "It's just like the Golden Rule: 'Do onto others as you want them to do onto you.' I feel the same way."
3 Scripture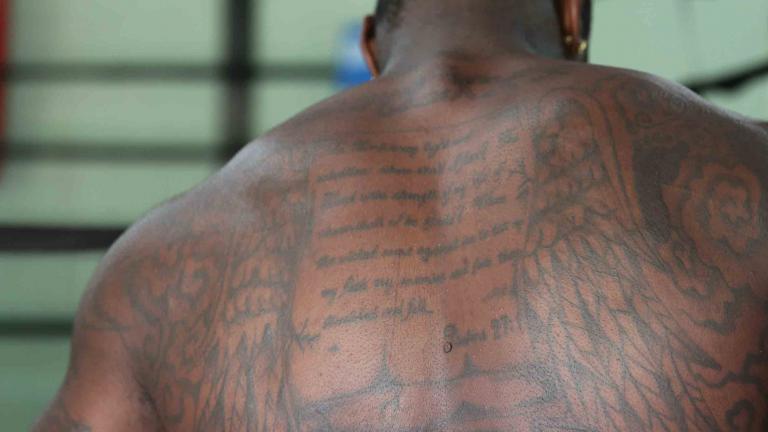 Wilder's a spiritual person, and if you're lacking a Bible, his ink can serve as a substitute.
"I love reading scriptures," he says, "so I've got some of my favorites on my body."
In addition to Psalm 27 on his back, he also has a portion of Psalm 144 on his hands, which reads, "Blessed be the Lord my strength which teacheth my hands to war and my fingers to fight."
"I think I blessed my hands when I put that scripture on there," he says. "I feel like no one will be able to defeat me with the scriptures that I have on my hands. That's one of my favorites."
2 Daughter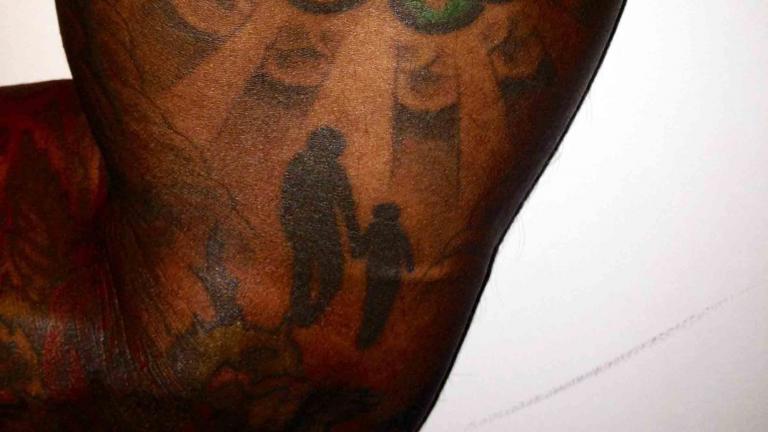 Wilder has various images related to his children adorning his body, from their names to their handprints and footprints.
"They remind me who I'm doing this for," he says. "I tell people all the time that they're my boss, I work for them. I'm trying to build a future for them."
One tattoo that's particularly special to Wilder depicts him and his daughter holding hands after she overcame spinal bifida.
"While she was going through all the different obstacles that she had to go through, I was going through the same thing with my career, trying to build this, trying to support her," he says.
"The tattoo indicates me and her walking to the road to success," he continues. "She was successful in overcoming spinal bifida and still being able to be a normal child and do normal things. I overcame the adversity of the things that I had to sacrifice as a young man, becoming a man and taking care of what I had to do. We both were successful."
1 Championship belt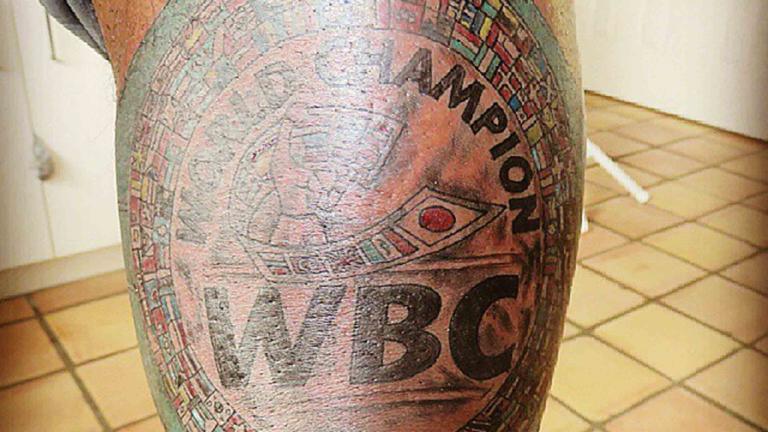 Wilder's first championship belt took him years to earn and another six hours to get immortalized on his thigh.
"What inspired me to get that one was me accomplishing my goals and dreams," he says. "I told my daughter that I would be a world champion when she was a year old, and for me to promise that and fulfill it, it means a lot to me."
And he says he's not done.
"Once I unify the division, I'm going to tat every belt on me, on my thighs," he says. "That's another goal I set for myself, to be the undisputed heavyweight champion of the world."