Robert
Helenius
"The Nordic Nightmare"
Weight 243 lbs (110.45 kg)
Age 36
Home Mariehamn,
One of the world's best heavyweight, Robert Helenius has proven that he can box and bang with the world's most elite big men. Read Bio
Last Fight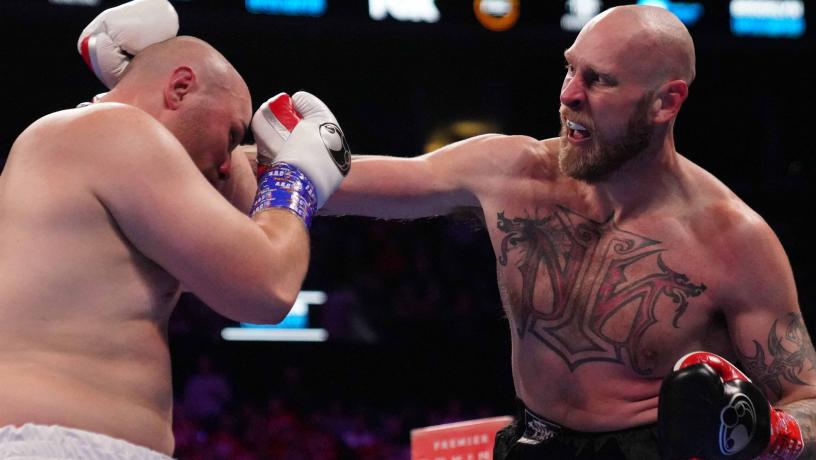 Mar 07, 2020 / Barclays Center, Brooklyn, New York
Helenius walked away victorious with a RD4 TKO.
Sign Up for
PBC

News

Get the latest fight announcements, fighter spotlights, and other PBC news delivered to your inbox.

Robert Helenius Fights
Mar 07, 2020 • Barclays Center, Brooklyn, New York
Adam Kownacki LOSES to Robert Helenius by in Round 3 of 12
Robert
Helenius
"The Nordic Nightmare"
Weight 243 lbs

(110.45 kg)
Born

January 01, 1984

Age

36

Country

Finland

Born in

Stockholm

Trains in

Mariehamn
Stance

Orthodox

Rounds Boxed

189

KO Percentage

57.58%

Boxing Hero
Robert Helenius Bio
Nicknamed "The Nordic Nightmare," Robert Helenius has notched a number of impressive victories over the world's finest heavyweights. His latest resurgence has moved him within reach of the ultimate goal: The heavyweight championship.
Like Father, Like Son
Robert Helenius was born in Sweden, moved with his family to Finland at the age of two, and has dual citizenship as a result, which has allowed him to become an attraction in each of those countries.
Helenius began boxing at five, inheriting the legacy from his father.
"My father was a boxing trainer and he himself had boxed in Sweden," said Helenius, in a recent story on FightSports. "When we moved back to Finland he just took me and my brothers with him to training and we kind of got stuck there. I've been training since I was about 10-11 years old. I have over 200 amateur fights."
A towering, heavily-bearded 6-foot-6 ½, Helenius won a bronze medal in both the 2000 at the European Cadets' Under-17 championships and the 2001 Junior European Championships.
Helenius also was a runner-up at both the Finnish Amateur Boxing Championships in 2002 and the European Amateur Boxing Championships in 2006.
"After that, I got a professional contract and moved to Germany," said Helenius. "I lived there for six years, boxed many fights there and now I'm boxing here [in America.]"
A 24-year-old Helenius debuted professionally in May 2008. His three-knockdown, first-round stoppage of Gene Pukall was followed by four-round unanimous decisions over David Vicena (June), Engin Solmaz (September), and Nikola Vujasinovic and Remigijus Ziausys—the last two being separated by 20 days in November.
"The Nordic Nightmare" stopped all five of his rivals in 2009 comprising TKOs over Enrico Garmendia (February) and Ozcan Cetinkaya (May) in the first and second rounds, a third-round stoppage of Taras Bidenko (November) and a pair of six-round knockouts of Scott Gammer (May) and Serdar Uysal (August), with Cetinkaya and Gammer being separated by 21 days.
Taking Down Former Champions
Helenius went 4-0 (3 KOs) in 2010, starting with an impressive eighth-round TKO of former champion Lamon Brewster in January.
In succession Helenius then vanquished Gbenga Oluokun (March) by eight-round unanimous decision before stopping previously unbeaten Gregory Tony (August) and Attila Levin (November) in the sixth and second rounds.
Helenius began 2011 with back-to-back ninth-round knockouts of ex-champions Samuel Peter (April) and Siarhei Liakhovich (August) before overcoming rugged title challenger Dereck Chisora (December) by split-decision, who slipped to 15-2 (9 KOs). It was a solid year for him, moving him toward world title contention.
Fighting once each in 2012 and 2013, Helenius earned 10-round unanimous decisions over Sherman Williams (November) and Michael Sprott (March). Helenius then improved to rose to 22-0 (13 KOs) in 2015 with a third-round knockout of Beka Lobjanidze (June) and a 10-round unanimous decision over Franz Rill (December), who entered at 12-0 (7 KOs).
Back & Better Than Ever
Helenius went 2-1 in 2016, a sixth-round knockout loss to former title challenger Johann "Reptile" Duhaupas (April) preceding 49- and 48-second stoppage victories over Konstantin Airich (September) and Gonzalo Omar Basile (December).
But Helenius' sixth-round stoppage of Evgeny Orlov in June 2017 was followed by October's 10-round unanimous decision loss to former title challenger Dillian Whyte.
"The Nordic Nightmare" won thrice more in 2018 before losing again in 2019. Consecutive split- and unanimous decisions over Yury Bykhautsou in March and August were followed by an eighth-round knockout of Erkan Teper (19-2, 12 KOs entering) before Helenius was stopped in the eighth round by title challenger Gerald Washington (July).
Helenius rebounded with November's second-round TKO of Mateus Roberto Osorio, setting him up for a bout versus rising unbeaten slugger Adam Kownacki in March 2020.
"Baby Face" Kownacki was to host Helenius before his hometown crowd at Barclays Center in Brooklyn, New York, where his own second-round TKO loss of Washington (January 2019) preceded the latter's triumph over Helenius. Kownacki entered at 20-0 with 15 knockouts, including 8-0 with five KOs at Barclays.
"This is the fight I have been waiting for. All of the years of training and fighting will pay off when we fight on March 7," said Helenius.
"Kownacki is about to feel the strength of Thor's hammer. I respect him for taking this fight, but he chose the wrong opponent. This is not going to be a fight; it's going to be a war. I will be the last man standing."
Helenius' was prophetic, his fourth-round right to the jaw dropping Kownacki to one knee, and his subsequent left hook flooring him once more before a barrage of blows forced a referee's stoppage. The fourth-round TKO silenced a boisterous, predominantly-Polish crowd of 8,811.
"The first thing that my coach said to me was, 'Let's make Brooklyn quiet.' I did that. I remember landing two shots. I knew he was hurt, so I was just trying to knock him out," said Helenius.
"I knew that he wouldn't recover, so I just tried harder to knock him out or to get the referee to come in and stop the fight. I'm a two-time European champ and a soon to be world champ."