A look back at the young career of the rising unbeaten welterweight prospect ahead of his showdown versus James Martin Saturday night on FOX PBC Fight Night.
It's still a little hard to believe Vito Mielnicki Jr. is only 18. The New Jersey native, who will turn 19 on May 10, carries a bearing that belies his age. He's gradually climbing his personal ladder toward stardom—and growing incrementally before the boxing world.
Another step will occur this Saturday, April 17, when Mielnicki takes on 23-year-old James Martin (6-2) on FOX PBC Fight Night (8 p.m. ET/5 p.m. PT) from the Shrine Auditorium and Expo Hall, in Los Angeles, California.
The fight will be on the undercard of the 10-round 154-pound main event between former WBC super welterweight world champion Tony "Superbad" Harrison and Bryant "Goodfella" Perrella.
Mielnicki (8-0, 5 KOs) may have choirboy looks, but he possesses an arsenal of sharp boxing tools.
Although it's a small, sprouting sample size, we'd like to take a look back at five victories that have defined him so far.
5 STEVEN PULLUAIM
Date: December 5, 2020
Location: AT&T Stadium, Arlington
Records at the time: Mielnicki 6-0 (4 KOs), Pulluaim 5-2 (1 KO)
Result: Mielnicki UD (60-52, 60-52, 60-52)
Significance: Going into the fight, Mielnicki was aware that the 6-foot-1 Pulluaim would use his legs and length to stay out of harm's way. Adding to that was the huge platform Mielnicki fought on, at AT&T Stadium, a PBC FOX Sports pay-per-view under the main event that featured Errol Spence Jr. and Danny Garcia. Mielnicki hurt Pulluaim with an overhand right in the second, set up by slipping a hook. But Mielnicki felt he let him escape.
"What I liked was that I got the sixth round, the fifth round, the fourth round, and I had to settle into the fight and win each round dominantly," Mielnicki said. "I had him hurt a few times and I let him off the hook. I learned when you have a man hurt that you have to finish him."
4 TAMARCUS SMITH
Date: July 13, 2019
Location: Prudential Center, Newark
Records at the time: Mielnicki's pro debut, Smith 2-2 (2 KOs)
Result: Mielnicki TKO 1 (1:16)
Significance: This was Mielnicki's pro debut and lending more heat to that occasion was that it took place at the Prudential Center, mere blocks from where Mielnicki grew up. It was in front of about 6,000 fans—most of which were Mielnicki supporters. The teenager held up well. Mielnicki put on a dazzling display, mixing his attack. He stopped Smith with a combination, which started as a left hook to the body and then followed by a left hook to the head. The knockout made national news, receiving mention on ESPN's SportsCenter Top 10 for Saturday, July 13, 2019. Mielnicki's emotional balance shined. He could have folded under the glare and didn't.
"That went back to me always being the kid who loved the bright lights, and it sounds like I'm a show-off, but I'm not," Mielnicki said. "When I had to talk in front of people, I had trouble with it. I tended to stutter. But a kid like me, fighting at the Prudential Center, which was 10, 15 minutes away from my house, that was like a dream. You want those moments."
3 PRESTON WILSON
Date: January 18, 2020
Location: Liacouras Center, Philadelphia
Records at the time: Mielnicki 3-0 (3 KOs), Wilson 6-3-1 (4 KOs)
Result: Mielnicki UD (40-36, 40-36, 40-36)
Significance: Facing a southpaw, this marked the first time Mielnicki went the distance. The fight occurred under Jeison Rosario's upset victory over Julian "J Rock" Williams in his hometown of Philadelphia. Still 17 at the time, Mielnicki took his time against the 26-year-old Wilson. Throughout the fight, Mielnicki kept landing his straight right to the body and the head. He learned to close the distance and not get frustrated over Wilson's tedious tactics.
"I had to take my time in that fight, even after I sparred with southpaws," Mielnicki recalled. "I had to find my distance, keep my eyes right to where his hands were, and figure him out. I kept my poise. He didn't really commit on anything, making it harder to hit him. I stuck to my game plan. I wasn't too happy after that fight, because I wanted to knock him out. But when I look back on it, I gained from it."
2 MARKLIN BAILEY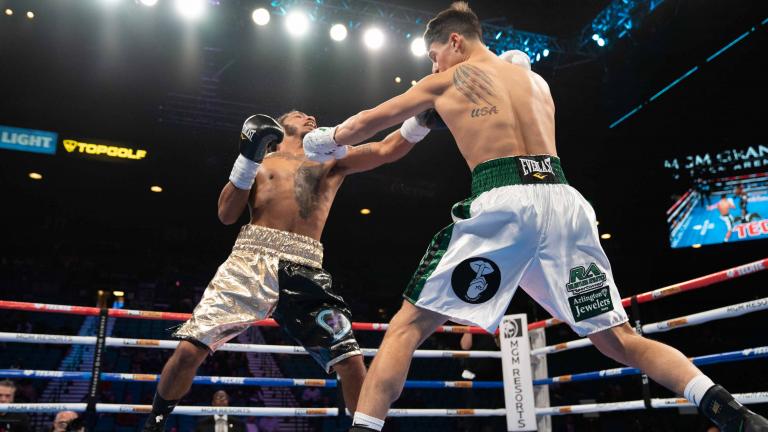 Date: November 23, 2019
Location: MGM Grand, Grand Garden Arena, Las Vegas
Records at the time: Mielnicki 2-0 (2 KOs), Bailey 6-4 (4 KOs)
Result: Mielnicki TKO 2 (2:31)
Significance: This occurred on the Deontay Wilder-Luiz Ortiz rematch on PBC FOX Sports pay-per-view. Only two fights into his pro career, Mielnicki appeared for the first time on a large stage. He was involved in media workouts, mass press conferences, and a large multi-media weigh-in. Mielnicki was on the prelim portion of the card on FS1 and fought the durable Bailey. Mielnicki was aware that Bailey was a sound boxer though at 6-foot, he towered over the 5-foot-7 Bailey.
"The one big thing I learned is keep shorter guys at a distance. Because he was the shorter guy, I leaned down and got a head butt on the temple," Mielnicki recalled. "I had to use my length and frustrate him with my jab. We wanted to walk him into shots. We did that, which set up the combination for the stoppage."
1 NOE LOPEZ
Date: February 27, 2021
Location: Shrine Exposition Center, Los Angeles
Records at the time: Mielnicki 7-0 (4 KOs), Lopez 10-3-1 (4 KOs)
Result: Mielnicki TKO 3 (2:50)
Significance: Lopez was the most experienced fighter Mielnicki fought to date. It was also Mielnicki's first eight-rounder. Entering the fight, Mielnicki kept his usual composure. Mielnicki read one prefight quote in which Lopez said he was young, untested and he was going to stop him late.
"I didn't play too much into that, I knew what I had to do," Mielnicki said. "That was a first-time thing for me, having an opponent say something about me in the pros. I knew I was younger, faster and I knew I was stronger. I had no animosity against him."
Mielnicki frustrated Lopez with his jab. In the second, Mielnicki set Lopez up with a good right, feinting, then slipping Lopez' jab to come over the top with a right that dropped the 34-year-old. Lopez was not too hurt, though Mielnicki sensed Lopez was fading. Weakened by Mielnicki's assault, the teenager poured on the pressure, causing referee Gerard White to step in and wave it over at 2:50 of the third.
"There were technical, little things with my feet and hand placement that I learned," Mielnicki said. "I say it's No. 1, because it was on big FOX, and it was my first fight against someone with 10 wins. Lopez was someone who wanted to make a statement. I did my job, stayed poised and got him out of there."
For a closer look at Vito Mielnicki Jr., check out his fighter page.