Sergey
Lipinets
"Samurai"
Weight 140 lbs (63.64 kg)
Age 31
Home Woodland Hills, California, USA
A former world champ in kickboxing, Kazakhstan-born powder keg Sergey Lipinets is blasting through the opposition in the 140-pound division. Read Bio
Last Fight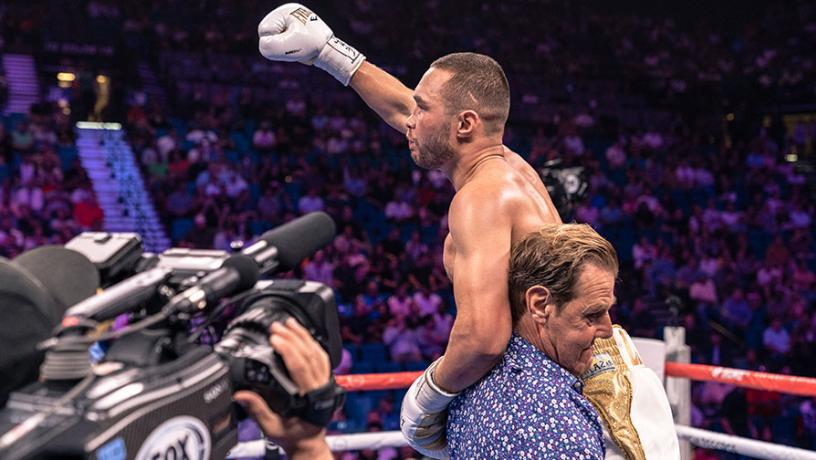 Jul 20, 2019 / MGM Grand Garden Arena, Las Vegas, Nevada
Former World Champ Sergey Lipinets scored a highlight-reel KO against late replacement Jayar Inson in their welterweight match on the PBC on FOX PPV card in Las Vegas.
Sign Up for
PBC

News

Get the latest fight announcements, fighter spotlights, and other PBC news delivered to your inbox.

Sergey Lipinets News
Jul 19, 2019 / Sergey Lipinets
Hard-hitting Filipino welterweight to face former World Champ on the blockbuster Manny Pacquiao vs Keith Thurman card at the MGM Grand in Las Vegas and live on FOX Sports PPV.
Jul 19, 2019 / Plant vs Lee, Pacquiao vs Thurman, Caleb Plant, Omar Figueroa Jr., Yordenis Ugas, Sergey Lipinets, John Molina Jr, Luis Nery, Juan Carlos Payano
Everything you need to know about Saturday night, from undefeated Super Middleweight Champion Caleb Plant against Mike Lee on FOX, to the Pacquiao-Thurman undercard, live on FOX Sports PPV.
Sergey Lipinets Fights
Win

vs

Jayar

Inson

18-2-0
Jul 20, 2019 • MGM Grand, Grand Garden Arena, Las Vegas, Nevada, USA
Sergey Lipinets WINS against Jayar Inson by TKO in Round 2 of 10
Mar 24, 2019 • MGM National Harbor, Oxon Hill, Maryland
Lamont Peterson LOSES to Sergey Lipinets by TKO in Round 10 of 12
Aug 04, 2018 • Nassau Coliseum, Uniondale, New York, USA
Sergey Lipinets WINS against Erick Bone by MD in Round 10 of 10
Mar 10, 2018 • THE FREEMAN COLISEUM, SAN ANTONIO, TEXAS
Mikey Garcia WINS against Sergey Lipinets by UD in Round 12 of 12
Win

vs

Akihiro

Kondo

31-8-1
Nov 04, 2017 • Barclays Center, Brooklyn, New York
Sergey Lipinets WINS against Akihiro Kondo by UD in Round 12 of 12
Win

vs

Clarence

Booth

14-2-0
Mar 04, 2017 • Barclays Center, Brooklyn, New York, USA
Sergey Lipinets WINS against Clarence Booth by TKO in Round 7 of 0
Win

vs

Leonardo

Zappavigna

35-2-0
Dec 10, 2016 • USC Galen Center, Los Angeles, California, USA
Sergey Lipinets WINS against Leonardo Zappavigna by KO in Round 8 of 12
Jul 15, 2016 • Horseshoe Tunica Hotel & Casino, Tunica, Mississippi
Sergey Lipinets WINS against Walter Castillo by TKO in Round 7 of 12
Win

vs

Levan

Ghvamichava

18-4-1
Mar 15, 2016 • Robinson Rancheria Resort & Casino, Nice, California
Sergey Lipinets WINS against Levan Ghvamichava by KO in Round 5 of 10
Oct 30, 2015 • The Venue at UCF, Orlando, Florida
Lydell Rhodes LOSES to Sergey Lipinets by UD in Round 10 of 10
Win

vs

Haskell

Rhodes

7-0-0
Oct 30, 2015 • The Venue at UCF, Orlando, Florida, USA
Sergey Lipinets WINS against Haskell Rhodes by UD in Round 10 of 10
Win

vs

Kendal

Mena

20-1-0
Jul 08, 2015 • BB King Blues Club & Grill, New York, New York, USA
Sergey Lipinets WINS against Kendal Mena by TKO in Round 3 of 8
Win

vs

Cosme

Rivera

37-19-3
Mar 13, 2015 • A La Carte Event Pavilion, Tampa, Florida, USA
Sergey Lipinets WINS against Cosme Rivera by TKO in Round 9 of 10
Win

vs

Ernie

Sanchez

14-5-1
Nov 28, 2014 • Luzhniki, Moscow, Russia
Sergey Lipinets WINS against Ernie Sanchez by KO in Round 8 of 10
Win

vs

Daniel

Lomeli

22-4-0
Sep 27, 2014 • Dynamo Palace of Sports in Krylatskoye, Moscow, Russia
Sergey Lipinets WINS against Daniel Lomeli by TKO in Round 7 of 8
Win

vs

Rynell

Griffin

7-21-2
Jul 18, 2014 • Quiet Cannon, Montebello, California, USA
Sergey Lipinets WINS against Rynell Griffin by KO in Round 3 of 6
Win

vs

Dzemil

Cosovic

3-1-1
May 30, 2014 • Luzhniki, Moscow, Russia
Sergey Lipinets WINS against Dzemil Cosovic by KO in Round 4 of 6
Win

vs

Franklin

Varela

21-14-0
Apr 25, 2014 • Dynamo Palace of Sports in Krylatskoye, Moscow, Russia
Sergey Lipinets WINS against Franklin Varela by UD in Round 6 of 6
Sergey
Lipinets
"Samurai"
Weight 140 lbs

(63.64 kg)
Born

March 23, 1989

Age

31

Country

Russia

Born in

Martuk

Trains in

Woodland Hills

, CA
Stance

Orthodox

Rounds Boxed

123

KO Percentage

70.59%

Boxing Hero