In the grand pantheon of really rare things, Daniel Jacobs fights that go the distance rank right up there with steak tartare and Kardashian media blackouts.
Of Jacobs' 29 pro bouts, 26 have ended in a knockout—including all three that he chose for his Greatest Hits.
As Daniel Jacobs (28-1, 25 KOs) prepares to battle Caleb Truax (25-1-2, 15 KOs) in Chicago on Friday night in a bout that airs on Spike TV at 9 p.m. ET/PT, he looks back on a trio of his most significant fights.
3 vs Dimitri Pirog, July 31, 2010, at Mandalay Bay Events Center in Las Vegas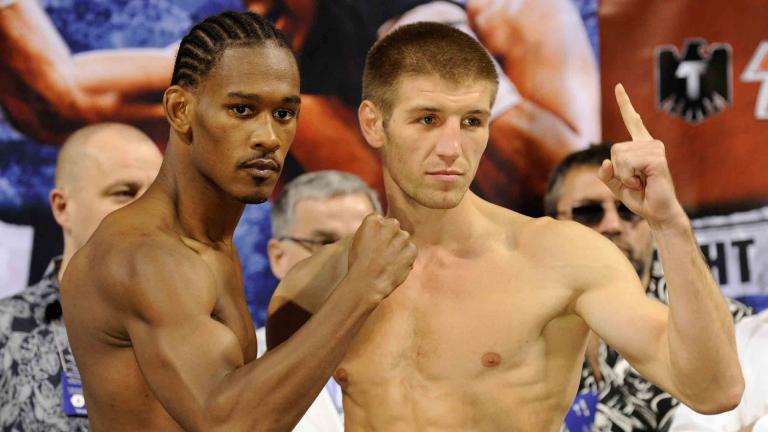 What should have been one of the biggest moments of Jacobs' career, a prime slot on the pay-per-view undercard of Juan Manuel Marquez's rematch with Juan Diaz, instead became one of the saddest when his grandmother died the week of the fight.
"I actually witnessed the passing. It was devastating to me," Jacobs says. "But I thought that I could fight in her honor. I remember being backstage at that fight and crying, not really wanting to be there. I just wanted to be home with my family. But I thought I could overcome it and get a big victory."
Instead, Jacobs succumbed to the hard-hitting Pirog, who knocked him out.
"That fight stands for a lot to me because I now know that boxing is more mental than it is physical," Jacobs says. "Physically, I was in the best shape of my life, but mentally, I was in the worst shape of my life. I know now that you have to incorporate your mental as well as your physical health, and it has to be 100 percent on both ends if you want to be victorious."
2 vs Giovanni Lorenzo, August 19, 2013, at Best Buy Theater in New York
On paper, the Dominican-born Lorenzo looked to be one of the toughest tests of Jacobs' career.
On canvas, it was a different story.
Although Lorenzo had never been stopped, Jacobs did just that with a brutal third-round knockout that made Lorenzo's face look as if was made of Silly Putty.
"I was going in there to give my best performance, not thinking that I could knock out a guy like that because he had never really been hurt," Jacobs says. "I was just going in there to test my skills against a very tough and durable top contender, but (the knockout) surprised me."
Afterward, Jacobs didn't view himself the same way.
"It dawned on me that I had different levels," he says. "I always thought I was stuck at one level, and even though it was a good level, I realized that I had just a little more than what I expected."
1 vs Jarrod Fletcher, August 9, 2014, at Barclays Center in Brooklyn, New York
A raucous hometown crowd fueled Jacobs during this 160-pound title fight, giving him not just a boatload of confidence, but more like a freight liner.
"It just really felt like it was my night," Jacobs says. "I couldn't see a way of how I could be defeated."
Jacobs jumped on Fletcher, almost knocking him out in the first round, but then employed a more methodical approach after that.
"I kind of took my time because when you're dealing with guys at that level, sometimes they're able to get back in the second half of the fight," Jacobs explains. "I was kind of cautious the second and third rounds, and when I realized he didn't really have anything up his sleeve, I just went for the kill. Two rounds later, I got him out of there."
It was the biggest win in a career that began when Jacobs was but a teenager.
"That was the fight where I captured my dreams," Jacobs says. "It was an opportunity that I thought would never present itself. But it did, and I took full advantage of it."