"I'm a fighter who dissects things," Sergio Mora begins, his words serving as his scalpel as he vivisects his career.
Sergio Mora (28-3-2, 9 KOs) is reflecting on his most significant fights prior to Saturday, when he takes on Daniel Jacobs (29-1, 26 KOs) at Brooklyn's Barclays Center (ESPN, 9 p.m. ET/6 p.m. PT). Mora's candid and unflinching when counting down his Greatest Hits, some of which left him feeling not-so-great afterward.
3 vs Shane Mosley, September 18, 2010, at Staples Center in Los Angeles
When Mora discusses his Leatherface-ugly 2010 draw with Mosley, he spits out his words as if they were coated in something foul-tasting.
"That changed my career, it changed the way I think about the sport, it embittered me," he says. "It made me despise the fickleness of the fans and the business. I never would think in a million years that a draw with a world-champion legend would blackball me from the networks and basically get me fired from the sport, because that's what it did. Golden Boy fired me, and my manager at the time let me go. Everyone shut the doors on me."
While the boxing peanut gallery savaged Mora after the fight, he takes solace in the fact that his opponent never disparaged him.
"Shane Mosley has nothing but great things to say about me, 'He's a helluva fighter, he has fast feet, he's smart, he was hitting me with some shots,'" Mora says. "He never cried robbery, he said, 'Hey, man, it could have gone either way.
"It takes two to make a stinky fight," he continues. "But all the blame got put on my shoulders. That fight ruined the positive passion that I had for boxing and just put a big chip on my shoulder. That fight is the worst fight of my career, but it made me the person that I am now."
2 vs Vernon Forrest, June 7, 2008, at Mohegan Sun Casino in Uncasville, Connecticut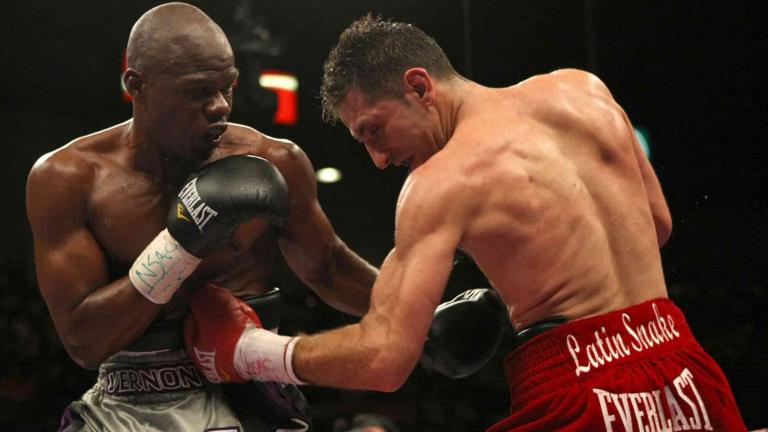 Heading into this 154-pound title fight against champion Vernon Forrest, Mora's trainer's palms were as sweaty as a towheaded roofer in Tehran.
"He was a nervous wreck," Mora says. "When we were like 1-0 or 2-0, we watched Vernon Forrest destroy Shane Mosley. This was way before we ever had an inkling that we would be in the ring with him. I remember my trainer telling me, 'That's one guy you never want to fight. This guy is a perfect fighter, look at his stance, his power, his length.'"
Forrest was equally confident in his abilities.
"He was saying that I didn't belong in the ring with him, that I was a pretender, that I was just a guy who's popular from a television show and he was going to put me in the hospital," Mora recalls. "He just went off on me, man."
Come fight night, though, it was Mora who went off, weathering Forrest's early charge to outbox his way to a decision victory.
"I knew that if Vernon wasn't going to hurt me in the first three rounds, I was going to beat him," Mora says. "To beat him at 4-1 odds and become a world champion was huge, man. It validated my career."
1 vs Peter Manfredo Jr., May 24, 2005, at Caesars Palace in Las Vegas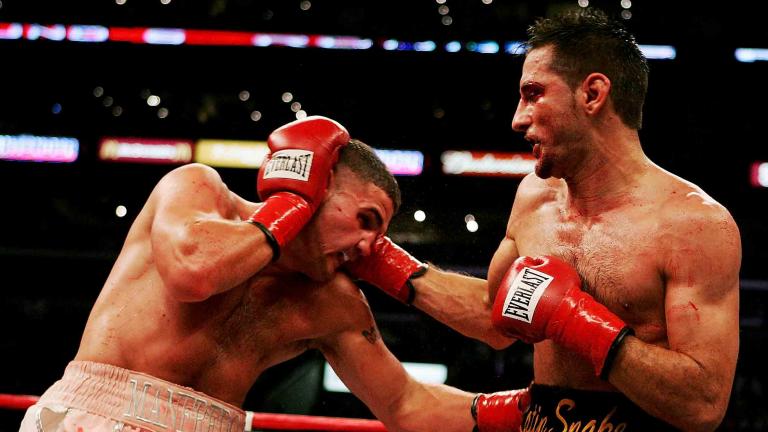 Prior to their showdown in the finale of the first season of The Contender reality TV series, Mora and Manfredo met as amateurs in the semifinals of a national Golden Gloves tournament.
Mora won a competitive fight, but their second encounter wouldn't be so close.
Manfredo had become a different fighter, though the end result of this clash with Mora would be the same.
"Peter Manfredo used to be a mover and a boxer, a sharpshooter, when he started," Mora says. "Then all of sudden when he got on The Contender, he wanted to bang and prove that he's an Italian, Rocky warrior. Spending 16 weeks with him in the house made me realize, 'This guy's mentally weak. He needs his family with him. He relies on outside support.' I knew I was going to beat him."
Mora's win would be his breakthrough moment.
When doors were being slammed shut in his face within the sport, he went and kicked them down.
"This reality show gave me the opportunity to be seen around the world, it gave me a chance," he says. "Your first taste of success is always your best."