Immanuwel
Aleem
"The Chosen One"
Weight 160 lbs (72.73 kg)
Age 27
Home Richmond, Virginia,
With his aggressive style, lightning-quick contender Immanuwel Aleem is generating excitement as he claws his way up the 160-pound division. Read Bio
Last Fight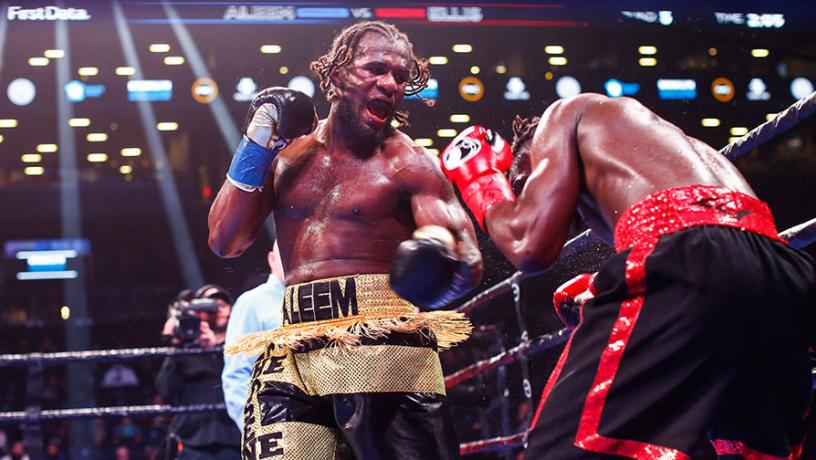 Dec 07, 2019 / Barclays Center, Brooklyn, New York
Immanuwel Aleem suffered his second career defeat as he lost to Ronald Ellis by majority decision ( 93-97, 95-95, 92-98) at Barclays Center in Brooklyn.
Sign Up for
PBC

News

Get the latest fight announcements, fighter spotlights, and other PBC news delivered to your inbox.

Immanuwel Aleem News
Aug 2, 2018 / Jamal James, Immanuwel Aleem, Jamontay Clark, James vs Montes
Middleweight contenders Willie Monroe Jr. and Immanuwel Aleem square-off in the co-main event, while unbeaten rising prospect Jamontay Clark steps in against once-beaten Jeison Rosario in super welterweight action from the Armory in Minneapolis.
Immanuwel Aleem Fights
Loss

vs

Ronald

Ellis

16-1-2
Dec 07, 2019 • Barclays Center, Brooklyn, New York, USA
Immanuwel Aleem LOSES to Ronald Ellis by MD in Round 10 of 10
Draw

vs

Matvey

Korobov

28-3-1
May 11, 2019 • EagleBank Arena, Fairfax, Virginia, USA
Matvey Korobov DRAWS with Immanuwel Aleem by MD in Round 10 of 10
Win

vs

Juan De

Angel

20-8-1
May 19, 2018 • MGM National Harbor, Oxon Hill, Maryland, USA
Immanuwel Aleem WINS against Juan De Angel by RTD in Round 6 of 10
Aug 25, 2017 • Buffalo Run Casino, Miami, Oklahoma, USA
Immanuwel Aleem LOSES to Hugo Centeno Jr by KO in Round 3 of 10
WIN

vs

Ievgen

Khytrov

14-0-0
Jan 14, 2017 • Barclays Center, Brooklyn, New York, USA
Ievgen Khytrov LOSES to Immanuwel Aleem by TKO in Round 6 of 10
Draw

vs

Demond

Nicholson

17-1-0
Jul 29, 2016 • Centre Videotron, Quebec City, Quebec, Canada
Immanuwel Aleem DRAWS with Demond Nicholson by MD in Round 8 of 8
Win

vs

Jonathan

Cepeda

17-2-0
Apr 19, 2016 • Sands Bethlehem Event Center, Bethlehem, Pennsylvania
Immanuwel Aleem WINS against Jonathan Cepeda by UD in Round 8 of 8
Win

vs

Carlos

Galvan

11-3-1
Dec 08, 2015 • Sun National Bank Center, Trenton, New Jersey, USA
Immanuwel Aleem WINS against Carlos Galvan by SD in Round 8 of 8
Win

vs

Oscar

Riojas

9-2-0
Sep 15, 2015 • California University of PA, California, Pennsylvania, USA
Immanuwel Aleem WINS against Oscar Riojas by UD in Round 6 of 6
Win

vs

David

Toribio

21-14-0
May 23, 2015 • Agganis Arena, Boston, Massachusetts, USA
Immanuwel Aleem WINS against David Toribio by TKO in Round 1 of 0
Win

vs

Emmanuel

Sanchez

6-2-0
Apr 18, 2015 • Valley Forge Casino and Resort, Valley Forge, Pennsylvania, USA
Immanuwel Aleem WINS against Emmanuel Sanchez by TKO in Round 2 of 8
Win

vs

Angel

Martinez

6-8-3
Nov 14, 2014 • Harrah's Philadelphia, Chester, Pennsylvania, USA
Immanuwel Aleem WINS against Angel Martinez by TKO in Round 5 of 6
Win

vs

Juan Carlos Rojas

Sanchez

5-7-1
Aug 01, 2014 • Little Creek Casino Resort, Shelton, Washington, USA
Immanuwel Aleem WINS against Juan Carlos Rojas Sanchez by TKO in Round 6 of 6
Win

vs

Juan Carlos

Rojas

6-6-1
Aug 01, 2014 • Little Creek Casino Resort, Shelton, Washington, USA
Immanuwel Aleem WINS against Juan Carlos Rojas by TKO in Round 6 of 6
Win

vs

Cameron

Allen

5-15-0
Jun 06, 2014 • Fantasy Springs Casino, Indio, California, USA
Immanuwel Aleem WINS against Cameron Allen by TKO in Round 4 of 6
Win

vs

Mike

Noriega

4-2-0
Apr 24, 2014 • Agua Caliente Casino, Rancho Mirage, California, USA
Immanuwel Aleem WINS against Mike Noriega by KO in Round 2 of 6
Win

vs

Timothy

Hall Jr

7-15-0
Jan 17, 2014 • Rosecroft Raceway, Fort Washington, Maryland, USA
Immanuwel Aleem WINS against Timothy Hall Jr by UD in Round 6 of 6
Win

vs

Joseph

Benjamin

4-25-2
Oct 05, 2013 • Main Event Gym, Columbia, South Carolina, USA
Immanuwel Aleem WINS against Joseph Benjamin by TKO in Round 4 of 4
Win

vs

Mark

Anderson

3-12-1
Aug 24, 2013 • South Carolina, USA
Immanuwel Aleem WINS against Mark Anderson by UD in Round 4 of 4
Win

vs

Leshon

Sims

5-11-0
Mar 09, 2013 • The Hangar, Costa Mesa, California, USA
Immanuwel Aleem WINS against Leshon Sims by UD in Round 4 of 4
Win

vs

Mark

Baltimore

1-0-0
Oct 27, 2012 • Patriot Center - George Mason University, Fairfax, Virginia, USA
Immanuwel Aleem WINS against Mark Baltimore by UD in Round 4 of 4
Sep 29, 2012 • Convention Center, Washington, District of Columbia, USA
Immanuwel Aleem WINS against Marcus Clay by TKO in Round 2 of 4
Win

vs

Jess

Noriega

0-2-0
Jun 23, 2012 • Smith Gymnasium, Henderson Hall USMC Base, Arlington, Virginia, USA
Immanuwel Aleem WINS against Jess Noriega by TKO in Round 1 of 4
Immanuwel
Aleem
"The Chosen One"
Weight 160 lbs

(72.73 kg)
Born

October 18, 1993

Age

27

Country

USA

Born in

East Meadow, NY

Trains in

Richmond

, VA
Stance

Southpaw

Rounds Boxed

110

KO Percentage

50%

Boxing Hero