Highlights
–Lydell Rhodes controlled the tempo from a circular distance over the first four rounds behind a rapid-fire jab. Sergey Lipinets chased his shorter opponent, probing with a jab in an attempt to land a big right hand.

–Rhodes continued to use his movement to frustrate the Kazakhstan native before Lipinets turned the momentum in his favor starting with powerful right hands in the seventh and eighth.

–Lipinets wobbled Rhodes twice and nearly finished him during both the ninth and 10th rounds, hammering him relentlessly over the final three minutes. Rhodes was penalized a point for excessive holding in the final round, but it didn't affect the outcome as Lipinets won a unanimous decision.
Lydell Rhodes vowed to make Sergey Lipinets "look like a C-level or D-level fighter," but it was the Kazakhstan native who received the passing marks in their 140-pound bout at The Venue at UCF in Orlando, Florida.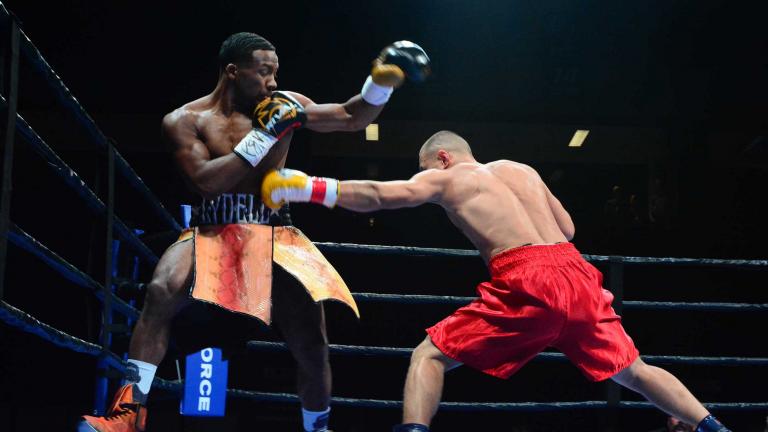 The 5-foot-7 Lipinets initially had trouble getting a bead on the 5-4½ Rhodes, but he eventually cut the distance, cut of the ring and simply broke down the smaller man over the course of the fight.
Rhodes circled and moved in and out behind a rapid-fire jab over the first couple of rounds as Lipinets initially failed to cut off the ring while searching for a spot to land his right over an occasional jab of his own.
Although the fighters exchanged toe-to-toe over the final 10 seconds of the first round, Lipinets was largely frustrated early on by Rhodes, who continually beat him to the punch from distance.
Rhodes added three more right hands in the fourth, standing his ground more as Lipinets' corner implored their fighter to cut the distance.
On separate occasion in the fifth, Rhodes connected on three straight jabs to set up follow-up right hands. But Lipinets timed the Oklahoma native more in the seventh and eighth, finding the mark with several big right hands and a few follow-up combinations.
Called for an unpenalized low blow early in the ninth, the hammer-fisted Lipinets stunned his opponent with a head-swiveling right hand within the final 30 seconds as Rhodes clung on in desperation to finish the round.
Lipinets, who now fights out of Russia, badly wobbled Rhodes in the ninth with a head-swiveling right hand, and nearly finished him in the 10th with a succession of big rights and an assortment of other blows.
Referee James Warring penalized Rhodes for excessive holding in the final round as the fighter simply tried to survive the round.
In the end, it didn't matter as Lipinets (8-0, 6 KOs) won a unanimous decision by scores of 98-91 twice and 96-93 over Rhodes (23-1-1, 11 KOs), whom he outlanded 122-79 in total punches and 79-57 in power shots.