His nickname is "El Mexicanito" ("The Little Mexican"), but there's nothing diminutive about Tomoki Kameda's ambitions.
"My plan is to stay undefeated until I retire, win multiple world titles and be one of the best pound-for-pound fighters," he says matter-of-factly.
Well, Kameda's record remains unblemished at 31-0 and he's already won one world title, so he's on his way.
Now, in the biggest fight of his career thus far, Tomoki Kameda takes on 118-pound champion Jamie McDonnell on Saturday in Hidalgo, Texas, with the bout airing on CBS at 4:30 p.m. PT/1:30 p.m. ET.
Prior to that scrap, Kameda counts down his Greatest Hits.
3 vs. Alejandro Moreno, November 21, 2008, at Salon Marbet Plus in Ciudad Nezahualcoyotl, Mexico
What Kameda lacks in size he makes up for in nerve: When he was but 15 years old, he left his native Japan to train and fight out of Mexico, looking to face the toughest competition he could find.
"As a kid, I never wanted anything easy," Kameda says. "I always wanted to work the hardest out of all the [three Kameda] brothers. I wanted to challenge myself, to fight different styles, see different faces and be in a different atmosphere. Doing that, I think made me the stronger fighter that I am now."
Kameda's fight against Moreno was his pro debut and the start of a successful, still-undefeated run in his adopted homeland.
"I hadn't been [in Mexico] that many years, and I was a little nervous," he says. "But I went in there and I felt like I did well, knocked the guy out in the second round. It was a great experience. It's always great to know that my first fight was in Mexico, where I feel is one of my second homes."
2 vs. Paulus Ambunda, August 1, 2013, at Cebu City Waterfront Hotel & Casino in Cebu City, Cebu, Philippines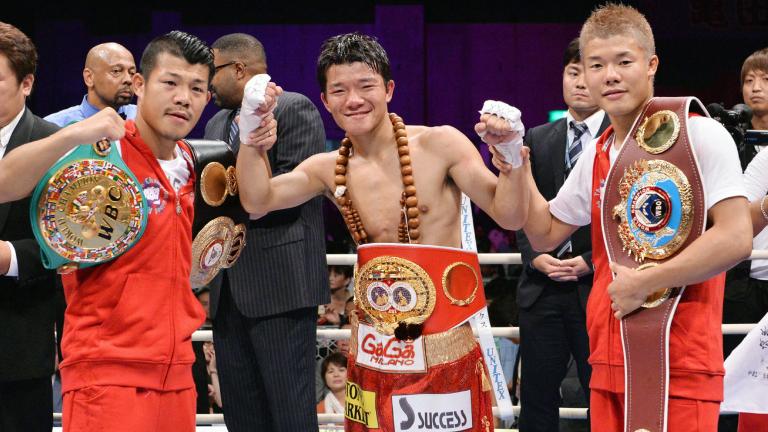 Kameda's fight with 118-pound champion Ambunda was his coming-out party in that weight class—a party with no piñata, so Kameda had to settle for whacking at Ambunda's face instead.
"He was a real strong fighter. He was undefeated, had a ton of amateur experience," Kameda says. "He was doing a lot of talking going into the fight, saying that he was going to beat me and that I wasn't ready, that he was the better fighter. It was a pleasure to shut his mouth and take his title."
The win would set the stage for a historical first: When Tomoki's brother Daiki won a title the following month, joining Tomoki and oldest brother Koki as champions, the Kamedas became the only trio of siblings to be world champions at the same time.
"It was a big, big moment for me," he says. "That was definitely a fight that took me to the next level."
1 vs. Pungluang Sor Singyu, July 12, 2014, at the MGM Grand Garden Arena in Las Vegas
After dreaming of fighting in the United States as a young boxer, that day finally came against Thai fighter Pungluang Sor Singyu, whose name can be as difficult for Western tongues to pronounce as Pungluang is in the ring.
"The first round I came out smart, to study him," Kameda recalls. "I thought that he would come out tough, and that's exactly how it was. About the fifth round, I knew I was breaking him down and I said, 'This fight's in the bag.'"
Two rounds later, it was just that thanks to a devastating body shot.
"I knocked the guy out and he was a really good, tough fighter who was highly ranked," Kameda says. "It was an impressive knockout."
With the seventh-round KO, Tomoki became the first of the Kameda brothers to fight on U.S. soil.
"It was very exciting," he says. "It was a great experience, not only for me, but for the whole Kameda family."