Caleb Truax likes to pass the time ice fishing in his native Minnesota during winter. And when he steps in the ring, it's as if those chilly waters remain with him, keeping him cool no matter how heated the action gets.
As a fighter, Caleb Truax is a calculating, unflappable presence who doesn't seem to get rattled by much. As he gets ready to challenge Daniel Jacobs on Friday night at Chicago's UIC Pavilion in a fight that will air on Spike TV at 9 p.m. ET/PT, Truax knocks out his Greatest Hits.
3 vs Kerry Hope, November 20, 2009, at the National Guard Armory in St. Paul, Minnesota
The scorecards don't always tell the whole story: What looks like an easy win on paper for Truax—he won seven of 10 rounds on all three judges' scorecards—was actually hard-earned, as tenacious Brit Kerry Hope fought with all the spirit that his surname suggests.
"That was my first 10-round fight," Truax says. "I was confident I had won, but at the same time, I had to work so hard that I was sweating bullets. It was kind of nerve-racking. I was so tired, it didn't feel like I had won. I felt beat up."
It was the toughest test of Truax's career up to that point, and even though he passed, he learned plenty.
"The most important thing that I took from it was that a 10-round fight against a real serious, battle-tested pro is a tough thing to do," Truax says. "I had to step up my training just a little bit and make sure that I was fully prepared for going that distance. I moved forward a little bit differently."
2 vs Jermain Taylor, April 20, 2012, at the Beau Rivage Resort & Casino in Biloxi, Mississippi
For his 20th fight, Truax challenged former 160-pound champ Jermain Taylor, a leap up in competition that Truax used to measure himself.
Could he hang with the big dogs—even one past his prime?
Against Taylor, Truax proved himself to be no poodle.
"It was an eye-opening experience for me," Truax says. "Up until that point, I was confident in myself, but I guess I just didn't know how far I was going to take this boxing thing. I didn't know if I was good enough to compete with guys who were former champions or anything like that."
Truax didn't get the win, dropping a 10-round decision, but he also dropped Taylor in the ninth round and was coming on strong as the fight came to a close.
"He won the fight—I gave too many of the early rounds away and he piled up the points," Truax says. "But he never hurt me. He never really hit me with anything except his jab. It just gave me a ton of confidence knowing that I could stand in there with one of the former unified [160-pound] champions."
1 vs Don George, June 21, 2013, at the Convention Center in Minneapolis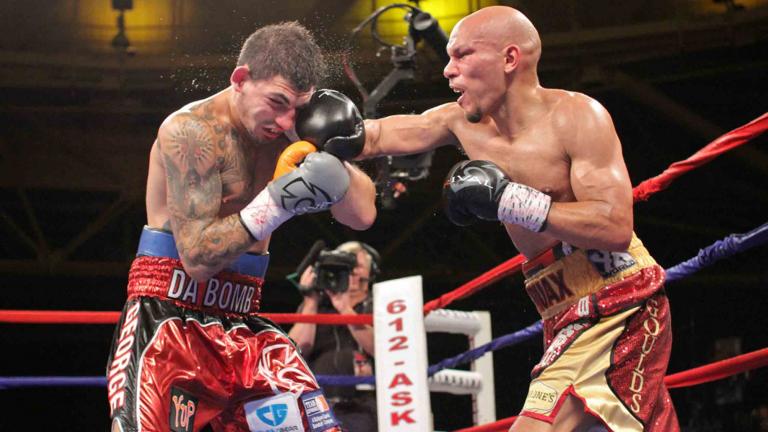 In his first televised fight after the Taylor loss, Truax was a sizable underdog against George, who seemed dismissive of his opponent leading up to the bout.
Instead of looking past Truax, George should have looked out.
"Everyone thought of me as a steppingstone for George; they were talking about him fighting Julio Caesar Chavez Jr. next," Truax recalls. "He was kind of cocky, was like a 5-to-1 favorite against me. It was in my hometown, and I'm just sitting back like, 'He ain't gonna come to my hometown and walk over me like I ain't even here.' I had a lot of motivation going into it."
Truax, who normally starts his fights in measured fashion, jumped right on George, knocking him down in the first round and controlling the action en route to a sixth-round TKO.
"He was a big right-hand puncher. We knew that, and we game-planned perfectly," Truax says. "He threw a couple of big right hands in the first round, and I was able to see them easily and get away from them. He was trying to jab with me and I was just eating him up with my jab. After I hurt him in the first round I could see it in his face, like, 'What the hell's going on here? I didn't expect that.'"
But Truax did.