Highlights
–Vanes Martirosyan's body blows and straight right hands were the more telling shots in the first round against southpaw Erislandy Lara. The challenger took three of the first four rounds by continuing to work the body—including scoring double-lefts to the liver—and connecting upstairs with a sold right hook to the jaw in Round 4.

–Despite a rising hematoma on his forehead resulting from a clash of heads, Lara cleanly landed straight and lead lefts in a slower-paced fifth and sixth while continuing to absorb shots to the midsection.

–Lara's movement and head-rocking lead, counter and straight lefts helped him secure the eighth and ninth rounds. The Cuban also benefitted from a questionable 11th-round low blow that led referee Vic Drakulich to deduct a point from the frustrated Martirosyan.
Neither Erislandy Lara nor with Vanes Martirosyan were satisfied with the result of their first fight in November 2012, a foul-filled match that ended in a ninth-round technical draw after an accidental headbutt caused a deep cut under Martirosyan's left eye.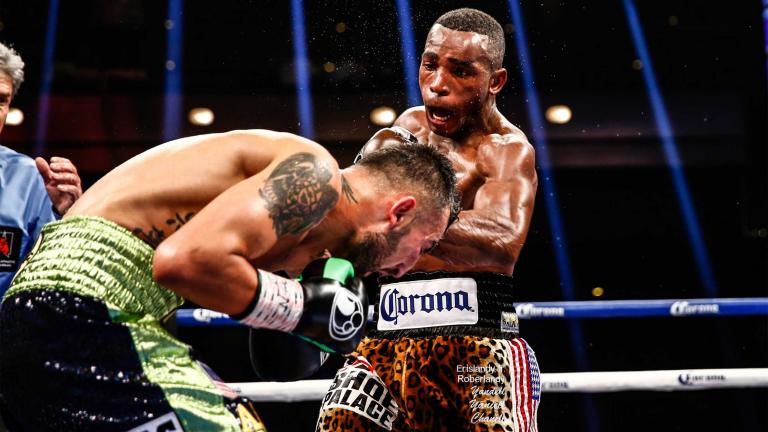 Their rematch wasn't any cleaner, but at least this time, the fight had a more natural conclusion—and a clear-cut winner.
Lara (23-2-2, 13 KOs) overcame a slow start and a nasty welt on his forehead, using his superior boxing skills and defense to retain his 154-pound title with a unanimous decision over Martirosyan (36-3-1, 21 KOs).
The scores were 115-112 and 116-111 twice.
Martirosyan's early body attack—including stinging double-lefts to the liver—won him three of the first four rounds. But then Lara came on strong, using lead, straight and counter left hands to gain distance against the challenger.
As was the case in the first fight, there were numerous head clashes throughout the contest, one of which led to the nasty hematoma on Lara's head. The 33-year-old southpaw also was on the receiving end of a couple of low blows as ruled by referee Vic Drakulich.
Although the second ruled low blow appeared to be right on Lara's belt line, Drakulich deducted a point from Martirosyan. The penalty clearly frustrated Martirosyan, who was so put off by Lara's frequent backpedaling that he mocked the champion by pretending to run in the 12th round.
In successfully defending his title for a fifth time, Lara outlanded Martirosyan,162-94 overall, with a 99-78 advantage in power shots. While Lara improved to 6-1 in his last seven fights, the 30-year-old Martirosyan fell to 4-3 since his first meeting with Lara.