Three fights, five rounds: It may take you longer to read about Tony Harrison's Greatest Hits than it took him to actually complete them.
"Once I smell blood, I'm going to finish you," the fast-rising 154-pound prospect says, living up to his words with 18 knockouts in his 21 victories.
It's been close to three years since one of his fights even went past three rounds.
Tune in on time, then, when undefeated Tony Harrison faces Willie Nelson (23-2-1, 13 KOs) on Saturday at the USF Sun Dome in Tampa, Florida, which airs on ESPN at 9 p.m. ET/6 p.m. PT.
3 vs Antwone Smith, March 6, 2015, at the MGM Grand Marquee Ballroom in Las Vegas
The forever yappy Antwone Smith exhorts like Monica Seles every time he throws a punch.
But Harrison swiftly silenced the noisy vet, who's been through a meat grinder of rugged opponents such as Kermit Cintron, Roberto Garcia, Jose Luis Castillo and Jermall Charlo.
"He fought everybody, man, and nobody did him like I did him," Harrison says.
Harrison savaged Smith, knocking him down twice in the first round and finishing him seconds into the next in what was Harrison's first time headlining a televised fight card.
"It was my first platform for the world to see the new guy on the block," he says. "It meant a lot."
2 vs. Grady Brewer, February 7, 2014, at the Masonic Temple in Detroit
Harrison has never been stopped in the ring, but a Detroit city official almost did just that during this jam-packed homecoming fight.
"The fire marshal came in the building three times and said that if we let one more person in the building, they were going to shut the fight down," Harrison recalls. "It just gave me goose bumps. It was wall-to-wall in there. Everybody came together for one special event."
In Brewer, he faced a trash-talking veteran who'd beaten tough outs such as Cornelius Bundrage, Fernando Guerrero and Steve Forbes, and won the second season of The Contender.
"He came in, he talked this mess. He got under my skin a little bit. It grew me as a fighter," says Harrison, who stopped Brewer in the second round. "It was a step-up fight for me. To beat a guy like that, it's like, 'We can start taking this guy a little more seriously than we've taken him before.'"
1 vs. Uwe Tritschler, July 2, 2011, at the Imtech-Arena in Hamburg, Germany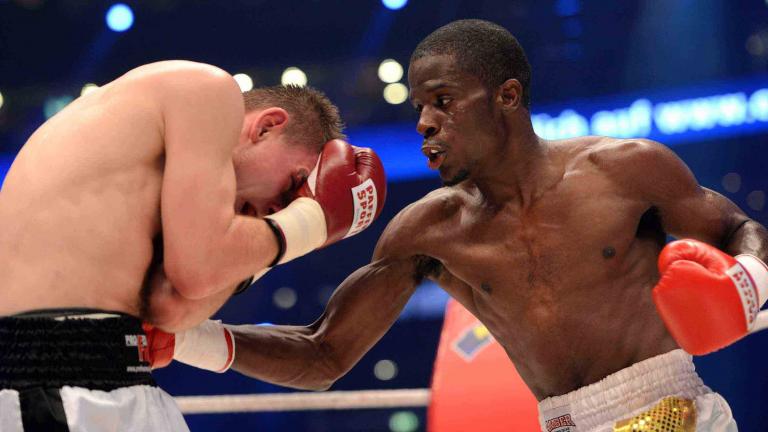 Harrison had never been out of his native Detroit when he made his pro debut in Hamburg, Germany, at a sold-out soccer stadium full of 60,000 people on the undercard of Wladimir Klitschko's whitewashing of David Haye.
To this day, Harrison still seems awed by the moment, sounding as if his eyes are wide as hubcaps as he recalls that fight night, when he dispatched Tritschler in the first round.
"It was more like a Kid Rock concert in Detroit for (Klitschko), like an Eminem concert at Tiger Stadium," he says. "Everything was perfect. And the crowd got crazy. That scene was just unexplainable."
Harrison was on the card because his trainer and mentor, the late Emanuel Steward, also trained Klitschko.
Steward became a father figure for Harrison.
"I didn't even know what 'pro' was without him reaching out to me, convincing my parents, 'Your son can do this,'" Harrison says. "It took me away from the atmosphere of ghetto boy in Detroit, to figure out that the thuggish lifestyle, the hard representation of Detroit, you don't have to carry that everywhere you go. It just grew me as a man."
To catch all the coverage of Harrison vs Nelson, visit our fight page.