Julian Williams is as hard on himself as he is the other dude in the ring.
In conversation and in the heat of battle alike, the man pulls no punches. To wit: The undefeated 154-pound prospect has 20 wins on his record, and yet only one of them made the cut for his Greatest Hits.
As Julian Williams (20-0-1, 12 KOs) gets ready to take on Argentinian aggressor Luciano Cuello (35-3, 17 KOs) on Tuesday (Fox Sports 1, 9 p.m. ET/6 p.m. PT) he shares his thoughts on his three most significant fights.
3 vs Franciso Santana, May 13, 2011, at Chumash Casino in Santa Ynez, California
Things that are tough to look at: nude portraits of Ernest Borgnine, Medusa, your high school yearbook picture and a six-pack of Heineken during a cruel, cruel shortage of bottle openers.
For Williams, add his fight with Francisco Santana to the list.
"It was so hard to look at the tape," he says. "I was so embarrassed and so pissed off that I got a draw."
In his seventh pro fight, Williams went to Santana's home turf and got a test as stiff as his jab.
It was the kind of experience that every developing fighter needs to have, a plunge into deep waters against the human equivalent of concrete boots.
"He had a lot of endurance, man," he says. "He was just a physically tough guy. He had a great chin, and he just kept coming. I won the first three rounds clean, and then the last three rounds were really tough. I felt like I pulled out the win, but I didn't argue with the draw, because it was that close."
Afterward, Williams turned his blunders into building blocks.
"I made a whole bunch of mistakes in that fight—not going to the body properly, not using enough of my jab," he says. "But fights like that are character builders. That's what made me who I am today."
2 vs Joacim Alcine, June 22, 2013, at Barclays Center in Brooklyn, New York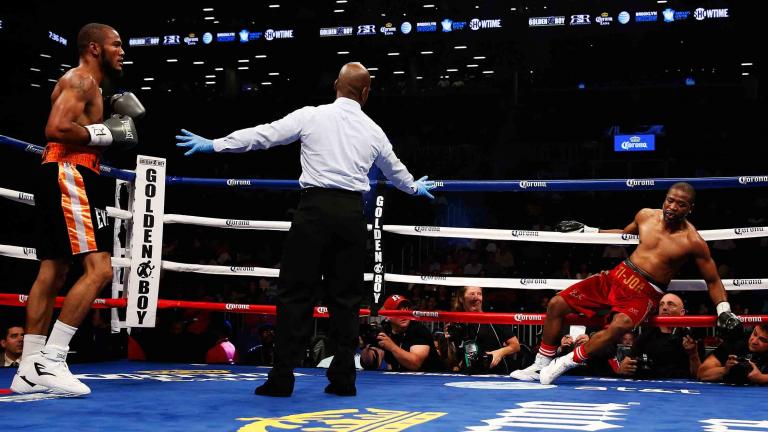 Williams didn't just take a jump up in competition when he faced former 154-pound champ Joacim Alcine in only his 12th pro fight; he pole-vaulted himself to a whole new level of talent and experience.
At the time, Alcine was coming off a pair of losses, but prior to that, he had vanquished fellow Canadian and current 160-pound dynamo David Lemieux and was the kind of smart, proven and dangerous vet who can serve as a trip wire for a young fighter's career.
Though Williams dropped Alcine in Round 1, and would later send him to the canvas twice more, Alcine hung in there, making Williams work bricklayer-hard en route to a unanimous-decision win.
"He was a warrior," Williams says. "His poker face was one of the best I'd ever seen, even when I hurt him. It was a tough fight, man. I learned a lot."
Such as?
"Just to be patient," he says. "After that fight, we went back to the drawing board, watched a lot of tape, worked on a lot of things. We started going to the body a little bit more, so it would be easier to get those guys out of there. I learned to pace myself through rounds. It was the biggest learning curve I had in my career thus far."
1 vs Hugo Centeno Jr., September 12, 2013, at the Premier Ballroom at the MGM Grand in Las Vegas
It was a meeting between two hot prospects with someone destined to get burned.
"It was a 50-50 fight, the kind of fight that the majority of prospects are going to have to go through to get to the next level," Williams says of his clash with Hugo Centeno Jr. "The majority of the sportswriters had him out-boxing me. He was definitely the favorite in the fight. I had a chip in my shoulder, man. And I trained like it."
Still, no matter what your opponent throws at you, sometimes life hits even harder.
And that was certainly the case for Williams heading into this fight, as his mother died a month before the bout.
"I remember [my manager] calling me after he had found out, and he said, 'Listen, you don't have to fight, we can reschedule it. You don't have to go into a fight this way,'" Williams recalls. "I'm like, 'No, that' s OK. Nobody cares about excuses. If I fight, I'm going to be 100 percent.' It was hard, training for a fight and then I'm planning for a funeral. My whole family is grieving. It was tough."
But Williams proved himself to be tougher still, winning every round on all three judges scorecards until an accidental head butt early in Round 4 ended the fight as a no-contest.
"It was just a rough time, but I think I delivered on the big stage," Williams says. "Up to that point, that was the biggest fight I had ever been in. I got a lot of respect. A lot of people opened their eyes to who I was."
Two years later, those eyes have only grown wider.