A German, a Russian and an Englishman walk into a bar—and Andre Dirrell punches them all in the face.
Now, we're not suggesting that Andre Dirrell has something against European dudes, but judging by his Greatest Hits, he clearly enjoys inflicting pain upon them.
Up next for Dirrell, yet another Euro, when he clashes with Britain's James DeGale on Saturday at Boston's Agganis Arena, which will air on NBC at 4:30 p.m. ET/1:30 p.m. PT.
Prior to that showdown, Dirrell counts down his three most meaningful fights.
3 vs. Carl Froch, October 17, 2009, at Trent FM Arena in Nottingham, Nottinghamshire, United Kingdom
There's hostile crowds, and then there's Carl Froch's frothing (or would it be Froching?) British fan base.
Dirrell didn't just go into the lion's den when he fought Froch on his home turf, he marched right into the gaping maw of said beast.
Even his chauffeur to the venue got in his ear.
"I remember jumping out of the limo at the stadium, and the [driver] told me, 'You're in deep water, Dirrell,'" he recalls. "I said, 'Well, call me Michael Phelps.' And that's exactly how I dealt with it."
It was Dirrell's first fight in Showtime's Super Six World Boxing Classic, and his lateral movement bedeviled Froch, who struggled to initiate his offense while Dirrell counterpunched successfully.
In the end, though, it wasn't enough for the judges, who gave Froch a split-decision victory.
"I still managed to put on—not my best performance—but a good one," Dirrell says. "I thought I pulled off the victory, so that let me know the skill level I had at that time and my mental mindset as well. That definitely boosted my confidence."
2 vs. Arthur Abraham, March 27, 2010, at Joe Louis Arena in Detroit
For his second bout in the Super Six tournament, Dirrell faced off with German 160-pound champ Arthur Abraham, a heavy hitter who famously demonstrated his toughness in a 2006 fight with Edison Miranda where he fought for eight rounds with his jaw broken in two places.
Dirrell got a taste of Abraham's power early.
"He caught me with a few good shots in the first round—and I took them, I ate them," Dirrell says. "Every shot he hit me with, it was a blunt force, I felt the heaviness of the blow. But I knew that if he could land on me, it would only be one punch at a time. It couldn't be a multitude of punches because he wasn't fast enough. So, from the first, second round, I knew that if I kept doing what I was doing, I had the fight in the bag."
Still, the fight took a strange—and painful— turn in the 11th round.
After slipping on a slick patch of the ring and falling to one knee, Dirrell was belted by Abraham while he was down, which the ref ruled was an intentional foul, disqualifying Abraham.
Nevertheless, Dirrell was dominating his opponent up to that point, invigorating him after the Froch decision.
"My goal was to win every round—I did that," he says. "I shut him out pretty much. That let me grasp ahold of my abilities as a fighter. That was one of my best performances, hands down. It did everything for me. I learned a lot about myself in that fight."
1 vs. Victor Oganov, November 1, 2008, at Home Depot Center in Carson, California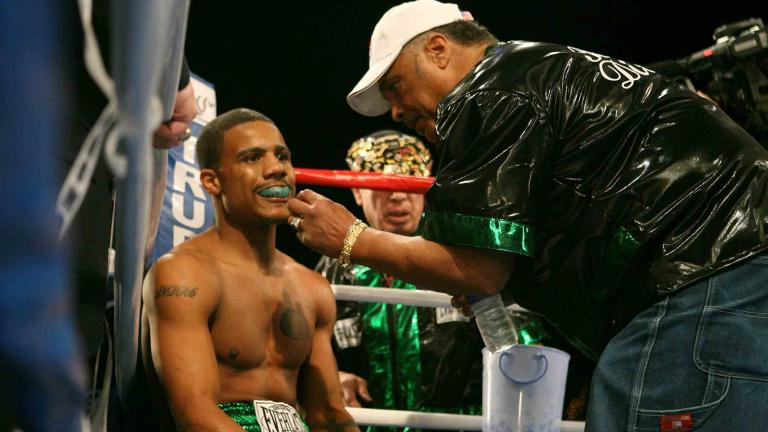 Russian wrecking ball Victor Oganov proved himself to be as rugged and unforgiving as the dingo-festooned outback of Australia, his adopted home.
"I hit that man with everything but the kitchen sink, but he kept coming forward," Dirrell says, still sounding a little incredulous nearly seven years later. "This guy let me know that he was going to come at an unrealistic pace. No matter what you hit him with, no matter how many big bombs you dropped, he could keep on coming. He was relentless."
Still, Dirrell was able to chip away at Oganvo like a lumberjack chopping down a tree.
Eventually his timber! moment came in Round 6, when he felled Oganov with an uppercut followed by a left hook, getting the stoppage win.
"My will fought for me that night—not my talents, not my abilities; that would have lasted me two rounds," Dirrell says. "This guy broke down everything. I dished it all out. Victor was my hardest fight to date. There's no other way to put it."