A thorough breakdown of Saturday night's highly competitive supporting bouts in Las Vegas on SHOWTIME Pay-Per-View.
This Saturday, March 25, live from the MGM Grand Garden Arena in Las Vegas, bad blood boils over when former super middleweight world champions David "El Bandera Roja'' Benavidez (26-0, 23 KOs) meets Caleb Plant (22-1, 13 KOs) atop a SHOWTIME Pay-Per-View event (9 p.m. ET/6 p.m. PT), presented by Premier Boxing Champions.
Underneath that guaranteed thriller of a main event, though, is a stellar undercard with three high-intrigue main stage battles featuring six fighters staring down "must win" scenarios. Here's a look at the stacked Benavidez-Plant lead-in.
Jesus Ramos vs. Joey Spencer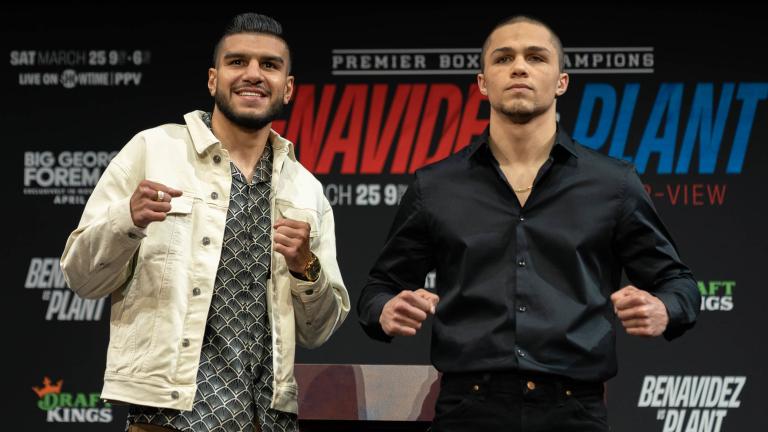 You don't often see 22-year-old undefeated future stars meeting one another on the rise to title contention. There will be a whole lot of risk involved in this 10-round super welterweight battle, but there's also plenty of reward to be reaped as the victor will emerge as the top young contender in a division currently ruled by Undisputed World Champion Jermell Charlo.
Jesus Ramos (19-0, 15 KOs), the nephew of welterweight contender Abel Ramos, is physically strong and mature beyond his years with a varied arsenal of offensive assets. A thudding left hand off a solid jab is probably his best offensive weapon, but the southpaw from Casa Grande, Arizona can do damage with pretty much anything he throws.
Joey Spencer (16-0, 10 KOs) is disciplined and has a tight skill set with a somewhat conservative style. The native of Linden, Michigan has fairly heavy hands, but has more pop in his right, which he likes to utilize as an overhand shot or as a follow-up hook behind the jab. He varies his attack well, working an opponent's body as well as touching him upstairs.
Ramos-Spence is the epitome of an old school clash of young battlers. It's a throwback to times when the best fought the best, not only at the very top of the sport, but also on every rung on the ladder to the top. Expect this all-action clash of rising young stars to be fought with the appropriate amount of urgency.
Chris Colbert vs. Jose Valenzuela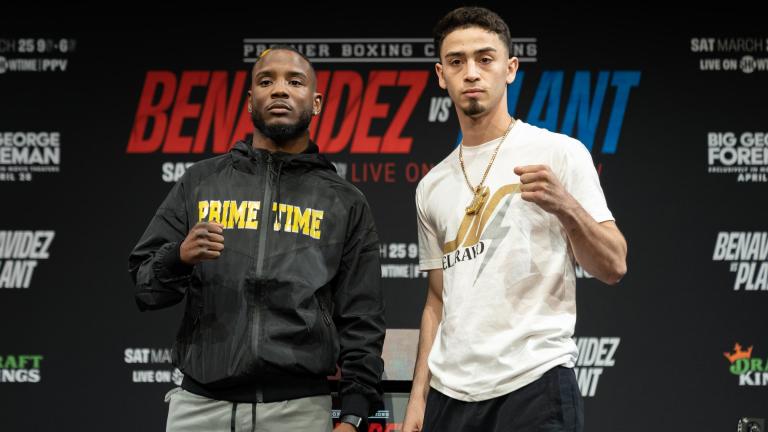 Trainer Joe Goossen once referred to Chris "Primetime" Colbert (16-1, 6 KOs) as the "best prospect on the planet" and, up until his upset unanimous decision loss to Hector Luis Garcia in February 2022, it was hard to argue with that assessment.
The switch-hitting 26-year-old Brooklynite is a uniquely gifted fighter with blinding speed and outstanding reflexes. He was dominating his way up the ranks and quickly earning a spot among the most respected young fighters in the game when he suffered his setback. The fairly decisive loss to Garcia was a stunner and it caused the Colbert bandwagon to stall entirely.
The 23-year-old Jose Valenzuela (12-1, 8 KOs) saw his own bandwagon hobble over to the side of the road last September when he was stopped in a three-round firefight by Edwin De Los Santos. Prior to that, the highly regarded prospect was riding high following a first round KO of former world champ Francisco Vargas.
"Rayo" is a talented offensive fighter whose left hand is especially strong, whether delivered as a hook, an uppercut, or as a straight shot behind a blistering jab. Like Colbert, Valenzuela is a switch-hitter, able to fight from both southpaw and orthodox stances.
With both Colbert and Valenzuela coming off high-profile, career-stalling losses, this Saturday's lightweight showdown is a true "must win" contest in a division stacked with talent and lucrative big fight opportunities.
Cody Crowley vs. Abel Ramos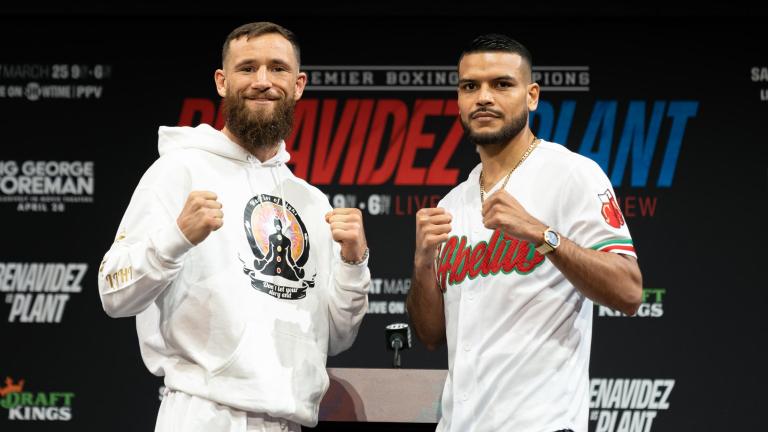 Canada's Cody Crowley (21-0, 9 KOs) is making a case for himself as part of the next wave of welterweight standouts. Recent decisive victories over veteran war horse Josesito Lopez and then-undefeated top contender Kudratillo Abdukakhorov make the case for his main stage worthiness
Now fighting out of Las Vegas, the 29-year-old one-time sparring partner of Floyd Mayweather and Gervonta Davis has a good jab from the southpaw stance that he uses to the head and body. His best offensive weapons may be a sharp straight left hand and a solid right hook, but his most useful offensive asset is his ability to establish the pace and space of a bout with his stiff jab and high-end ring generalship.
Abel Ramos (27-5-2, 21 KOs) is a blue collar battler whose tenacious nature keeps him in fights, even when facing opponents blessed with next-level athleticism and elite-level skills. All-around solid in skill and ability, the 31-year-old native of Casa Grande, Arizona has a good jab when he chooses to utilize it and works the body well. In this contest, he will also sport an edge in high-end experience, with a resume that features five former or current world champions and a handful of top contenders.
Although coming off a points loss to Luke Santamaria in his last bout, the older brother of the fighting Ramos family is not too far removed from, arguably, the best three-fight run of his career. From February 2020 to May 2021, Ramos stopped both Omar Figueroa Jr. and Bryant Perrella and lost a close split decision to Yordenis Ugas in a try for the vacant WBA welterweight title.
The winner of Crowley-Ramos takes one full step closer to title contention and to a shot at establishing himself as a presence in the deep end of the talented, top-heavy, and lucrative welterweight division.
For a closer look at Benavidez vs Plant, check out our fight night page.