Chris
Colbert
"Prime Time"
Weight 126 lbs (57.27 kg)
Age 22
Home Brooklyn, New York,
Last Fight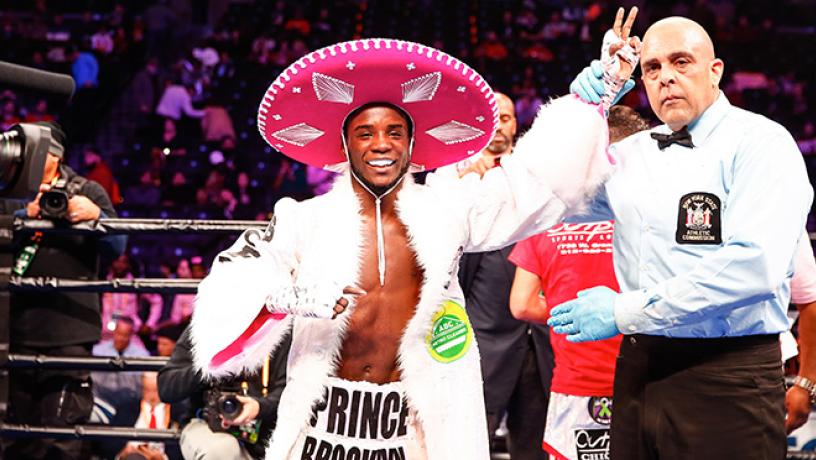 Jun 23, 2019 / Mandalay Bay Events Center, Las Vegas, Nevada
Lightweight Chris "Prime Time" Colbert kept his record (12-0) perfect—scoring a UD win (80-72 by all three judges) on the PBC on FOX card in Las Vegas.
Sign Up for
PBC

News

Get the latest fight announcements, fighter spotlights, and other PBC news delivered to your inbox.

Chris Colbert News
Jun 22, 2019 / Charlo vs Cota, Chris Colbert
Chris Colbert had to mature quickly growing up in Brooklyn. He's doing the same in boxing, taking another step up in class in his ring return Sunday night on FOX.
Jun 14, 2019 / Chris Colbert
Unbeaten lightweight prospect makes his Las Vegas debut June 23 on the PBC on FOX card at Mandalay Bay Events Center.
Chris Colbert Fights
Win

vs

Alberto

Mercado

16-2-1
Jun 23, 2019 • Mandalay Bay Resort & Casino, Las Vegas, Nevada, USA
Chris Colbert WINS against Alberto Mercado by UD in Round 8 of 8
Win

vs

Mario

Briones

10-0-0
Apr 13, 2019 • Minneapolis Armory, Minneapolis, Minnesota, USA
Chris Colbert WINS against Mario Briones by TKO in Round 2 of 10
Win

vs

Josh

Hernandez

8-1-0
Jan 26, 2019 • Barclays Center, Brooklyn, New York, USA
Chris Colbert WINS against Josh Hernandez by UD in Round 8 of 8
Win

vs

Fatiou

Fassinou

28-10-3
Sep 08, 2018 • Barclays Center, Brooklyn, New York, USA
Chris Colbert WINS against Fatiou Fassinou by UD in Round 8 of 8
Win

vs

Austin

Dulay

11-0-0
Apr 13, 2018 • Minneapolis Armory, Minneapolis, Minnesota, USA
Chris Colbert WINS against Austin Dulay by RTD in Round 7 of 8
Win

vs

Titus

Williams

7-0-0
Nov 04, 2017 • Barclays Center, Brooklyn, New York, USA
Chris Colbert WINS against Titus Williams by UD in Round 8 of 8
Win

vs

Wilfredo

Garriga

3-4-1
Mar 17, 2017 • Santander Arena, Reading, Pennsylvania, USA
Chris Colbert WINS against Wilfredo Garriga by UD in Round 6 of 6
Win

vs

Antonio

Dubose

8-0-1
Jun 28, 2016 • Sands Bethlehem Event Center, Bethlehem, Pennsylvania, USA
Chris Colbert WINS against Antonio Dubose by UD in Round 6 of 6
Win

vs

Derrick

Bivins

2-3-2
Dec 29, 2015 • Sands Bethlehem Event Center, Bethlehem, Pennsylvania, USA
Chris Colbert WINS against Derrick Bivins by UD in Round 6 of 6
Win

vs

Jose A

Carmona

1-1-0
Sep 22, 2015 • Sands Bethlehem Event Center, Bethlehem, Pennsylvania, USA
Chris Colbert WINS against Jose A Carmona by UD in Round 4 of 4
Win

vs

Benjamin

Burgos

2-11-1
Jun 27, 2015 • Sands Bethlehem Event Center, Bethlehem, Pennsylvania, USA
Chris Colbert WINS against Benjamin Burgos by TKO in Round 4 of 4
Win

vs

Marquis

Pierce

1-5-0
May 29, 2015 • Barclays Center, Brooklyn, New York, USA
Chris Colbert WINS against Marquis Pierce by TKO in Round 2 of 4
Chris
Colbert
"Prime Time"
Weight 126 lbs

(57.27 kg)
Born

September 27, 1996

Age

22

Country

USA

Born in

Brooklyn, NY

Trains in

Brooklyn

, NY
Stance

Southpaw

Rounds Boxed

69

KO Percentage

33%

Boxing Hero