Undefeated top contender Frank "The Ghost" Martin dominated from start to finish in winning a unanimous decision over the previously unbeaten Michel "La Zarza Ali" Rivera in a WBA Lightweight Title Eliminator.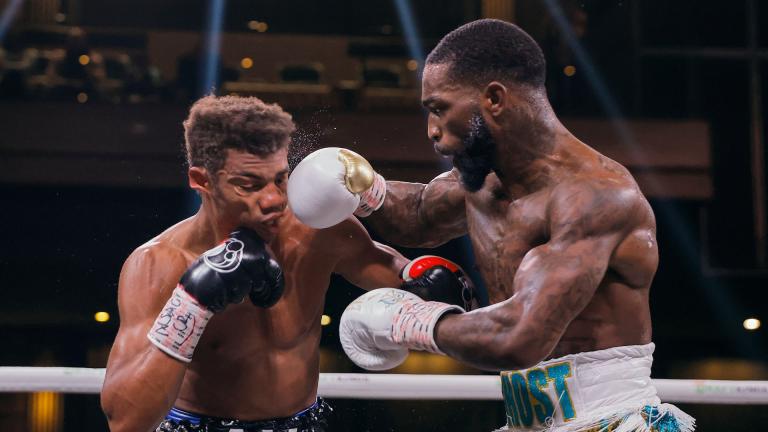 "This is just what I do," said Martin, who won by scores of 120-107, 118-109 and 117-110. "I felt good tonight. There were some things that I saw in there that I didn't capitalize on, but we went in there and got the job done. My corner was telling me to stay on the outside, watch out for the right hand and work the game plan. I was using my legs and I could have done it a lot more. It worked for us tonight, but there's a lot of room for improvement and we're going to keep working."
In a star-making performance, the 27-year-old Martin (25-0, 14 KOs) controlled the action throughout, showing superior speed and boxing acumen, as he quickly closed down the reach advantage held by Rivera. Promoted by unified welterweight champion Errol Spence Jr. and coached by top trainer Derrick James, Martin has put himself into a primes position in the star-studded 135-pound division.
"It's a blessing to be in the gym with Errol and [undisputed 154-pound champion] Jermell [Charlo] and they keep me going," said Martin. "I'm always watching Errol when he's sparring and I'm always asking questions and looking to get better. Seeing champions on top like them, I'm getting nothing but game from them."
The 24-year-old Rivera seemed to struggle with Martin's southpaw attack, as he continuously ate straight left hands, especially in the early rounds. Rivera had his moments where his length allowed him to land strong straight right hands, but Martin's footwork routinely allowed him to evade further damage.
"I went in there for a win, I didn't come here to lose," said Rivera. "I was feeling pretty good today, but by round four or five, I think I started to feel the effects of the weight cut. I don't make excuses, but I'm a big guy for the division."
In round seven Martin delivered his signature moment of the fight, putting Rivera down hard with a straight left-right hook combination. Rivera showed mettle in rising to his feet, but Martin kept the attack coming, mixing in even more body shots on his weary opponent.
"We believe in 'Man Down'," said Martin. "It's protect yourself at all times. He got caught slipping and he went down."
"I'm pretty fast, but you have to be faster to fight a guy like this," said Rivera. "I was too slow tonight. I tried to use my jab to keep him off me. He was the better guy today. I won't take anything away from him. I don't want to learn how to lose. I'm just going to work hard to win again. I don't want losing to feel normal. I work to win."
Martin held a statistical advantage according to CompuBox, out-landing Rivera 174 to 67 and connecting on 31% of his shots, compared to 15% for Rivera. The defense from Martin was also key throughout, as he held Rivera below double-digit punches landed in every round. After the fight, Martin set his sights on the rest of the elite 135-pounders.
"I just believe in myself and I believe in our team," said Martin. "We know what we're doing and we're working consistently. We believed in it and believed that we're ready for any of the top fighters, so let us get them. We're ready to eat."