Highlights
–Tony Harrison controlled momentum over the first three rounds, boxing beautifully with lateral movement behind a piston jab and timing right hands to the head of Jarrett Hurd, highlighted by a jarring third-round hook that began a six-punch sequence.

–Hurd wobbled Harrison with a head-lifting, late-round right uppercut Round 5, forcing a clinch and appearing to steal the momentum.

–Hurd's perfectly-timed straight right to the jaw dropped Harrison to his back in Round 9. Harrison rose on unsteady legs at the count of nine, but spit out his mouthpiece, leading referee Jim Korb to wave an end to the fight at the 2:24 mark.
Jarrett Hurd became the second man to finish Tony Harrison in shocking fashion, earning a vacant 154-pound world title with a sudden ninth-round TKO.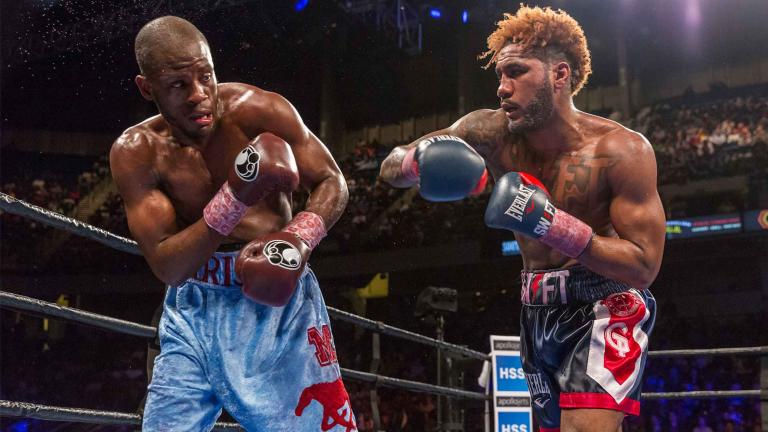 Despite appearing to have been outboxed for much of the fight, Hurd (20-0, 14 KOs) entered the decisive round actually leading on two of the three official cards. Hurd, a 26-year-old native of Accokeek, Maryland, then put an end to any suspense when he smashed a straight right to Harrison's jaw, dropping the Detroit native flat on his back.
Referee Jim Korb reached the count of nine as Harrison struggled unsteadily to his feet. As he did so, Harrison (24-2, 20 KOs) appeared to inform Korb that he was OK to resume fighting before spitting out his mouthpiece. That led Korb to end matters at the 2:24 mark, which led Hurd to drop to his knees in exhausted jubilation.
By scoring his sixth straight technical knockout, Hurd earned the crown vacated two weeks ago by unbeaten Jermall Charlo. He did so with an ending that resembled Harrison's ninth-round knockout loss to Willie Nelson in July 2015—another bout Harrison appeared to have well in hand before getting careless.
Against Hurd, Harrison controlled the first three rounds, effectively targeting timely right hands to the head over a piston jab while using lateral movement to stay out of harm's way. Harrison's counter shots included a jarring third-round hook followed by a round-ending, six-punch sequence, all to the head.
Although Hurd connected on a hard left hook midway through the fourth, his fellow 26-year-old foe kept his composure, fighting off his back foot while pounding home four consecutive right hands in Round 5.
But in the sixth, an undeterred Hurd wobbled Harrison with a head-lifting, late-round right uppercut that seemed to flip the momentum.
In the ensuing two rounds, Harrison—much to his detriment—chose to stand toe-to-toe and exchange with the heavy-hitting Hurd. While he dazed Hurd into retreat with a pair of hard jabs midway through the seventh, Harrison too often retreated to the ropes over the latter stages of the final two rounds, leaving himself open for the finishing blow.