Weight 140 lbs (63.64 kg)
Age 32
Home Houston, Texas,
After taking time off from boxing to compete in track in college, 140-pound prospect Darwin Price has returned to the ring with a flourish. Read Bio
Last Fight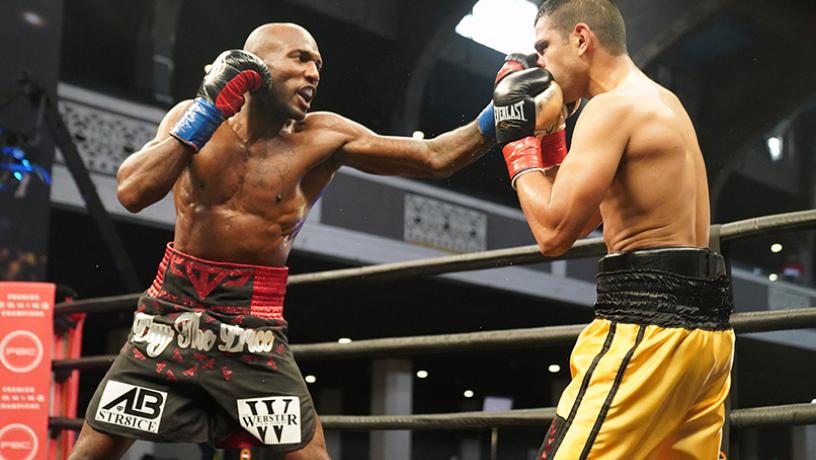 Apr 17, 2021 / Shrine Auditorium and Expo Hall, Los Angeles, California
Darwin Price defeats Saul Corral via fifth-round KO victory.
Sign Up for
PBC

News

Get the latest fight announcements, fighter spotlights, and other PBC news delivered to your inbox.

Darwin Price News
Jul 22, 2021 / The PBC Podcast, Darwin Price
The legendary trainer discusses preparing Manny Pacquiao to face Errol Spence Jr. in a superbout Saturday, August 21 on FOX Sports PPV. Plus, Darwin Price wants the big names at 140 and we review last weekend's Charlo-Castaño card on SHOWTIME.
Darwin Price Fights
Win

vs

Saul

Corral

23-16-0
Apr 17, 2021 • Shrine Exposition Center, Los Angeles, California, USA
Darwin Price WINS against Saul Corral by KO in Round 5 of 8
LOSS

vs

Malik

Hawkins

17-0-0
Dec 28, 2019 • State Farm Arena, Atlanta, Georgia, USA
Malik Hawkins WINS against Darwin Price by TKO in Round 5 of 10
Win

vs

Breidis

Prescott

31-18-0
Oct 04, 2019 • Arena Theatre, Houston, Texas, USA
Darwin Price WINS against Breidis Prescott by TKO in Round 5 of 10
Win

vs

Aaron

Herrera

35-11-1
Aug 24, 2019 • Bert Ogden Arena, Edinburg, Texas, USA
Darwin Price WINS against Aaron Herrera by TKO in Round 2 of 10
Win

vs

Luis Eduardo

Florez

25-17-0
Apr 13, 2019 • Minneapolis Armory, Minneapolis, Minnesota, USA
Darwin Price WINS against Luis Eduardo Florez by TKO in Round 6 of 8
Win

vs

Angel

Hernandez

13-8-2
Nov 18, 2017 • Cosmopolitan of Las Vegas, Las Vegas, Nevada, USA
Darwin Price WINS against Angel Hernandez by UD in Round 6 of 6
Win

vs

Hylon

Williams Jr

16-3-1
Feb 21, 2017 • Silver Street Studios, Houston, Texas, USA
Darwin Price WINS against Hylon Williams Jr by UD in Round 8 of 8
Sep 03, 2016 • Cowboys Dancehall, San Antonio
Darwin Price WINS against Javontae Starks by TKO in Round 7 of 8
Win

vs

Semajay

Thomas

11-1-0
Jun 25, 2016 • Scottish Rite Theatre, San Antonio, Texas, USA
Darwin Price WINS against Semajay Thomas by UD in Round 8 of 8
Win

vs

Alvaro

Ortiz

8-5-1
Nov 13, 2015 • Beau Rivage Resort & Casino, Biloxi, Mississippi, USA
Darwin Price WINS against Alvaro Ortiz by UD in Round 8 of 8
Win

vs

Evincii

Dixon

5-7-1
Jul 18, 2015 • Don Haskins Convention Center, El Paso, Texas, USA
Darwin Price WINS against Evincii Dixon by TKO in Round 1 of 6
Win

vs

Christian

Steele

4-12-2
Feb 06, 2015 • Beau Rivage Resort & Casino, Biloxi, Mississippi, USA
Darwin Price WINS against Christian Steele by UD in Round 6 of 6
Nov 20, 2014 • Sportsmans Lodge, Studio City, California, USA
Darwin Price WINS against Shawn Wate by KO in Round 1 of 4
Win

vs

Vicente

Guzman

0-2-1
Dec 07, 2013 • Sports House, Redwood City, California, USA
Darwin Price WINS against Vicente Guzman by UD in Round 4 of 4
Oct 28, 2013 • Sports House, Redwood City, California, USA
Darwin Price WINS against Omar Avelar by TKO in Round 2 of 4
Win

vs

Johnny

Frazier

2-19-4
Sep 28, 2013 • Cache Creek Casino Resort, Brooks, California, USA
Darwin Price WINS against Johnny Frazier by UD in Round 4 of 4
Win

vs

Luis

Sanchez

1-7-0
Jul 26, 2013 • Fox Theater, Redwood City, California, USA
Darwin Price WINS against Luis Sanchez by TKO in Round 4 of 4
Weight 140 lbs

(63.64 kg)
Born

August 15, 1989

Age

32

Country

USA

Born in

Saint Louis, MO

Trains in

Houston

, TX
Stance

Orthodox

Rounds Boxed

83

KO Percentage

55.56%

Boxing Hero