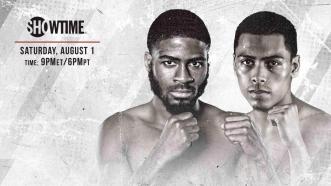 Jul

29

, 2020 / Fulton vs. Leo, , The PBC Podcast
PBC's Tim Smith joins the show to discuss the PBC on SHOWTIME rollout, including Saturday night's world title showdown between Stephen Fulton and Angelo Leo.
Jul

28

, 2020 / Fulton vs. Leo, Stephen Fulton
The undefeated super bantamweight aims to become undisputed world champion. First, he must get past the unbeaten Angelo Leo in a 122-pound world title showdown Saturday night on SHOWTIME.