Highlights
–Ishe Smith dropped Frank Galarza with a counter right hand late in Round 2 and then smirked at his opponent while celebrating in a neutral corner.

–Galarza became more aggressive in the middle rounds and hammered Smith with hooks to the body to get back into the fight.

–After appearing to be fading late in the bout, Smith stepped up his attack in a spirited Round 10 and landed the more effective punches as the fighters exchanged up until the final bell.
Ishe Smith may have his best years in the ring behind him, but he showed Frank Galarza that he's far from over the hill.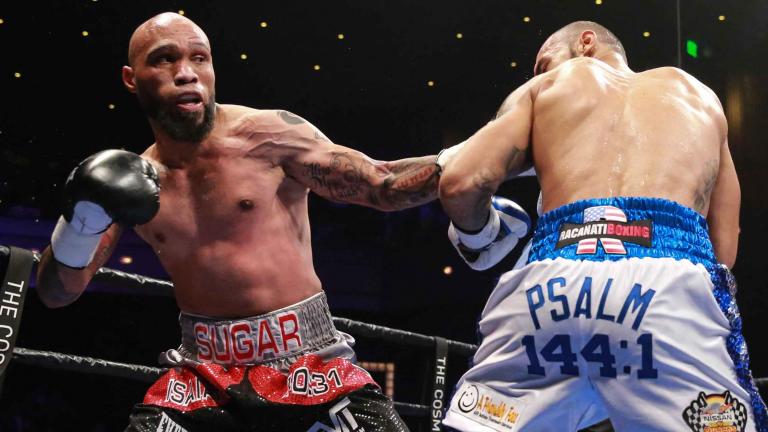 The 38-year-old former world champion proved too much for Galarza, using a second-round knockdown to propel him to a 10-round majority decision in a 156-pound bout.
Fighting in his hometown of Las Vegas, Smith showed himself to be too durable, too crafty and too resourceful against Galarza, whose second-half rally fell just short.
Smith gained the early edge when he caught Galarza with a counter right near the end of Round 2 and dropped the Brooklyn, New York, native. While Galarza quickly got back to his feet, Smith danced in the neutral corner and smirked at his opponent while referee Vic Drakulich gave the count.
Galarza, 31, was backed up early on as Smith doubled and tripled up on his jab, and followed with potent straight rights, but "The Brooklyn Rocky" became the aggressor in Rounds 6 and 7 as he hammered his older foe with hooks to the body.
In Round 8, Smith began to time Galarza's attack and return fire with accurate counterpunches to the head and body. Galarza responded the following round with some bodywork of his own as began to throw more right-hand leads and hooks.
In the final round, both fighters exchanged heavy blows as the seconds ticked down and had to be pulled apart at the final bell.
The judges' scores reflected the back-and-forth nature of the fight, with Smith edging his way to a 95-95, 96-93, 95-94 decision.
It was the second straight win for Smith since he lost to Vanes Martirosyan last September, and kept alive his career streak of only having been beaten by fighters who have either won world championships or challenged for titles.
Galarza lost for the second straight time following his sixth-round TKO against unbeaten contender Jarrett Hurd last November.