Dat Nguyen was looking for an opportunity to make a breakthrough, and he came into Miguel Flores' hometown and seized it in a powerful way.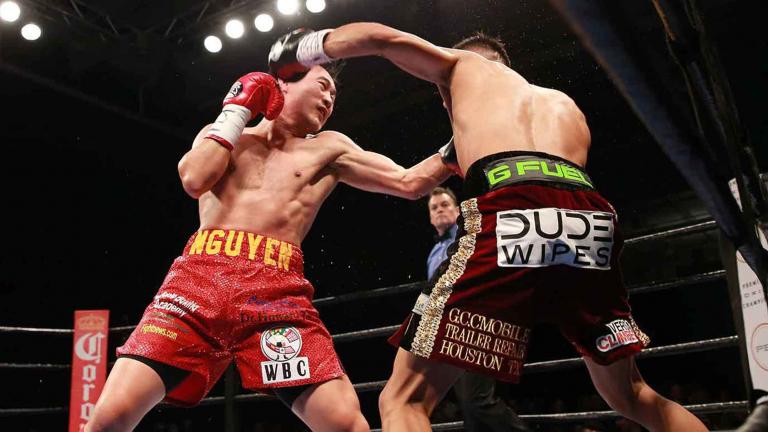 Nguyen scored the biggest upset of the young year when he stopped Flores in Round 6 of the main event of a Premier Boxing Champions card.
Nguyen's TKO ended an action-packed bout that started strongly for Flores, a longtime Houston resident, before turning into a punishing back-and-forth brawl.
Flores established early command as he landed a series of left hooks to the body early in the opening round against his 34-year-old Vietnamese-American opponent, often doubling up with the punch.
Round 2 opened in similar style as Flores continued to pepper the body while looking to mix in the occasional uppercut. However, Nguyen caught the 24-year-old prospect against the ropes with a series of punches midway through the round, and then landed a solid right to the chin that launched a late charge to close it out, punctuated by a left to the head right before the bell.
The most explosive two-way action occurred in Round 3. After Flores landed an early right to the head, Nguyen responded with one of his own. Sparked by the exchange, the fighters then traded a series of punishing hooks, digging into their punches as they hammered each other's midsections.
It was more of the same in the fourth and fifth rounds, with Flores continuing to rely effectively on his left hook. But Nguyen began to land his overhand right more as the fight progressed, along with left hooks to the head.
In the final round, Nguyen stunned Flores with a left hook to the head, then followed with a right-left-right combination upstairs that sent the hometown hero into the ropes as he hit the canvas.
Flores jumped up quickly but continued unsteadily as Nguyen immediately resumed his attack. After missing with some wild punches, Nguyen found the range with a couple of body shots before landing two rights to the head, leading referee Laurence Cole to jump in and stop the fight at the 1:02 mark.
Although Flores initially tried to argue the stoppage with Cole, he was ultimately gracious in defeat as he raised Nguyen's hand in the ring before the Houston fans.
After making his professional debut at the age of 17, Flores suffered the first setback of his still-blossoming career.
For Nguyen, however, the win breathes new life into a stop-and-go career, which began in May 2004 following a distinguished amateur stint in which he won a U.S. Junior Olympic championship as well as a Hawaii Golden Gloves title.
Nguyen, who now trains out of Vero Beach, Florida, made his pro debut in May 2004 and fought regularly through October 2009. However, he competed just twice over the next four years, and remained idle for another 2½ years after suffering his second straight loss in October 2013.
He returned to action in 2016 and won a pair of six-round unanimous decisions in May and June. That opened the door for him to fight Flores, and Nguyen punched his way right through it.