Charles
Martin
"Prince Charles"
Weight 255 lbs (115.91 kg)
Age 33
Home Carson, California,
Powerful American southpaw "Prince" Charles Martin had a quick ascent to become Heavyweight World Champion and is determined to regain his crown. Read Bio
Last Fight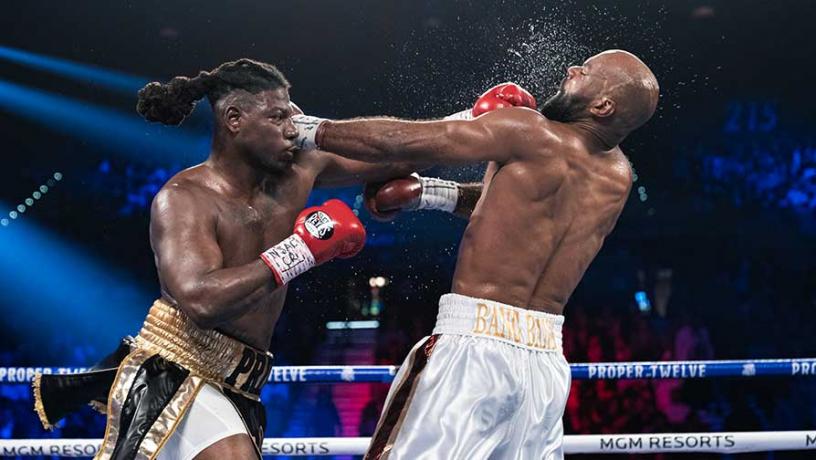 Feb 22, 2020 / MGM Grand Garden Arena, Las Vegas, Nevada
Former Heavyweight Champion Charles Martin stopped Gerald Washington by way of sixth-round KO in the co-main event of Wilder vs Fury 2 in Las Vegas.
Sign Up for
PBC

News

Get the latest fight announcements, fighter spotlights, and other PBC news delivered to your inbox.

Charles Martin News
Feb 5, 2020 / The PBC Podcast, Charles Martin
The former World Heavyweight Champion talks heavyweights and his resurgence as he prepares to face Gerald Washington Saturday, Feb. 22 on the Wilder-Fury 2 card on FOX Sports PPV.
Charles Martin Fights
Win

vs

Daniel

Martz

18-6-1
Jul 13, 2019 • Minneapolis Armory, Minneapolis, Minnesota, USA
Charles Martin WINS against Daniel Martz by TKO in Round 4 of 10
Win

vs

Gregory

Corbin

15-0-0
Mar 16, 2019 • AT&T Stadium, Arlington, Texas, USA
Charles Martin WINS against Gregory Corbin by DQ in Round 8 of 10
Sep 08, 2018 • Barclays Center, Brooklyn, New York, USA
Adam Kownacki WINS against Charles Martin by UD in Round 10 of 10
Win

vs

Michael

Marrone

21-7-0
Jul 18, 2017 • Rapides Coliseum, Alexandria, Louisiana, USA
Charles Martin WINS against Michael Marrone by KO in Round 1 of 10
Win

vs

Byron

Polley

30-20-1
Apr 25, 2017 • Fitzgerald's Casino & Hotel, Tunica, Mississippi, USA
Charles Martin WINS against Byron Polley by TKO in Round 2 of 10
Loss

vs

Anthony

Joshua

23-1-0
Apr 09, 2016 • O2 Arena, London
Charles Martin LOSES to Anthony Joshua by KO in Round 2 of 12
Win

vs

Vyacheslav

Glazkov

21-0-1
Jan 16, 2016 • Barclays Center, Brooklyn, New York, USA
Charles Martin WINS against Vyacheslav Glazkov by TKO in Round 3 of 12
Win

vs

Vicente

Sandez

15-4-0
Sep 26, 2015 • Legacy Arena, Birmingham, Alabama, USA
Charles Martin WINS against Vicente Sandez by TKO in Round 3 of 10
Apr 25, 2015 • Madison Square Garden, New York, New York, USA
Charles Martin WINS against Tom Dallas by TKO in Round 1 of 10
Win

vs

Raphael Zumbano

Love

35-9-1
Feb 28, 2015 • Celebrity Theater, Phoenix, Arizona, USA
Charles Martin WINS against Raphael Zumbano Love by KO in Round 10 of 10
Win

vs

Damon

McCreary

15-3-0
Jan 09, 2015 • Morongo Casino Resort & Spa, Cabazon, California, USA
Charles Martin WINS against Damon McCreary by KO in Round 1 of 6
Win

vs

Kertson

Manswell

24-8-0
Jul 23, 2014 • BB King Blues Club & Grill, New York, New York, USA
Charles Martin WINS against Kertson Manswell by TKO in Round 3 of 10
Win

vs

Rafael

Pedro

21-10-1
May 20, 2014 • Santa Monica Pier, Santa Monica, California, USA
Charles Martin WINS against Rafael Pedro by KO in Round 1 of 10
Win

vs

Alexander

Flores

14-0-0
Apr 16, 2014 • Barker Hangar, Santa Monica, California, USA
Charles Martin WINS against Alexander Flores by KO in Round 4 of 10
Mar 01, 2014 • Evangeline Downs Casino, Opelousas, Louisiana, USA
Charles Martin WINS against Tyyab Beale by KO in Round 2 of 8
Win

vs

Maurenzo

Smith

12-7-3
Feb 06, 2014 • Florentine Gardens, Hollywood, California, USA
Charles Martin WINS against Maurenzo Smith by RTD in Round 3 of 8
Win

vs

Glendy

Hernandez

10-0-0
Dec 21, 2013 • Westin Bonaventure Hotel, Los Angeles, California, USA
Charles Martin WINS against Glendy Hernandez by RTD in Round 4 of 6
Win

vs

Joey

Dawejko

8-2-2
Nov 14, 2013 • Florentine Gardens, Hollywood, California, USA
Charles Martin WINS against Joey Dawejko by RTD in Round 4 of 6
Win

vs

Dieuly

Aristilde

9-6-0
Oct 25, 2013 • Quiet Cannon, Montebello, California, USA
Charles Martin WINS against Dieuly Aristilde by KO in Round 1 of 6
WIN

vs

Vincent

Thompson

13-0-0
Sep 21, 2013 • Little Creek Casino Resort, Shelton, Washington, USA
Vincent Thompson LOSES to Charles Martin by UD in Round 6 of 6
Jul 19, 2013 • Rockingham Park, Salem, New Hampshire, USA
Charles Martin WINS against Aaron Kinch by TKO in Round 4 of 6
Win

vs

Joshua

Clark

2-1-2
Jun 06, 2013 • The Hangar, Costa Mesa, California, USA
Charles Martin WINS against Joshua Clark by UD in Round 6 of 6
Win

vs

Sylvester

Barron

7-1-0
May 22, 2013 • Santa Monica Pier, Santa Monica, California, USA
Charles Martin WINS against Sylvester Barron by KO in Round 2 of 6
Draw

vs

Alvaro

Morales

6-12-6
Mar 30, 2013 • Westin Bonaventure Hotel, Los Angeles, California, USA
Charles Martin DRAWS with Alvaro Morales by MD in Round 4 of 4
Win

vs

Phillip

Triantafillo

2-1-0
Mar 14, 2013 • Florentine Gardens, Hollywood, California, USA
Charles Martin WINS against Phillip Triantafillo by KO in Round 2 of 4
Win

vs

Anthony

Hinson

0-1-0
Feb 23, 2013 • Quiet Cannon, Montebello, California, USA
Charles Martin WINS against Anthony Hinson by KO in Round 1 of 4
Win

vs

Kosetatino

Sinoti

0-1-0
Feb 01, 2013 • Jonathan Club, Los Angeles, California, USA
Charles Martin WINS against Kosetatino Sinoti by KO in Round 1 of 4
Win

vs

Terrance

Perro

1-1-0
Dec 21, 2012 • Florentine Gardens, Hollywood, California, USA
Charles Martin WINS against Terrance Perro by KO in Round 4 of 4
Nov 17, 2012 • Westin Bonaventure Hotel, Los Angeles, California, USA
Charles Martin WINS against Larry Ward by KO in Round 3 of 4
Win

vs

Vashawn

Tomlin

0-6-0
Oct 27, 2012 • Music Factory , Charlotte, North Carolina, USA
Charles Martin WINS against Vashawn Tomlin by KO in Round 1 of 4
Charles
Martin
"Prince Charles"
Weight 255 lbs

(115.91 kg)
Born

April 23, 1986

Age

33

Country

USA

Born in

Saint Louis, MO

Trains in

Carson

, CA
Stance

Southpaw

Rounds Boxed

101

KO Percentage

80%

Boxing Hero