In the co-main event, middleweight contender Marquis Taylor (15-1-2, 1 KO) scored an early knockdown and rode that to a unanimous decision (99-90, 96-93 twice) over the previously unbeaten Yoelvis Gomez (6-1, 5 KOs) after 10 rounds as Taylor was able to blunt Gomez's power by fighting effectively on the inside.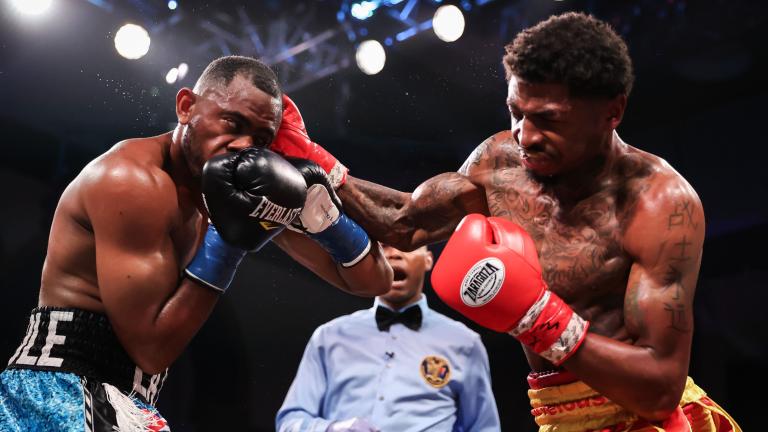 "This is what I wanted to do my whole life," said Taylor. It took me a long time and a lot of battles to make it here. But it was all worth it. I proved to myself that I can be in here with anyone and overcome and prevail. This is my second weight class in nine months. I proved it to myself. It's not about the weight. It's about skill and hard work and trusting my team."
As he promised during the fight week press conference, Taylor was victorious against the fifth fighter who entered the ring against him with an undefeated record. He got his offense going early on as he landed an overhand right in the second round that dropped an off-balance Gomez, the first time the Cuban had been down in his career.
"I was working inside and staying close and boom," said Taylor. "Luckily when he threw his shot he kind of fell off balance and I helped him."
"I lost my balance when I hit the canvas," said Gomez. "He threw his punch trying to see if it landed and I got caught. I hurt him too, but I couldn't take him down."
In a fight that was largely fought on the inside, with frequent tie-ups and instances of holding from both fighters, it was Taylor who consistently landed the cleaner blows, especially across the first half of the fight. Gomez had gained a reputation as a power puncher, but was unable to hurt Taylor despite focusing on power punches throughout the bout.
"At first I'm not going to lie, at the beginning of the fight it was hard because he's really strong," said Taylor. "He was doing what he's supposed to do and that's use his weight and push me down, so I had to get into his midsection and break him down, so I started tapping that belly and pushing in."
"I'm frustrated," said Gomez. "The ref kept getting in the way and wouldn't let me work in the range I wanted, which was short distance and making Taylor feel me. This is professional boxing, it's not too much to ask for him to let me go do my job. I'm gonna keep working hard and come back even better. You can count on that."
Gomez looked to gain some momentum with a strong sixth round, perhaps his best frame of the fight, but even then Taylor was able to punctuate the round by landing a big power shot at the bell. Gomez continued to press through the final rounds, but Taylor stood tough and offered enough resistance to clinch the victory on the cards. Overall, Taylor held a 160 to 120 advantage in punches landed.
"We're fighting at 154 and 160 to keep the window of opportunity as wide as possible," said Taylor. "Right now we're calling myself a two-weight division fighter. I'd fight Tim Tszyu because he's not getting that Jermell Charlo fight. I would like to fight him or anyone in the top five or top 10. It's time for me to fight the best."