In the televised opener, rising lightweight contender Edwin De Los Santos (16-1, 14 KOs) earned a one-sided unanimous decision over Joseph Adorno (17-3-2, 14 KOs) after 10 rounds of action. De Los Santos made it three straight victories by scores of 100-90 twice and 99-91.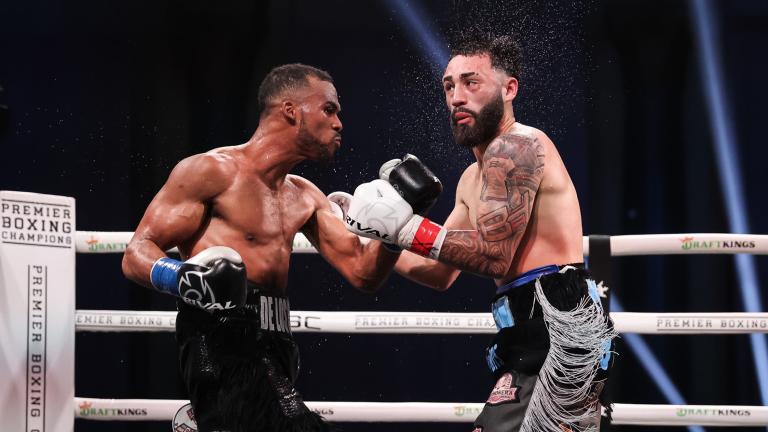 "We came prepared to show our boxing skills in this fight tonight and that's exactly what we did," said De Los Santos. "The game plan was to keep him at bay and to box him all night and to counter him when he pressed the attack. I wanted to show the boxing world that I have boxing ability. I'm not just a big puncher. I'm a boxer also."
"The strategy was to box him, but he's a southpaw and he was hard to figure out," said Adorno. "He's the best southpaw I've faced. He was well-prepared and knew how to manage the ring."
The Dominican Republic's De Los Santos found a home for his straight left hand early and often to control the tide against Adorno. His hand and foot speed advantage made it tough for Adorno to get any momentum offensively, as Adorno was forced to rely on counter hooks that too often fell short of their target.
"I can't tell you all the tricks we did in training," said De Los Santos. "But we did a lot of hills, climbing, swimming, a lot of boxing, sparring. Again, I don't want to reveal all of the secrets but that's some of what was done for this fight."
"Moving down in weight did play into my performance a little, but I really don't want to make any excuses," said Adorno, who's previous four fights came at 140-pounds. "I shouldn't have taken this fight right away, I should have fought at 137-pounds first. It is what it is though, he was the better man. He did his job."
De Los Santos had stopped nine of his previous 10 opponents, but showed off his boxing skill and movement over the course of the 10 rounds. His dominance showed up in the punch stats as he out-landed Adorno 144 to 37, including an impressive 63% connect rate on power shots.
With the victory, De Los Santos continued to set his sights on the top fighters in the division.
"I have to just talk to my promoter about what's next, but I'll take care of anyone at 135," said De Los Santos. "I have the potential to be more disciplined and show my boxing skills even more."