Weight 175 lbs (79.55 kg)
Age 41
Home Miami, Florida, USA
A decorated amateur in his native Cuba with more than 400 fights, Humberto Savigne fled his homeland and is taking aim at a 175-pound title. Read Bio
Last Fight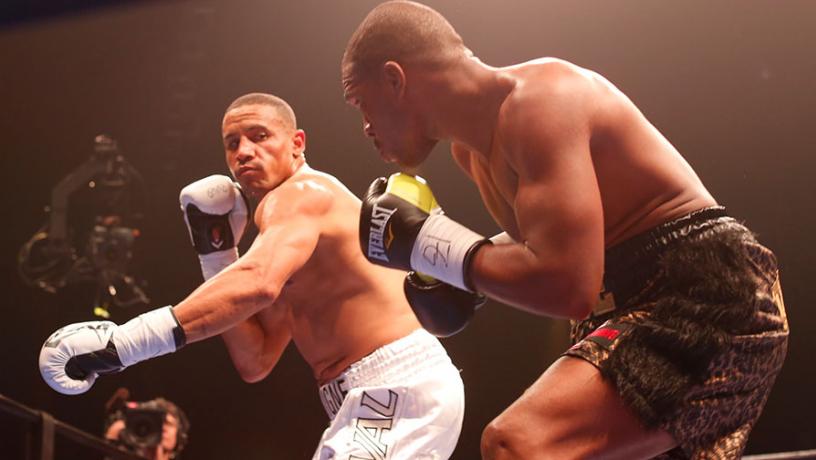 Nov 13, 2015 / Beau Rivage Resort & Casino, Biloxi, Mississippi
After an exchange of knockdowns in the first round, Savigne was overcome by a flurry and stopped in the second.
Sign Up for
PBC

News

Get the latest fight announcements, fighter spotlights, and other PBC news delivered to your inbox.

Humberto Savigne News
Nov 13, 2015 / Williams vs Savigne, Humberto Savigne, Thomas Williams Jr.
Of the 14 fights Humberto Savigne has logged as a pro, 11 have concluded before the final bell (including two losses). So one need not possess a Ph.D. to decode the Cuba native's game plan heading into tonight's 175-pound battle with Thomas Williams Jr.
Humberto Savigne Fights
Nov 13, 2015 • Beau Rivage Resort & Casino, Biloxi, Mississippi
Thomas Williams Jr WINS against Humberto Savigne by TKO in Round 2 of 10
LOSS

vs

Craig

Baker

16-0-0
Feb 20, 2015 • CONSOL Energy Center, Pittsburgh, Pennsylvania, USA
Craig Baker WINS against Umberto Savigne by TKO in Round 2 of 10
Jul 10, 2014 • American Airlines Arena, Miami, Florida, USA
Umberto Savigne WINS against Jeff Lacy by TKO in Round 2 of 10
Win

vs

Maxell

Taylor

18-6-1
Feb 22, 2014 • Sands Bethlehem Event Center, Bethlehem, Pennsylvania, USA
Umberto Savigne WINS against Maxell Taylor by KO in Round 2 of 10
No Contest

vs

Jackson Dos

Santos

14-0-0
Mar 29, 2013 • Turning Stone Resort & Casino, Verona, New York, USA
Umberto Savigne Jackson Dos Santos by NC in Round 4 of 10
No Contest

vs

Jackson

Junior

14-0-0
Mar 29, 2013 • Turning Stone Resort & Casino, Verona, New York, USA
Umberto Savigne Jackson Junior by NC in Round 4 of 10
Win

vs

Dhafir

Smith

26-22-7
Nov 30, 2012 • BB&t Center, Sunrise, Florida, USA
Umberto Savigne WINS against Dhafir Smith by UD in Round 10 of 10
Win

vs

Richard

Hall

30-9-0
May 18, 2012 • Seminole Hard Rock Hotel and Casino, Hollywood, Florida, USA
Umberto Savigne WINS against Richard Hall by TKO in Round 6 of 10
Win

vs

Frank

Paines

11-2-0
Mar 02, 2012 • Westin Diplomat Resort, Hollywood, Florida, USA
Umberto Savigne WINS against Frank Paines by KO in Round 2 of 6
Win

vs

Quinton

Rankin

4-0-0
Jan 07, 2012 • Westin Diplomat Resort, Hollywood, Florida, USA
Umberto Savigne WINS against Quinton Rankin by UD in Round 6 of 6
Win

vs

Frankie

Santos

17-10-4
Jun 24, 2011 • Dade County Auditorium, Miami, Florida, USA
Umberto Savigne WINS against Frankie Santos by TKO in Round 4 of 6
WIN

vs

Jaquan

Williams

0-0-0
May 21, 2011 • Rec Center, Wilson, North Carolina, USA
Jaquan Williams LOSES to Umberto Savigne by TKO in Round 1 of 4
Win

vs

Marvin

Jones

2-1-0
Apr 23, 2011 • Miami-Dade County Fair & Expo, Miami, Florida, USA
Umberto Savigne WINS against Marvin Jones by TKO in Round 1 of 4
Win

vs

Amador

Acevedo

3-8-1
Jan 28, 2011 • Double Tree Westshore Hotel, Tampa, Florida, USA
Umberto Savigne WINS against Amador Acevedo by UD in Round 4 of 4
LOSS

vs

Harvey

Jolly

10-14-1
Apr 30, 2010 • Convention Center, Miami, Florida, USA
Harvey Jolly WINS against Umberto Savigne by KO in Round 2 of 6
Win

vs

Epifanio

Mendoza

29-8-1
Dec 04, 2009 • LaCovacha, Miami, Florida, USA
Umberto Savigne WINS against Epifanio Mendoza by TKO in Round 2 of 4
Win

vs

Melvin

Miller

4-2-0
Sep 18, 2009 • Fontainbleau Hotel, Miami Beach, Florida, USA
Umberto Savigne WINS against Melvin Miller by TKO in Round 1 of 4
Weight 175 lbs

(79.55 kg)
Born

January 03, 1979

Age

41

Country

Cuba

Born in

Trains in

Miami

, FL
Stance

Orthodox

Rounds Boxed

51

KO Percentage

56.25%

Boxing Hero