In answering the call on less than a day's notice, Yordenis Ugas helped save the show while continuing to make up for lost time in his resurrected career.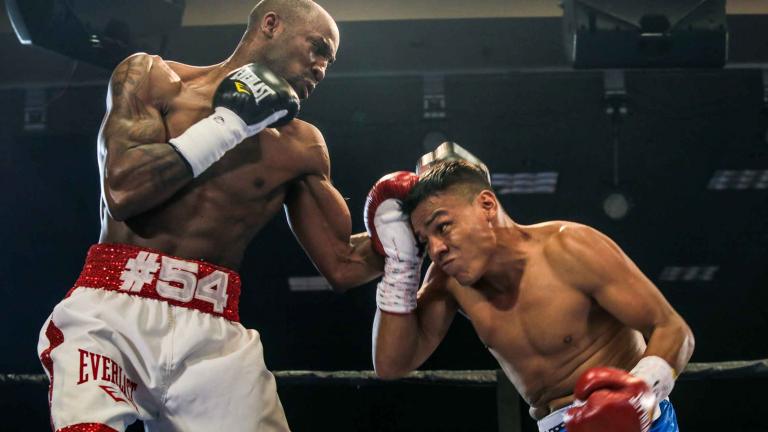 The Cuban 2008 Olympic bronze medalist scored his fourth consecutive win since his return from a two-year layoff, the latest coming in a relief role as he stopped Nelson Lara in the second round of their 154-pound battle in Tunica, Mississippi.
Ugas was brought in at the 11th hour when the originally scheduled headliner, unbeaten 140-pound prospect Mario Barrios, declined to go through with the fight after Lara weighed more than 10 pounds above their contracted limit.
In came the 30-year old Ugas, along with one of his boxing-rich nation's best ever manning his corner in former champion Joel Casamayor.
Despite the lack of preparation time, Ugas hit the ground running the moment the opening bell sounded. The well-schooled resurgent contender wisely targeted the soft midsection of his opponent, landing crisp body punches but also drawing a stern warning from referee Bill Clancy in Round 1 for a well-placed shot that appeared to land above Lara's high beltline.
Even after the low-blow warning, Ugas proceeded with his game plan. He dialed up the heat in Round 2, scoring the bout's lone knockdown courtesy of a right uppercut and straight right hand to force Lara to a knee.
Lara beat the count, but was summoned to visit the ringside doctor to examine a cut under his left eye. It was deemed that the wound was too severe to allow the visiting Nicaraguan to continue, producing the end of the contest at 53 seconds of the second round.
It is yet another win against a last-minute opponent for Ugas, whose current stretch began last August with a 10-round unanimous decision over previously unbeaten Jamal James, who accepted their ESPN-televised 147-pound battle on just three days' notice when Ugas' scheduled opponent, Bryant Perrella, suffered an injury.
That night turned around Ugas' once-fledging career, ending a 27-month layoff with a high-profile victory. He then got Perrella in the ring just six weeks later, stopping him in four rounds to bump off his second straight undefeated opponent.
On the heels of a 10-round split decision over Levan Ghvamichava in this very arena less than three months ago and now stepping up to salvage a main event on this show, Ugas believes he's properly paid his dues and is now ready for more.