After absorbing a barrage of punishment and looking completely overwhelmed and winded, Ergashev refused to come out of his corner to start the sixth round, as Matías notched his 20th stoppage in 21 fights and his fifth straight retirement stoppage.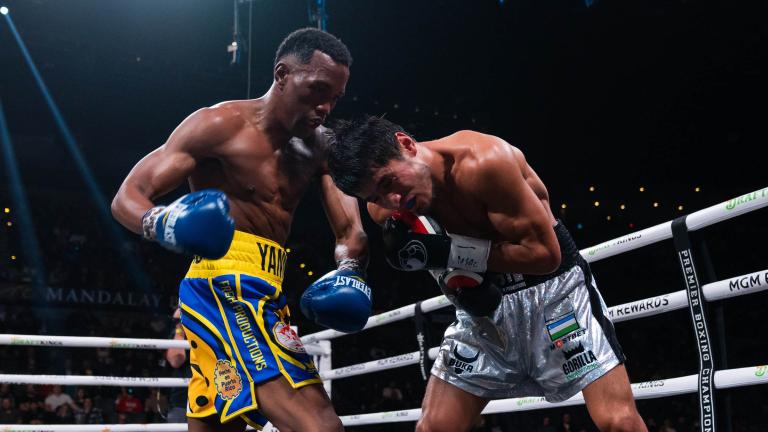 The official time of stoppage was two seconds into the sixth round, and it ended another dominant, ruthless showing from Matías, who improved to 20-1 with 20 KOs in his first title defense, while Ergashev dropped to 23-1 with 20 KOs.
"When I started feeling [Ergashev's] punches in the first round, I knew he didn't have the power to knock me out. That's when I started attacking," Matías said. "For left-handed southpaw fighters, I just need three or four rounds to decipher them. Then, what happened tonight, usually happens. Teofimo Lopez, Gervonta Davis, Devin Haney, if you want that, come over here and fight."
"I felt a pain and wasn't able to move," Ergashev said. "I just couldn't move around the ring in the last two rounds. Once I got hurt, I wasn't able to display any offense, and I couldn't use my defense because once my legs gave out on me, I couldn't stick to the game plan. I wasn't able to move around the ring and use angles like I did in the first two rounds."
The victory was nearly a mirror image of Matías' fifth-round stoppage of Argentina's Jeremias Ponce that capped a wild brawl in February on SHOWTIME that saw Matías soak up a ton of punishment before turning the tide and battering Ponce to win the vacant title. This time, it was the southpaw Ergashev who started fast, driving Matías into the ropes with a left to the body early in the first round as all three judges gave Ergashev the opening frame.
Ergashev continued to land unanswered punches in the second as Matías stood directly in front of Ergashev and took his best shot. But Matías started to loosen up in the third, as he landed a series of left uppercuts and followed up with a left to the body that hurt Ergashev toward the end of the frame. Matías, fully engaged and walking down his opponent, hurt Ergashev again in the fourth with a pair of right hands that pinned Ergashev against the ropes. Moments later, Matías again pinned Ergashev in the corner and raked him over with punches in the final minute of the fourth as Ergashev, who appeared on SHOBOX: THE New Generation four times between January 2018 and January 2020, appeared totally gassed and out of sorts.
Matías connected on 108 of 317 total punches for a 34% clip, compared to 44 of 235 and 19% for Ergashev, with 26 of Ergashev's total connects in the first two rounds. Over five rounds, Matías landed 71 power punches and 37 jabs to complete the dominant performance.