Highlights
–Errol Spence Jr. struggled with Leonard Bundu's switch-hitting, come-forward style in the early going, but still was able to use his jab to set up hammering lefts to the body and up the middle.

–With Bundu pinned against the ropes at the midpoint of Round 6, Spence ripped a head-jarring, short left uppercut to the chin, sending Bundu falling to the canvas on his right side.

–Although referee Johnny Callas erroneously called the knockdown a slip, Bundu was clearly hurt, and Spence immediately pounced, flooring his 41-year-old opponent for good with a lights-out right hook. With Bundu lying on his back beneath the bottom rope, Callas officially ended the contest at the 2:06 mark.
Errol Spence Jr. entered his 147-pound fight with Leonard Bundu hoping to do what undefeated champion Keith Thurman could not: finish off Bundu before the final bell.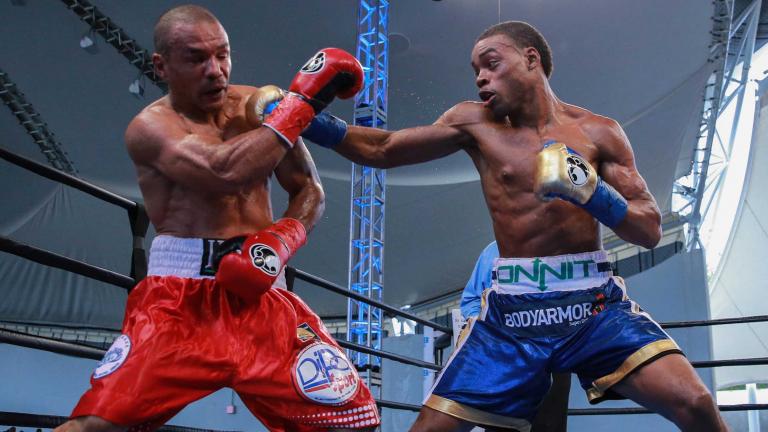 Not only did Spence achieve his goal, he did so in half the time it took Thurman.
Behind a pair of sensational final-round knockdowns, Spence (21-0, 18 KOs) collected his eighth consecutive stoppage victory with a sixth-round knockout of Bundu (32-2-2, 13 KOs).
With yet another nearly flawless performance, Spence remained undefeated, became the first man to stop Bundu and put himself in position to fight for a world title for the first time, as he immediately becomes the mandatory challenger for 147-pound champ Kell Brook.
Spence—a 26-year-old Long Island native who resides in Desoto, Texas—struggled a bit with Bundu's switch-hitting style in the early going. However, even as he occasionally fought in retreat in the opening two rounds, Spence generally withstood or deflected Bundu's attack, hammering lefts to the body over his jab and ripping similar shots up the middle.
After trapping Bundu in a corner and landing some telling shots late in Round 3, Spence found more of a groove during what was mostly a toe-to-toe fourth. He perfectly timed vicious left-right combinations to either side of his foe's head, including a left uppercut that dislodged Bundu's mouthpiece.
With the older man becoming more hittable with each passing round, Spence ratcheted up the pressure in the sixth. Midway through the stanza, he pinned his Italian opponent against the ropes and ripped home a head-jarring short left uppercut to the chin.
The force of the shot sent Bundu staggering to his right and he went down, but veteran referee Johnny Callas—who appeared to be shielded by the punch—waved off the knockdown, indicating that Bundu was pushed down.
Despite the erroneous ruling, Bundu was clearly hurt, and as the fight resumed, Spence went for the kill. He quickly pressed Bundu against the ropes once again, then followed a short left with a lights-out right hook that deposited "The Lion" flat on his back and knocked out cold.
With Bundu's left leg bent awkwardly underneath him and his head hanging over the edge of the canvas, Callas never bothered to count, officially ending things at the 2:06 mark.