Leo Santa Cruz successfully defends his title with an 8th round TKO victory against Chris Avalos.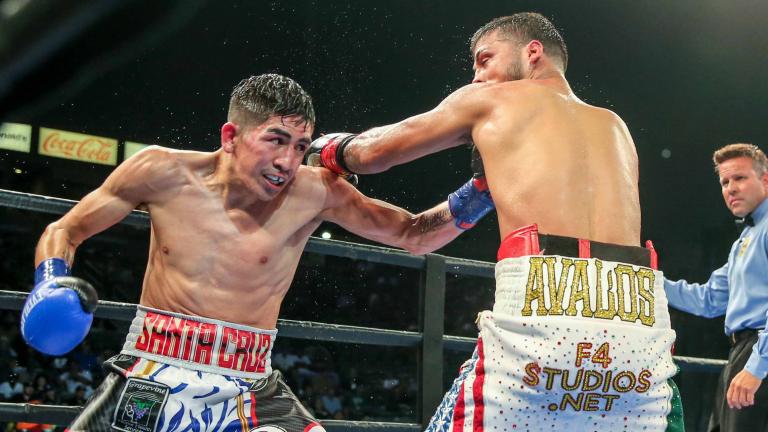 Santa Cruz made the first defense of his second tour as featherweight champion with a one-sided 8th round stoppage of Chris Avalos in the evening's main event. The win was every bit as dominant as Mares' technical unanimous decision victory over Mexico's Andres Gutierrez in the co-main event, pitching a near-shutout to register the first defense of his featherweight belt.
By the time he entered the ring for his own title defense, Santa Cruz was already able to take in the masterpiece turned in by Mares, whom he outpointed more than two years ago to begin his first featherweight title run. Having since lost and regained his title in a pair of thrillers with Carl Frampton, the free-swinging pressure fighter from California by way of Mexico sought to make a statement on the heels of a career-long nine-month layoff, wasting no time in immediately taking the fight to Avalos.
The opening three minutes set the tone for how much of the main event would play out. Avalos refused to back down, but was miserably outgunned in what served as his second career title fight. A high octane opening round for Santa Cruz was punctuated with a pair of right hands that briefly shook his challenger.
Avalos did his best to stand his ground, showing a willingness to trade with the defending champion in rounds two and three but paying a heavy price. Santa Cruz ended round three with another booming right hand and had the Lancaster, Calif. product in serious trouble in round four. When a stoppage didn't present itself, he made sure to heed the advice of his father and trainer, Jose Santa Cruz in between rounds.
Just as he listened to his father in making an optional defense before heading into a Mares rematch, Santa Cruz decided to slow down just enough to make it a boxing match in the middle rounds. It was still target practice for the defending champion, who landed 42% of his punches over the course of the evening, but none bigger than the volley of shots to end the contest.
Santa Cruz had Avalos in trouble late in round seven, and decided the night had lasted long enough. Round eight saw the four-time champion in three weight divisions pour on a power-punching assault, connecting on a staggering 70% of his power punches in prompting referee Thomas Taylor to stop the contest with Avalos still on his feet.
The official time was 1:34 of round eight.
With the rust-shaking optional defense out of the way, the defending champion can go back to focusing on bigger game.