Highlights
–A heavy-handed slugger, John Molina Jr. made the most of his 4½-inch height advantage from the get-go, establishing his jab from the outside while getting the better of the early inside exchanges against hard-punching Ruslan Provodnikov.

–Molina continued to use his jab to control distance in the fourth round, when a clash of heads caused a cut over the left eye of his opponent. Nevertheless, Provodnikov buckled Molina with a sixth-round right-left combination and a seventh-round left hook as he tried to take command of the fight.

–Molina moved effectively in the latter rounds to limit his time against the ropes, then closed strong, thwarting Provodnikov once again with his jab as well as multi-punch combinations in a strong 12th round.
There was little doubt that John Molina Jr. and Ruslan Provodnikov would give fight fans an action-packed, no-holds-barred fight Saturday night.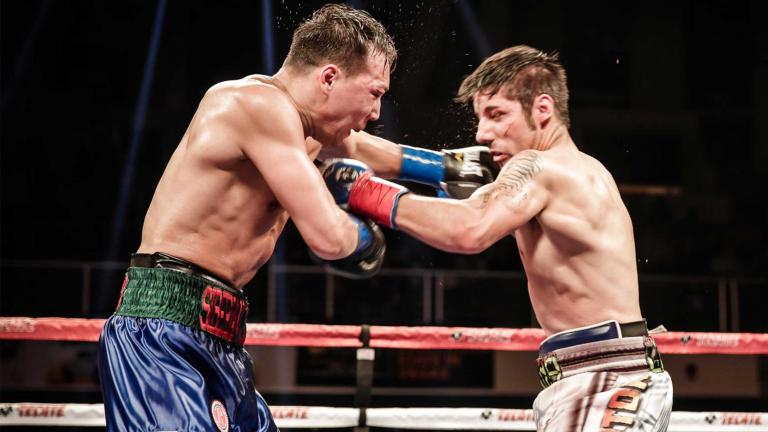 In that respect, the two hammer-fisted 140-pounders delivered as expected. The one surprise? Molina spent as much time boxing as brawling, and that proved to be the difference as he overcame big odds—as high as 9-to-1 in some spots—to upset Provodnikov by unanimous decision.
In handing Provodnikov (25-5, 18 KOs) the most decisive defeat of his career, Molina (29-6, 23 KOs) prevailed by scores of 117-110, 116-112 and 115-113.
At 5-foot-10½, Molina entered the ring 4½ inches taller than Provodnikov, and the bigger man used his height to his advantage, establishing his jab from the outside while not allowing the powerful Provodnikov to effectively work inside with regularity.
Molina's ability to keep his Russian-born foe at bay was born out in the final punch stats, as he landed 152 jabs, compared with 86 for Provodnikov. Overall, Molina finished with a 377-283 edge in total shots, including 225-197 in power shots.
The two boxers came into the fight notorious for their willingness to stand and trade, and they lived up to their reputations with several scintillating exchanges in which defense was a mere afterthought. The duo combined to throw more than 1,700 punches, with more than 1,000 of those shots coming from Molina's fists.
One toe-to-toe sequence in the fourth round resulted in an accidental clash of heads that opened a cut over the left eye of Provodnikov. Although he bled for much of the rest of the bout, the cut didn't seem to affect the 32-year-old in a significant way.
Molina—a 33-year-old lifelong resident of Covina, California—has now followed up a three-fight losing streak with consecutive victories. Meanwhile, Provodnikov has now alternated wins and losses in his last eight fights. That includes a June 2014 split-decision defeat to Chris Algieri that cost Provodnikov his 140-pound world title.
Heading into Saturday's fight, Molina predicted he'd able to duplicate the performance of Algieri, who at 5-foot-10 also had a distinct height advantage over Provodnikov. After 12 rounds, Molina's emphatically made good on his prediction.