As a two-time boxing champion turned analyst, Paulie Malignaggi's become as adept at translating action into words as he is spearheading the action himself. He's kind of like the sport's Rosetta Stone, deciphering what he sees in the ring for just about anyone to understand.
"If you listen to what I'm saying when I'm breaking down fights and breaking down boxing in general, you might learn something," he says. "I will put it in a way that makes a lot of sense for anybody."
As Paulie Malignaggi (33-6, 7 KOs) prepares to take on Danny Garcia (30-0, 17 KOs) this Saturday at Brooklyn's Barclays Center, which airs on ESPN at 9 p.m ET/6 p.m. PT, he breaks down some fights of his own in his Greatest Hits.
3 vs Donald Camarena, February 10, 2006, at Foxwoods Resort Casino in Mashantucket, Connecticut
As a young fighter, Malignaggi suffered from a series of debilitating hand injuries that threatened his future in the sport.
"The word on me was that, basically, I was done," Malignaggi recalls during the buildup to this, his 21st professional fight.
Prior to this matchup with Camarena, a fellow prospect at the time, Malignaggi had yet another surgical procedure done to fix the problem—and it worked this time.
Malignaggi felt reborn, channeling a certain comic book villain in the process.
"I finally felt 100 percent and nobody knew this," Malignaggi says. "All I kept thinking of was the film Batman from 1989, where Jack Nicholson is The Joker, and he says, 'Wait till they get a load of me.' I was like, 'I'm ready, man. My hand is good for the first time in years.'"
Malignaggi made up for wasted time by wasting Camarena in violent fashion, turning the page on the past and setting up his future.
"I went out there and just dismantled this guy, dominated him," he says. "I looked so good that it got me the [Miguel] Cotto fight. People were like, 'Man, Malignaggi looked really good.' And I was like, 'I knew that this was me.'"
2 vs Lovemore N'dou, June 16, 2007, at Mohegan Sun Casino in Uncasville, Connecticut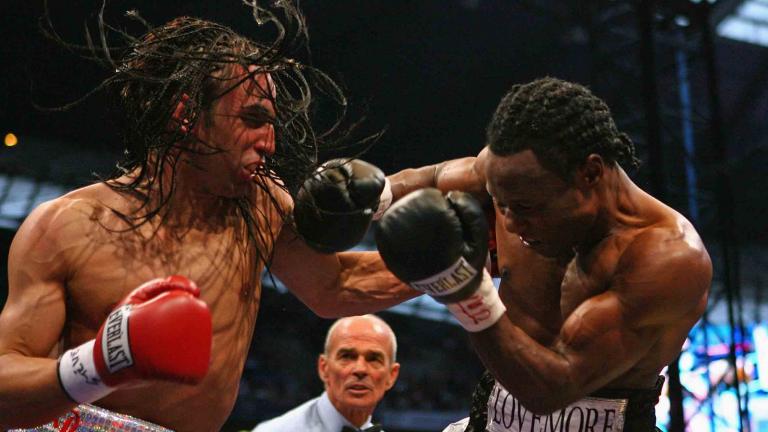 In June 2006, Malignaggi went out on his shield against Miguel Cotto, fighting valiantly but taking more punishment than a drunk's liver in the process.
It was the type of fight that can ruin a boxer.
"I had to kind of get over any negative residue in my mind about that loss," Malignaggi says. "I remembering thinking, 'I lost a world title fight last year. If I lose a world title fight in consecutive years, I'm not going to get another shot probably until I'm like 30.' At the time I was 26. I was like, 'I better win this fight.'
In N'dou he faced a granite-hard champ as rugged as the outback of his adopted homeland of Australia.
Nevertheless, Malignaggi took N'dou's title and, at one point, his ability to stand upright.
"I went out there and dominated N'dou like he'd never been dominated before," Malignaggi says. "To dominate him the way I did—and even drop him—made a statement for me. Not only was I here, but I was here to stay."
1 vs Vyacheslav Senchenko, April 29, 2012, at Donbass Arena in Donetsk, Ukraine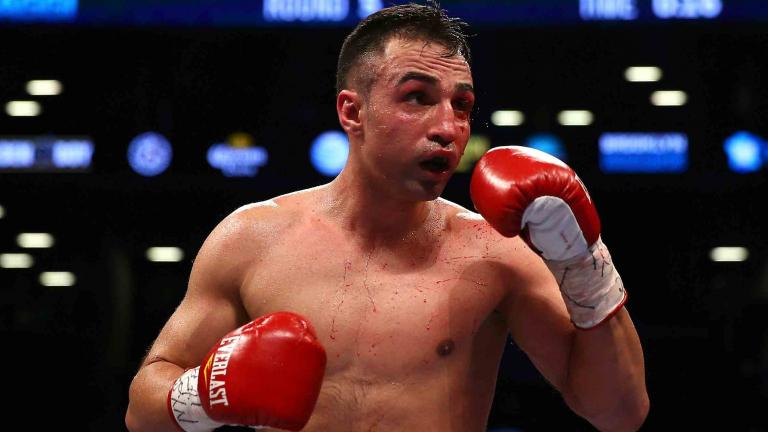 After losing his 147-pound title to Amir Khan in May 2010, Malignaggi struggled for a time to land another high-profile fight.
Although he had won three in a row prior to agreeing to take on then-champ Senchenko, he was greeted with all the enthusiasm of an uninvited houseguest by the boxing powers-that-be.
"People were again writing me off," he says. "I couldn't get an American TV date. Nobody would bite on this fight."
With no television outlet stateside, Malignaggi headed to Senchenko's native Ukraine, where he expected the worst while training to be his best.
"The way that I looked at was that it was me against the world. And I trained that way," Malignaggi says. "I just said, 'I'm going to go to Ukraine, I'm going to get robbed, but I'm going to show these guys that I was good.' When I'm gone, they're going to say, 'Hey, that Malignaggi kid, he could really fight.' I didn't think I would go to Ukraine and win a decision, and I didn't think I would get the stoppage."
But Malignaggi would do just that in the ninth round.
Prior to the start of the fight, Malignaggi shared a moment with a lifelong buddy of his who'd been by his side his entire career.
"I'm just walking back and forth pacing, looking at my best friend who's always in my corner, being like, 'Can you believe this? We turned pro in Brooklyn in 2001 and now we're in Ukraine? What a crazy ride,'" Malignaggi recalls. "He was teary-eyed, he was like, 'I don't want to it end though, bro.' I looked him dead in the eye and said, 'It's not going to end tonight.'"
Three years later, it still hasn't.