Only one person can call Abner Mares "little man": himself.
The 126-pound fighter may be small in stature, but he's big on punching power. As Mares prepares to battle Arturo Santos Reyes as part of the inaugural Premier Boxing Champions card on March 7, he names his top three fights:
3 vs. Jhonny Gonzalez, August 24, 2013, at the StubHub Center in Carson, California
Mares suffered his only defeat against 126-pound champion Gonzalez, who rocked Mares with a thundering left hook and knocked him down twice en route to a first-round TKO.
"I was stunned. I just couldn't believe it," Mares recalled. "It's like, 'Wow, is this really happening?' And then when the fight was over, it hit me that I really lost."
Mares said that he learned plenty from his lone setback.
"It's just one of those fights that lets you know that you've got to be ready for anything," he said. "Physically, I might have trained hard, but mentally, I was just taking the fight too easy. It was a fight that opened my eyes."
2 vs. Daniel Ponce De Leon, May 4, 2013, at the MGM Grand Garden Arena in Las Vegas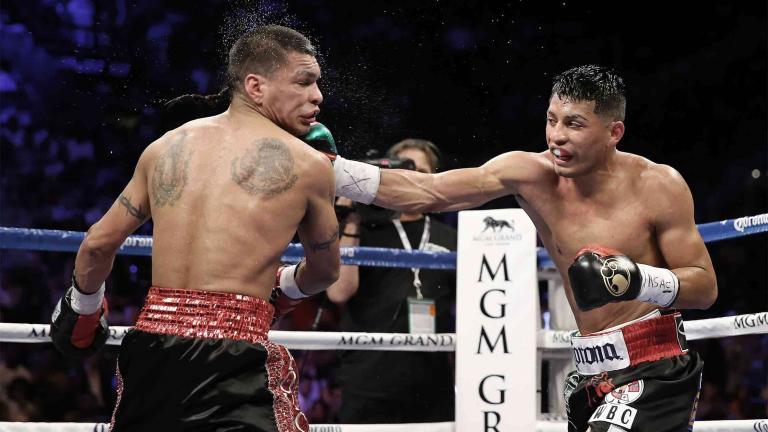 Mares moved up from 122 pounds to contend with the stone hands of hard-hitting former 126-pound champ De Leon.
"He had a great power punch, he was a strong fighter," Mares says. "People gave me really low chances of beating this guy and becoming world champion."
But not only did Mares beat him, he beat him up, scoring a pair of knockdowns and slugging his way to a ninth-round TKO victory, winning a title in his third different weight class.
"This fight really helped me to prove to people that this little man has power and that this little man can do some damage as well," Mares says. "That fight really opened the door for other big fights."
1 vs. Anselmo Moreno, November 10, 2012, at Staples Center in Los Angeles
Crafty former 122-pound champ Moreno presented a tough challenge for Mares.
"He's really awkward, a great boxer and to top it off, a southpaw," Mares says. "All around he was just a difficult fighter."
Nevertheless, Mares won a unanimous decision over his cagey opponent, demonstrating that he could fight with finesse and force alike.
"Because of my fighting style, people thought that I was an easy target for Anselmo," Mares says. "They thought that it was going to be target practice for him and that he was just going to outbox the aggressive Abner Mares. Well, I proved them wrong once again."