Michael
Hunter
"The Bounty"
Weight 213¼ lbs (96.82 kg)
Age 31
Home Las Vegas, Nevada,
The son of a professional boxer, 2012 U.S. Olympian Michael Hunter is moving his way up the heavyweight ladder. Read Bio
Last Fight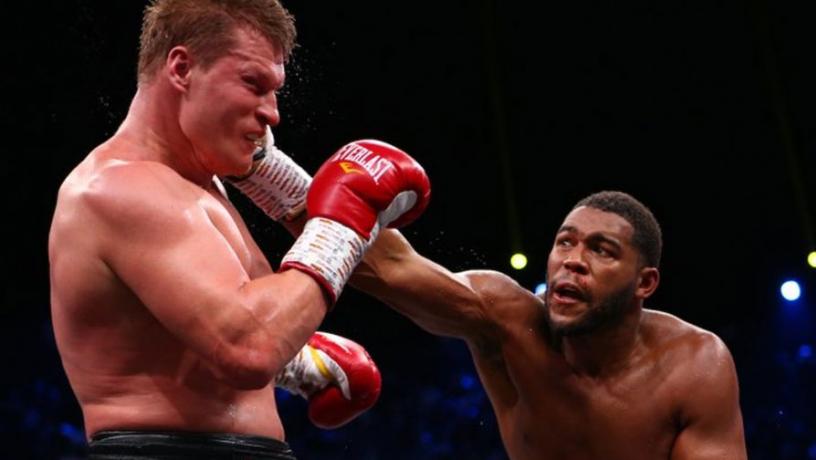 Dec 07, 2019 / Diriyah Arena, Diriyah, Saudi Arabia
Michael Hunter and Alexander Povetkin battled to a tough split draw (113-115, 114-114, 115-113) in their Heavyweight World Title Eliminator in Diriyah, Saudi Arabia.
Sign Up for
PBC

News

Get the latest fight announcements, fighter spotlights, and other PBC news delivered to your inbox.

Michael Hunter News
Oct 30, 2018 / Michael Hunter
2012 U.S. Olympian says he's hunting for a big bounty after his most recent victory.
Michael Hunter Fights
Draw

vs

Alexander

Povetkin

35-2-1
Dec 07, 2019 • Diriyah Arena, Diriyah, Saudi Arabia
Alexander Povetkin DRAWS with Michael Hunter by SD in Round 12 of 12
Win

vs

Sergey

Kuzmin

15-0-0
Sep 13, 2019 • Madison Square Garden Theater, New York, New York, USA
Michael Hunter WINS against Sergey Kuzmin by UD in Round 12 of 12
Win

vs

Fabio

Maldonado

26-2-0
May 25, 2019 • MGM National Harbor, Oxon Hill, Maryland, USA
Michael Hunter WINS against Fabio Maldonado by TKO in Round 2 of 10
Win

vs

Alexander

Ustinov

34-2-0
Nov 24, 2018 • Casino de Monte Carlo Salle Medecin, Monte Carlo, Monaco
Michael Hunter WINS against Alexander Ustinov by TKO in Round 9 of 12
WIN

vs

Martin Bakole

Ilunga

11-0-0
Oct 13, 2018 • York Hall, Bethnal Green, London, United Kingdom
Martin Bakole Ilunga LOSES to Michael Hunter by TKO in Round 10 of 10
Win

vs

Iago

Kiladze

26-1-0
Jun 10, 2018 • Pioneer Event Center, Lancaster, California, USA
Michael Hunter WINS against Iago Kiladze by KO in Round 5 of 10
WIN

vs

Terrell Jamal

Woods

16-40-7
Apr 21, 2018 • International Plaza, Biloxi, Mississippi, USA
Terrell Jamal Woods LOSES to Michael Hunter by UD in Round 6 of 6
LOSS

vs

Oleksandr

Usyk

11-0-0
Apr 08, 2017 • MGM National Harbor, Oxon Hill, Maryland, USA
Oleksandr Usyk WINS against Michael Hunter by UD in Round 12 of 12
May 13, 2016 • Sam's Town Hotel & Gambling Hall, Las Vegas, Nevada, USA
Michael Hunter WINS against Isiah Thomas by UD in Round 10 of 10
Win

vs

Phil

Williams

15-7-2
Feb 27, 2016 • Honda Center, Anaheim, California, USA
Michael Hunter WINS against Phil Williams by KO in Round 1 of 8
Win

vs

Jason

Douglas

11-5-0
Oct 13, 2015 • Little Creek Casino Resort, Shelton, Washington, USA
Michael Hunter WINS against Jason Douglas by RTD in Round 4 of 10
Win

vs

Mike

Bissett

9-7-0
Jul 25, 2015 • Palms Casino and Resort, Pearl Theater, Las Vegas, Nevada, USA
Michael Hunter WINS against Mike Bissett by TKO in Round 1 of 8
Jun 20, 2015 • MGM Grand, Grand Garden Arena, Las Vegas, Nevada, USA
Michael Hunter WINS against Deon Elam by TKO in Round 4 of 6
Win

vs

Avery

Gibson

4-4-3
Feb 05, 2015 • The Hangar, Costa Mesa, California, USA
Michael Hunter WINS against Avery Gibson by UD in Round 8 of 8
Win

vs

Harvey

Jolly

14-21-1
Aug 22, 2014 • Pechanga Resort & Casino, Temecula, California, USA
Michael Hunter WINS against Harvey Jolly by TKO in Round 4 of 6
Win

vs

Jerry

Forrest

7-1-0
Jun 21, 2014 • StubHub Center, Carson, California, USA
Michael Hunter WINS against Jerry Forrest by UD in Round 8 of 8
Win

vs

Rodney

Hernandez

5-1-1
Apr 03, 2014 • Fantasy Springs Casino, Indio, California, USA
Michael Hunter WINS against Rodney Hernandez by UD in Round 6 of 6
Win

vs

Gary

Tapusoa

2-0-1
Jan 24, 2014 • Little Creek Casino Resort, Shelton, Washington, USA
Michael Hunter WINS against Gary Tapusoa by TKO in Round 1 of 4
Win

vs

Francisco

Mireles

16-7-0
Aug 30, 2013 • Four Points Sheraton Hotel, San Diego, California, USA
Michael Hunter WINS against Francisco Mireles by KO in Round 1 of 4
Mar 09, 2013 • Celebrity Theater, Phoenix, Arizona, USA
Michael Hunter WINS against Chad Davis by TKO in Round 3 of 4
Michael
Hunter
"The Bounty"
Weight 213¼ lbs

(96.82 kg)
Born

July 10, 1988

Age

31

Country

USA

Born in

Van Nuys, CA

Trains in

Las Vegas

, NV
Stance

Orthodox

Rounds Boxed

119

KO Percentage

60%

Boxing Hero