Featherweight contenders went toe-to-toe as Luis Núñez (19-0, 13 KOs) outslugged Christian Olivo (20-1-1, 7 KOs) on his way to a 10-round unanimous decision triumph by scores of 100-90, 98-92 and 97-93.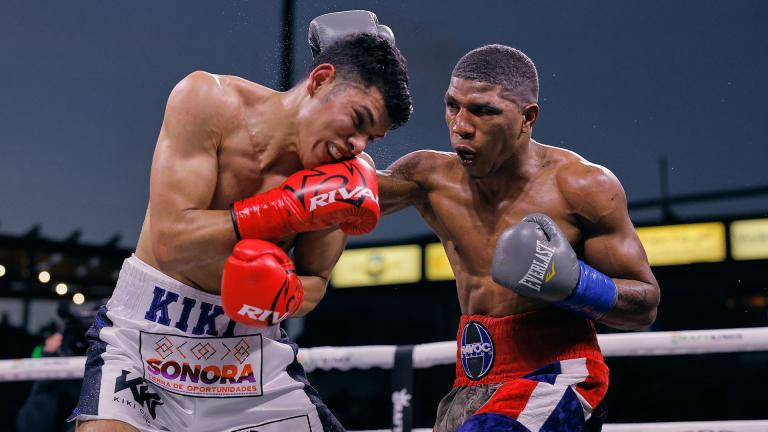 The Dominican Republic's Núñez and Mexico's Olivo fought most of the bout in close quarters, with Olivo pushing the pace early and often, while Núñez was more than obliged to pick his spots for powerful counters.
"We did the work to earn this most important victory," said Núñez. "My jab was working in every round and he threw a lot of punches that didn't reach me. There's a lot I have to work on still to be in the big fights, so I'll still be working at the gym."
Núñez's control of the fight was reflected in his accuracy, as he connected on over 37% of his power punches, which the judges favored to Olivo's volume. Olivo both outthrew (661-413) and out-landed Núñez (155-118), with both fighters connecting on 42 jabs.
"I want to thank my opponent, because it was a great fight," said Olivo. "I still think I do have to work on a couple of things, but this loss is really going to propel me to focus in the future. It's going to take more work. I needed to do more in this fight to win it."
"I was surprised he took so many of my punches," added Núñez. "I kept hitting him and he kept on coming. I was throwing a lot of punches and I realized he was hurt but I couldn't understand how he could take all this punishment and keep going."
Olivo had some of his best moments in the fight in round seven, an exciting frame that saw both men land and absorb their share of power shots. Núñez was able to weather any momentum Olivo had with improved movement and occasional jabs to knock the charging Olivo off course.
"I'm Mexican after all, we are all warriors," said Olivo. "I leave proud and with my head held high because I battled and I gave the fans a great show."
After 10 rounds, Núñez walked away with his perfect record intact as he prepares to continue his rise up the 126-pound rankings.
"I'm happy about my performance," said Núñez. "I came out victorious and I did what I had to do to win. I want a title shot. I want to fight the best in the division. Whatever is available I'll take it."