Unbeaten rising super lightweight Brandun Lee (28-0, 23 KOs) grinded out a hard-fought unanimous decision victory over Pedro Campa (34-3-1, 23 KOs) after their 10 round bout, earning winning tallies of 99-91, 98-92 and 97-93.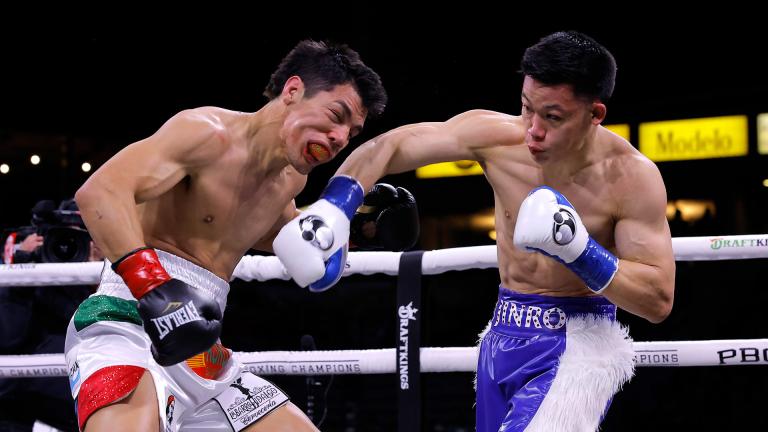 "This is boxing, it's all about who has more effective punches," said Lee. "Look at his face, look at mine. I felt I was more accurate and landed harder shots. Pedro Campa is a true Mexican veteran and he came to fight."
Lee showed initiative from the opening bell, quickly stepping to Campa and unleashing a barrage of power shots as he chased his opponent around the ring. After the initial flurry, Campa settled into the action comfortably and found his own opportunities to counter and temporarily slow down the aggressive Lee.
"I thought I won the fight," said Campa. "I felt I was pressuring him the whole fight. There were some instances when he had the pressure, and that's when I felt a little bit not in control."
The La Quinta, California-native Lee fought in front of a friendly crowd and waved them on in round four as he controlled much of the first half of the fight. However, Campa had some of his most success in round six and heard the encouragement from the supportive pro-Mexico fans in attendance.
"My performance was great in the first five rounds and then I slowed down and that's when he started to come on," said Lee. "That's a veteran thing to do. I learned that I'm going to have to pace myself in these kinds of fights, to realize we're going 10 rounds and soon to be 12 rounds and don't change up the game plan."
"The fans started cheering for me once they saw my Mexican-style way of bringing pressure," said Campa. "Always moving forward. They were seeing the damage I was inflicting with my punches."
While Campa had his moments where he broke through Lee's guard, he was still frequently on the receiving end of Lee's offensive arsenal. Lee fought much of the fight toe-to-toe but took occasional breaks to show his movement and boxing ability before charging ahead refreshed for more back and forth action.
Campa out-landed Lee (186-159), but Lee's 32% connect rate outpaced Campa's 25%. Although Campa out-landed Lee 96-60 from rounds five through eight, Lee's 52 to 17 edge in jabs landed helped make the difference in the later rounds of the bout.
"Now it's time to rest, be with family and see what's next," said Campa. "I have too much heart and I know that I can put on a show anywhere, anytime."
"I would love another opponent like Pedro Campa, someone who's strong and I'd love to continue developing how I am now," said Lee.