Amir Mansour not only outslugged, outboxed and outworked "My Time," he seemingly conquered Father Time, as well.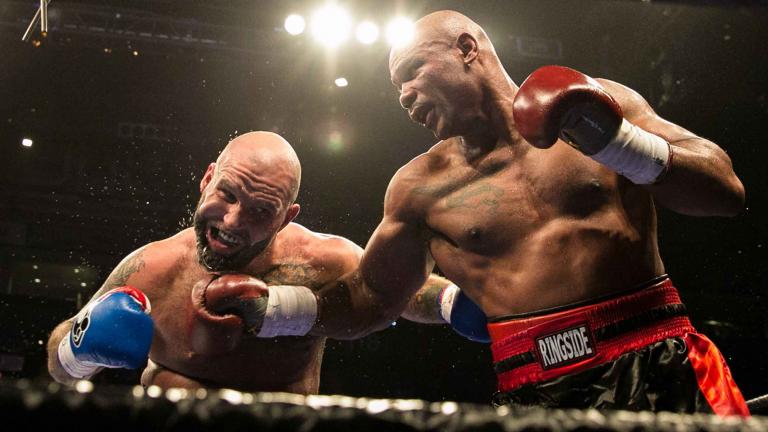 The 44-year-old southpaw showed an array of skills as he upset Travis Kauffman by majority decision in a 12-round heavyweight bout in Kauffman's hometown.
Mansour showed amazing athleticism and stamina fighting an opponent 13 years his junior and following a layoff of 14 months.
The spirited bout was filled with numerous back-and-forth exchanges, and was close through the middle rounds, but "Hardcore" took command down the stretch despite fighting past 10 rounds for just the second time in his career.
Mansour swept the eighth through 11th rounds on all three judges' scorecards to defeat the fighter nicknamed "My Time" on his home turf. Judges Tony Lundy and Mike Somma ruled in Mansour's favor, 117-111 and 115-113, respectively, while Steve Weisfeld scored it 114-114.
Mansour was crisp and effective from the outset, moving laterally to either side and firing with both hands in the first round.
Kauffman switched to southpaw to open Round 2 and caught Mansour with a solid right on the inside. He stayed in the lefty stance for most of the bout, and was most effective from there in the early rounds.
In the second half of the fight, though, Mansour began to take over as the pace of the action increased. The Wilmington, Delaware, resident tagged the bigger Kauffman with a lunging right hook in Round 8, when he also landed a stinging left after doubling up on his right hook.
Mansour continued to use his jab to set up his power shots, firing three rapid-fire rights before landing flush with a straight left in Round 9.
From there, the action resembled a heated Rock 'Em Sock 'Em Robots exchange as the men traded punches standing virtually toe-to-toe until the final bell. While Kauffman had his moments, it was Mansour who continually landed the harder shots.
Fighting for the first time since nearly biting his tongue in half in a stoppage loss to Dominic Breazeale in January 2016, Mansour earned the biggest victory of his career, which began in July 1997 but was interrupted for nearly a decade in 2001 because of a prison sentence.
Kauffman, 31, lost for the first time since Tony Grano stopped him in the fourth round in September 2009, and suffered his first defeat in 10 career bouts in his hometown.