Weight 154 lbs (70 kg)
Age 31
Home Saint Thomas, USA
A 2008 Olympian and the youngest son of former world champion Julian Jackson, John Jackson has title aspirations of his own at 154 pounds. Read Bio
Last Fight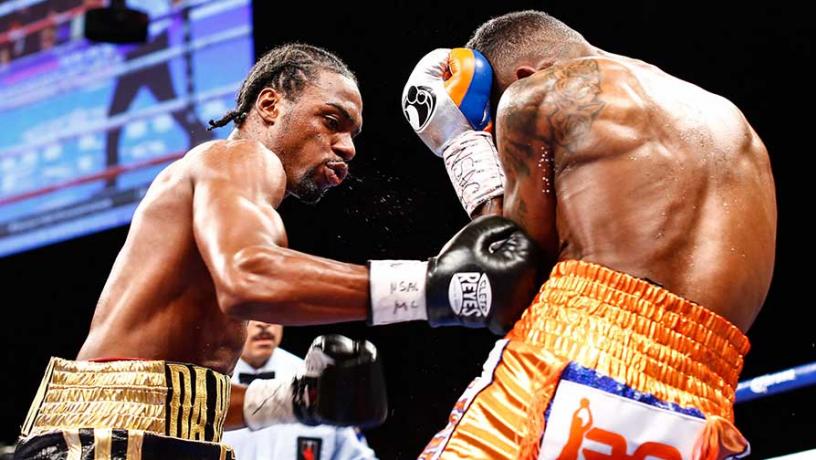 May 21, 2016 / The Cosmopolitan, Las Vegas
Jackson was denied a possible 154-pound world title when he was stopped in the eighth round.
Sign Up for
PBC

News

Get the latest fight announcements, fighter spotlights, and other PBC news delivered to your inbox.

John Jackson News
Aug 31, 2018 / Sergio Mora, Marcos Hernandez, John Jackson, Malcolm McAllister
Middleweights Mark Anthony Hernandez, John Jackson and Malcolm McAllister hope to follow in the footsteps of The Contender season one winner and former world champion Sergio Mora in finding fame and fortune.
Aug 5, 2016 / Artur Beterbiev, Sakio Bika, Marcus Browne, Andre Dirrell, Jamel Herring, John Jackson, Julius Jackson, Abner Mares, Errol Spence Jr., Rau'shee Warren, Deontay Wilder
Competing for one's country at the Olympics is one of the greatest honors an athlete can achieve. With the Rio Summer Games getting underway this weekend, some of PBC's Olympic veterans shared their own memories and offered advice to this year's athletes.
May 22, 2016 / Charlo vs Jackson, Jermell Charlo, John Jackson
Jermell Charlo didn't expect to pursue John Jackson around the ring Saturday night, but he finally caught up to him in the eighth round and landed a world championship.
John Jackson Fights
LOSS

vs

Eric

Walker

15-1-0
Apr 28, 2018 • LADC Studios, Los Angeles, California, USA
Eric Walker WINS against John Jackson by UD in Round 5 of 5
Win

vs

Lucio

Galindo

0-0-0
Jul 01, 2017 • Auditorio Municipal Jaltenco, Jaltenco, México, Mexico
John Jackson WINS against Lucio Galindo by TKO in Round 1 of 6
May 21, 2016 • The Cosmopolitan, Las Vegas
Jermell Charlo WINS against John Jackson by KO in Round 8 of 12
Win

vs

Dennis

Laurente

50-5-5
Aug 02, 2015 • Full Sail University, Winter Park, Florida, USA
John Jackson WINS against Dennis Laurente by UD in Round 10 of 10
Win

vs

Carlos Adan

Jerez

40-17-3
Nov 15, 2014 • Quorum Córdoba Hotel, Cordoba, Cordoba, Argentina
John Jackson WINS against Carlos Adan Jerez by UD in Round 10 of 10
Jun 07, 2014 • Madison Square Garden, New York, New York, USA
Andy Lee WINS against John Jackson by KO in Round 5 of 10
Win

vs

Jorge Daniel

Miranda

51-15-0
Dec 07, 2013 • Club Atlético Talleres, Cordoba, Cordoba, Argentina
John Jackson WINS against Jorge Daniel Miranda by TKO in Round 8 of 10
Win

vs

Tony

Hirsch

14-5-2
Aug 17, 2013 • Mark C. Marin Center, Charlotte Amalie, U.S. Virgin Islands
John Jackson WINS against Tony Hirsch by UD in Round 8 of 8
Win

vs

Cerresso

Fort

16-0-1
Apr 19, 2013 • Tropicana Hotel & Casino, Atlantic City, New Jersey, USA
John Jackson WINS against Cerresso Fort by UD in Round 8 of 8
Mar 08, 2013 • Resorts Hotel & Casino, Atlantic City, New Jersey, USA
John Jackson WINS against Alexis Pena by KO in Round 1 of 6
Win

vs

Alexander

Hernandez

11-19-1
Dec 17, 2012 • Dominican Fiesta Hotel & Casino, Santo Domingo, Dominican Republic
John Jackson WINS against Alexander Hernandez by TKO in Round 1 of 10
LOSS

vs

Willie

Nelson

18-1-1
Sep 15, 2012 • Thomas & Mack Center, Las Vegas, Nevada, USA
Willie Nelson WINS against John Jackson by UD in Round 10 of 10
Win

vs

Jesus

Selig

14-0-1
Apr 25, 2012 • Mark C. Marin Center, Charlotte Amalie, U.S. Virgin Islands
John Jackson WINS against Jesus Selig by TKO in Round 3 of 10
Win

vs

KeAndrae

Leatherwood

9-0-0
Dec 16, 2011 • Mandalay Bay Resort & Casino, Islander Ballroom, Las Vegas, Nevada, USA
John Jackson WINS against KeAndrae Leatherwood by TKO in Round 6 of 10
Win

vs

Jose Vidal

Soto

24-8-2
Sep 19, 2011 • Polideportvo Eleoncio Mercedes, La Romana, Dominican Republic
John Jackson WINS against Jose Vidal Soto by TKO in Round 2 of 8
Win

vs

Jack

Welson

14-4-0
Apr 19, 2011 • Anfiteatro del Río Uruguay, Paysandu, Uruguay
John Jackson WINS against Jack Welson by TKO in Round 3 of 6
Win

vs

Carlos Andres

Araya

7-4-0
Jan 09, 2011 • Hotel & Casino Conrad, Punta del Este, Uruguay
John Jackson WINS against Carlos Andres Araya by UD in Round 6 of 6
Win

vs

Manuel

Martinez

10-0-0
Oct 29, 2010 • Gimnasio Municipal, Mexicali, Baja California, Mexico
John Jackson WINS against Manuel Martinez by TKO in Round 4 of 6
Win

vs

Valerio

Marte

6-10-0
Aug 19, 2010 • Dominican Fiesta Hotel & Casino, Santo Domingo, Dominican Republic
John Jackson WINS against Valerio Marte by TKO in Round 1 of 6
Win

vs

Alvaro Clinton

Ayala

19-8-0
May 21, 2010 • Malecon Turistico, Guaymas, Sonora, Mexico
John Jackson WINS against Alvaro Clinton Ayala by TKO in Round 3 of 6
Win

vs

Rafael De la

Cruz

2-34-0
Dec 21, 2009 • Coliseo Carlos 'Teo' Cruz, Santo Domingo, Dominican Republic
John Jackson WINS against Rafael De la Cruz by TKO in Round 3 of 6
Win

vs

Jonathan Illas

Cordero

0-0-0
Sep 26, 2009 • UVI Sports & Fitness Center, Charlotte Amalie, U.S. Virgin Islands
John Jackson WINS against Jonathan Illas Cordero by KO in Round 1 of 4
Win

vs

Ildefonso

Soto

0-0-1
May 30, 2009 • UVI Sports & Fitness Center, Charlotte Amalie, U.S. Virgin Islands
John Jackson WINS against Ildefonso Soto by TKO in Round 2 of 4
Win

vs

Steven

Grove

0-0-0
Mar 27, 2009 • UVI Sports & Fitness Center, Charlotte Amalie, U.S. Virgin Islands
John Jackson WINS against Steven Grove by TKO in Round 1 of 4
Win

vs

Alphonso

Alexander

0-0-0
Jan 30, 2009 • UVI Sports & Fitness Center, Charlotte Amalie, U.S. Virgin Islands
John Jackson WINS against Alphonso Alexander by TKO in Round 2 of 4
Born

January 16, 1989

Age

31

Country

U.S. Virgin Islands

Born in

Saint Thomas

Trains in

Saint Thomas
Stance

Orthodox

Rounds Boxed

112

KO Percentage

64%

Boxing Hero