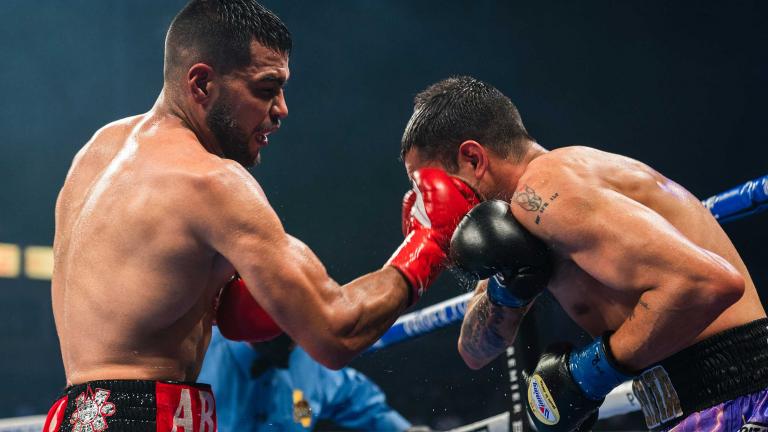 In the co-main event welterweight contender Abel Ramos (27-4-2, 21 KOs) delivered an impressive performance in stopping former champion Omar "Panterita" Figueroa Jr. (28-2-1, 19 KOs) after six-rounds in their WBA Welterweight Title Eliminator.
Figueroa came out showing off a herky-jerky style and had success in the first round, out landing Ramos slightly with 12 power punches to Ramos' 11.
As the fight hit round three, Ramos appeared to figure out the timing of his opponent and began unloading a lethal right hand that he would eventually ride to victory.
That third round saw a significant bruise begin to develop under Figueroa's left eye as a result of that Ramos right hand. Ramos kept up his momentum during rounds four and five, while Figueroa came out aggressive in round six, winging big power shots looking to turn the tide back in his favor.
However, Ramos stuck to his plan and pounded Figueroa with right hands to the head and body. In the final moments of the round, Ramos landed a series of right hands to the body that put Figueroa in clear pain heading back to his corner.
In between the sixth and seventh rounds, referee Jerry Cantu waived off the bout, at the suggestion of Figueroa's corner. Ramos was the busier and more accurate fighter, out landing Figueroa 150 to 74, with a 34% to 24% edge in accuracy.