Jose Uzcategui defeats Andre Dirrell to capture interim IBF 168-pound title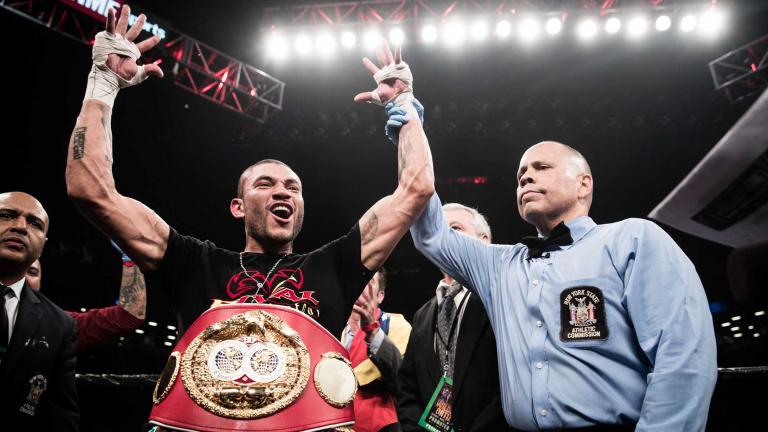 In the co-featured event Jose Uzcategui (27-2, 23 KOs) defeated Andre Dirrell (26-3, 16 KOs) via TKO two seconds into round nine, upon the request of Dirrell's trainer, Virgil Hunter. The win, which makes Uzcategui the interim IBF Super Middleweight World Champion, puts the hard-hitting Venezuelan in position to fight for the super middleweight title that Caleb Truax earned via a majority decision over James DeGale in December.
Saturday night's fight was a rematch of the hotly contested May 2017 bout, in which Uzcategui was disqualified for landing a punch after the bell sounded to end the eighth round. In the rematch, Uzcategui dominated the action from start to finish, using his powerful right hand to set the stage for the withering assault which led to Dirrell's corner stopping the fight two seconds into round nine. Uzcategui out landed Dirrell 169-141 in total punches, including a huge 112-51 discrepancy in power punches landed.
"I was a little surprised they stopped it in the ninth," said Uzcategui. "I had said it would be the third round that I would knock him out. It took a little longer, but it finally came.
"I think it was very clear in the first fight that I did my job. In the second fight I showed even more, so there's going to be a lot of Uzcategui from now on."
Dirrell, a native of Flint, Michigan, found Uzcategui's length and aggression difficult to deal with.
"I've been in there with long fighters before, but he was especially long," said Dirrell. "I think I was a little heavier than I wanted to be tonight, but that's no excuse. Uzcategui did a great job.
"We knew we needed a knockout. The way it was going I needed to at least pick it up. I felt a little sluggish and he hit all the right shots. None of them really hurt, but he hit me where he was supposed to."