Edner Cherry used every veteran trick in his book against Omar Douglas as he turned the page toward another potential title shot.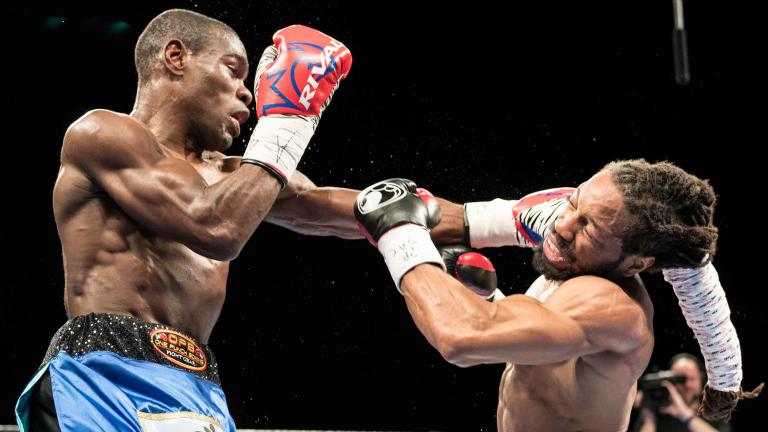 Cherry won a 10-round unanimous decision over Douglas in a 130-pound bout that headlined a Premier Boxing Champions card in Bethlehem, Pennsylvania.
The scores were 96-94 (twice) and 98-92 in favor of Cherry, whose aggressive pace was more impressionable on the three judges than was Douglas' poise and counterpunching.
Cherry, 34, sought to take the fight to his younger opponent from the opening bell. The two-time title challenger knew he'd have to make an early impression on the judges as well as on Douglas, working on the inside and scoring with right hands while looking for opportunities to land his patented "Cherry Bomb" left hook.
Douglas, 26, effectively neutralized his opponent's money punch. The native of nearby Wilmington, Delaware, was most successful when he worked behind his jab, which was key in controlling the middle rounds and slowing down Cherry's attack.
Cherry made the adjustments and forced Douglas back into old habits of winging his punches while the veteran scored with body shots and combinations upstairs. His surge in the seventh and eighth rounds created many uncomfortable moments for Douglas, who unknowingly dug himself into a deep hole on the judges' scorecards.
"Super O" seized momentum in the final two rounds, allowing Cherry to come to him before catching him with counter left hooks while slipping out of harm's way. His poise and ring spacing weren't enough to avoid a second consecutive defeat, however, as his fate was sealed on the scorecards by that point.
There were moments in the fight where Douglas showed learning lessons from his previous defeat, having fallen just short versus former 130-pound world champion Javier Fortuna last November. It didn't seem to take with the judges, though.
Cherry posted his second consecutive win in Bethlehem, nine months after earning a 10-round unanimous decision over Lydell Rhodes.
It was a grueling enough affair to where Douglas was draped over the top rope in disbelief after the verdict was read.