Weight 175 lbs (79.55 kg)
Age 37
Home New Haven, Connecticut,
Once the world's premier boxer at 175 pounds, former champion Chad Dawson is punching his way back into contention for another title shot. Read Bio
Last Fight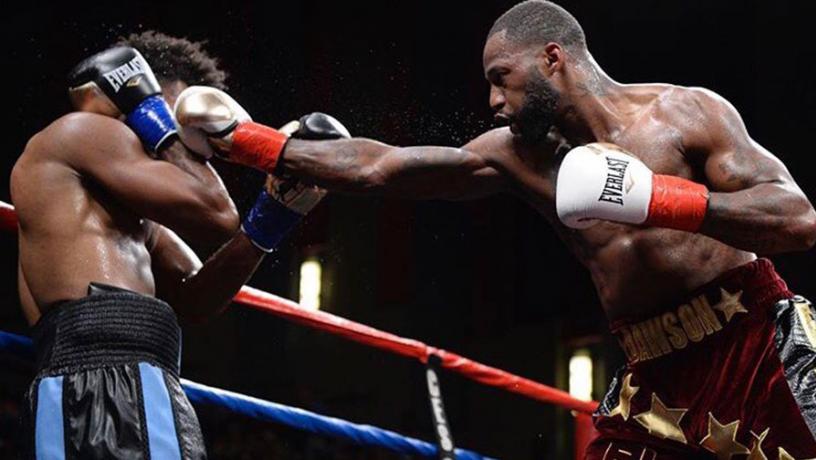 Jun 29, 2019 / Foxwoods Resort, Mashantucket, Connecticut
Former Light Heavyweight World Champion "Bad" Chad Dawson picked up the 35th win of his career when he scored a UD victory over Quinton Rankin at Foxwoods Resort.
Sign Up for
PBC

News

Get the latest fight announcements, fighter spotlights, and other PBC news delivered to your inbox.

Chad Dawson News
Chad Dawson Fights
Win

vs

Quinton

Rankin

15-5-2
Jun 29, 2019 • Foxwoods Resort, Mashantucket, Connecticut, USA
Chad Dawson WINS against Quinton Rankin by UD in Round 8 of 8
Mar 04, 2017 • Barclays Center, Brooklyn, New York, USA
Andrzej Fonfara WINS against Chad Dawson by TKO in Round 10 of 10
Win

vs

Cornelius

White

23-4-0
Apr 16, 2016 • Foxwoods Resort, Mashantucket, Connecticut, USA
Chad Dawson WINS against Cornelius White by TKO in Round 4 of 10
Win

vs

Dion

Savage

12-8-0
Dec 08, 2015 • Sun National Bank Center, Trenton, New Jersey, USA
Chad Dawson WINS against Dion Savage by UD in Round 10 of 10
Win

vs

Shujaa El

Amin

12-8-0
Dec 08, 2015 • Sun National Bank Center, Trenton, New Jersey, USA
Chad Dawson WINS against Shujaa El Amin by UD in Round 10 of 10
Loss

vs

Tommy

Karpency

23-4-1
Oct 04, 2014 • Foxwoods Resort, Mashantucket, Connecticut, USA
Chad Dawson LOSES to Tommy Karpency by SD in Round 10 of 10
Win

vs

George

Blades

23-5-0
Jun 21, 2014 • StubHub Center, Carson, California, USA
Chad Dawson WINS against George Blades by KO in Round 1 of 10
Jun 08, 2013 • Bell Centre, Montreal, Quebec, Canada
Chad Dawson LOSES to Adonis Stevenson by KO in Round 1 of 12
LOSS

vs

Andre

Ward

25-0-0
Sep 08, 2012 • Oracle Arena, Oakland, California, USA
Andre Ward WINS against Chad Dawson by TKO in Round 10 of 12
WIN

vs

Bernard

Hopkins

52-5-2
Apr 28, 2012 • Boardwalk Hall, Atlantic City, New Jersey, USA
Bernard Hopkins LOSES to Chad Dawson by MD in Round 12 of 12
No Contest

vs

Bernard

Hopkins

52-5-2
Oct 15, 2011 • Staples Center, Los Angeles, California, USA
Bernard Hopkins Chad Dawson by NC in Round 2 of 12
Win

vs

Adrian

Diaconu

27-2-0
May 21, 2011 • Bell Centre, Montreal, Quebec, Canada
Chad Dawson WINS against Adrian Diaconu by UD in Round 12 of 12
LOSS

vs

Jean

Pascal

25-1-0
Aug 14, 2010 • Bell Centre, Montreal, Quebec, Canada
Jean Pascal WINS against Chad Dawson by TD in Round 11 of 12
Win

vs

Glen

Johnson

49-12-2
Nov 07, 2009 • XL Center, Hartford, Connecticut, USA
Chad Dawson WINS against Glen Johnson by UD in Round 12 of 12
May 09, 2009 • Hard Rock Hotel and Casino, Las Vegas, Nevada, USA
Chad Dawson WINS against Antonio Tarver by UD in Round 12 of 12
Oct 11, 2008 • Palms Casino Resort, Las Vegas, Nevada, USA
Chad Dawson WINS against Antonio Tarver by UD in Round 12 of 12
Win

vs

Glen

Johnson

47-11-2
Apr 12, 2008 • St. Pete Times Forum, Tampa, Florida, USA
Chad Dawson WINS against Glen Johnson by UD in Round 12 of 12
Win

vs

Epifanio

Mendoza

28-4-1
Sep 29, 2007 • Arco Arena, Sacramento, California, USA
Chad Dawson WINS against Epifanio Mendoza by TKO in Round 4 of 12
Jun 09, 2007 • Connecticut Convention Center, Hartford, Connecticut, USA
Chad Dawson WINS against Jesus Ruiz by TKO in Round 6 of 12
WIN

vs

Tomasz

Adamek

31-0-0
Feb 03, 2007 • Silver Spurs Arena, Kissimmee, Florida, USA
Tomasz Adamek LOSES to Chad Dawson by UD in Round 12 of 12
Win

vs

Eric

Harding

23-3-1
Jun 02, 2006 • Chumash Casino, Santa Ynez, California, USA
Chad Dawson WINS against Eric Harding by UD in Round 12 of 12
Win

vs

Jamie

Hearn

10-5-1
Mar 04, 2006 • M.E.N. Arena, Manchester, Lancashire, United Kingdom
Chad Dawson WINS against Jamie Hearn by TKO in Round 3 of 8
Win

vs

Jason

Naugler

13-4-1
Feb 04, 2006 • Don Haskins Convention Center, El Paso, Texas, USA
Chad Dawson WINS against Jason Naugler by UD in Round 8 of 8
Win

vs

Ian

Gardner

19-2-0
Nov 18, 2005 • Athletic Center, New Haven, Connecticut, USA
Chad Dawson WINS against Ian Gardner by TKO in Round 11 of 12
Win

vs

Ronald

Boddie

15-30-4
Aug 06, 2005 • St. Pete Times Forum, Tampa, Florida, USA
Chad Dawson WINS against Ronald Boddie by TKO in Round 3 of 8
Win

vs

Efrain

Garcia

17-4-1
Apr 01, 2005 • City Wide Fieldhouse, New Haven, Connecticut, USA
Chad Dawson WINS against Efrain Garcia by RTD in Round 4 of 10
Win

vs

Carl

Daniels

49-4-1
Dec 10, 2004 • Foxwoods Resort, Mashantucket, Connecticut, USA
Chad Dawson WINS against Carl Daniels by TKO in Round 7 of 10
Win

vs

Darnell

Wilson

8-0-1
Oct 29, 2004 • Foxwoods Resort, Mashantucket, Connecticut, USA
Chad Dawson WINS against Darnell Wilson by UD in Round 10 of 10
No Contest

vs

Aundalen

Sloan

4-6-1
Mar 27, 2004 • Foxwoods Resort, Mashantucket, Connecticut, USA
Chad Dawson Aundalen Sloan by NC in Round 6 of 6
Win

vs

Dumont

Welliver

14-5-1
Oct 31, 2003 • Convention Center, Providence, Rhode Island, USA
Chad Dawson WINS against Dumont Welliver by RTD in Round 8 of 10
Win

vs

Brett

Lally

31-11-0
Aug 01, 2003 • Hampton Beach Casino, Hampton Beach, New Hampshire, USA
Chad Dawson WINS against Brett Lally by TKO in Round 4 of 8
Win

vs

Earl

Allen

12-15-2
May 02, 2003 • Foxwoods Resort, Mashantucket, Connecticut, USA
Chad Dawson WINS against Earl Allen by TKO in Round 3 of 6
Mar 21, 2003 • Foxwoods Resort, Mashantucket, Connecticut, USA
Chad Dawson WINS against Willie Lee by KO in Round 3 of 6
Win

vs

Shannon

Miller

14-23-6
Feb 01, 2003 • Mohegan Sun Casino, Uncasville, Connecticut, USA
Chad Dawson WINS against Shannon Miller by UD in Round 6 of 6
Win

vs

John Roman

Williams

9-1-0
Oct 25, 2002 • Foxwoods Resort, Mashantucket, Connecticut, USA
Chad Dawson WINS against John Roman Williams by TKO in Round 4 of 6
Win

vs

John Romans

William

9-1-0
Oct 25, 2002 • Foxwoods Resort, Mashantucket, Connecticut, USA
Chad Dawson WINS against John Romans William by TKO in Round 4 of 6
Win

vs

Faustino

Gonzalez

10-5-0
Aug 03, 2002 • Foxwoods Resort, Mashantucket, Connecticut, USA
Chad Dawson WINS against Faustino Gonzalez by UD in Round 6 of 6
Win

vs

Gary

Grant

10-10-0
May 18, 2002 • Mohegan Sun Casino, Uncasville, Connecticut, USA
Chad Dawson WINS against Gary Grant by TKO in Round 1 of 4
Apr 27, 2002 • Mohegan Sun Casino, Uncasville, Connecticut, USA
Chad Dawson WINS against Chad Sawyer by UD in Round 4 of 4
Win

vs

Martin

Desjardins

2-1-1
Mar 01, 2002 • Foxwoods Resort, Mashantucket, Connecticut, USA
Chad Dawson WINS against Martin Desjardins by UD in Round 4 of 4
Feb 16, 2002 • Mohegan Sun Casino, Uncasville, Connecticut, USA
Chad Dawson WINS against Jerald Lowe by TKO in Round 1 of 4
Dec 13, 2001 • Mohegan Sun Casino, Uncasville, Connecticut, USA
Chad Dawson WINS against James Orso by KO in Round 1 of 4
Win

vs

Antonio

Baker

1-3-0
Sep 21, 2001 • Rhodes-on-the-Pawtuxet, Cranston, Rhode Island, USA
Chad Dawson WINS against Antonio Baker by KO in Round 1 of 4
Win

vs

Steve

Garrett

2-1-0
Aug 18, 2001 • Mohegan Sun Casino, Uncasville, Connecticut, USA
Chad Dawson WINS against Steve Garrett by TKO in Round 2 of 4
Weight 175 lbs

(79.55 kg)
Born

July 13, 1982

Age

37

Country

USA

Born in

Hartsville, SC

Trains in

New Haven

, CT
Stance

Southpaw

Rounds Boxed

273

KO Percentage

45%

Boxing Hero